Solutions Center
Categories:
Details
The Portugal porcelain tile collection comes in interior and exterior finishes suitable for restaurant spaces. Portugal's interior unpolished field tiles range from 24 by 48 inches to 6 by 24 inches and the textured exterior sizes come in 12 by 24 inches and 24 inches square. Other sizes include a triangular mosaic and a traditional 2-inch square mosaic. The tiles feature a limestone aesthetic and comes in six different hues.
Details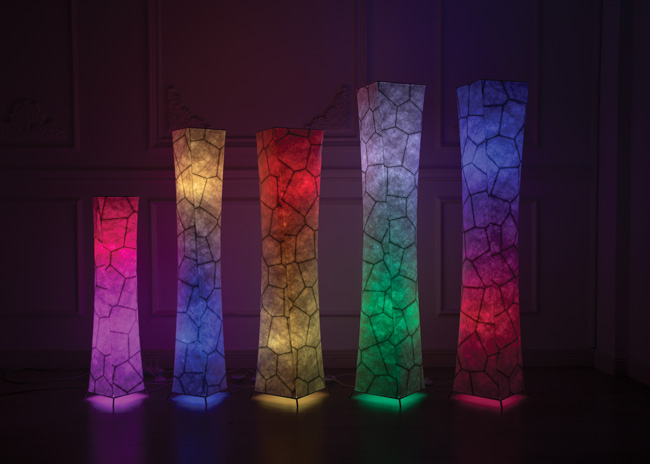 This changing ambience floor lamp has RGB mood lighting bulbs and operators can use the remote control to change color, brightness and color temperature of the light bulbs separately allowing for multiple color and lighting effects. 
Details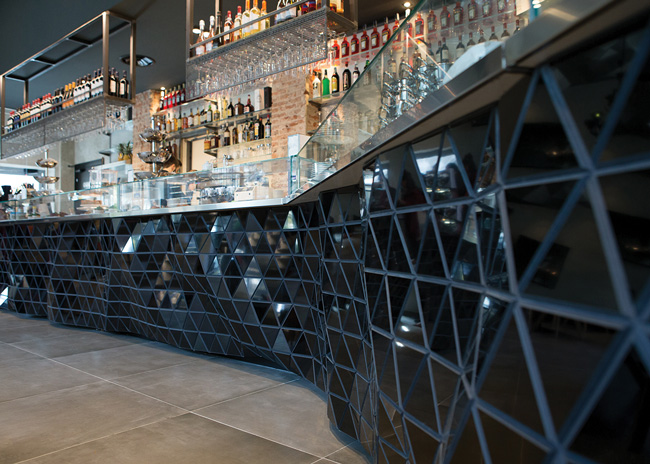 Carnegie has become the North American distributor of paneling products made by Italian manufacturer WOOD-SKIN. These products include three lines. Fold Panels are 3D panels with intriguing geometries, built within a rectangular or square module. Mesh Sheets allow designers to create sleek, 3D membranes using rigid materials such as wood or aluminum while achieving an aesthetic of lighter, flexible materials like paper or fabric. With tailor-made surfaces it becomes possible to create sculptural feature elements, intricate large-scale 3D installations and custom details.
Details
Cambria added four designs and finishes to its line of quartz surfaces. Sandgate mimics the surface of a beach with glints of silver flecks that add extra depth and dimension. With Hemsworth, a high-contrast, deeply saturated black veining cascades across a cool white background, intersecting with softer veins that pulsate and crackle. Halewood features abundant swirls of charcoal gray veins which animate this wheat-toned design. Leabridge with Satin Ridge finish features gradations of cool white and warm honey with borders of textured ridges.
Details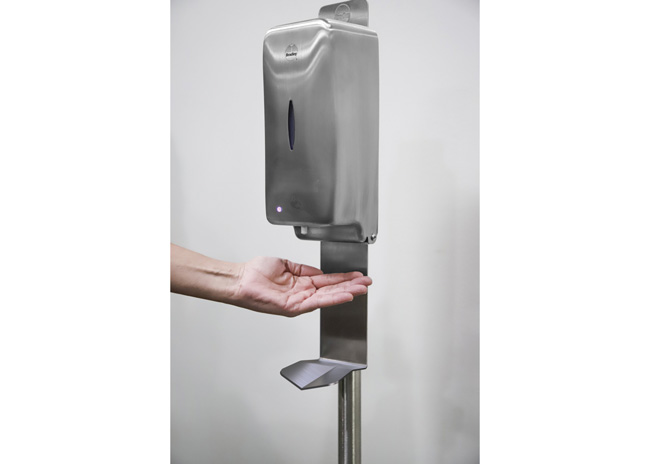 This line of touchless, freestanding and wall-mounted hand sanitizer dispensers feature stainless-steel construction. These units can dispense liquid/gel, foam or liquid mist. Operators have the flexibility to change the type of sanitizer over time, per the maker.
Details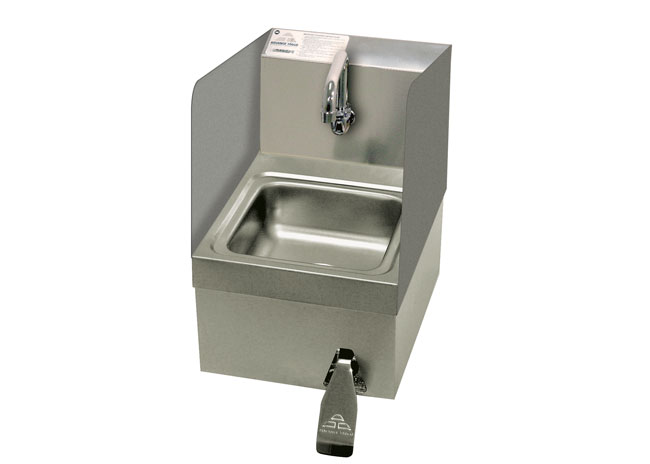 This space-saving, hands-free sink features a one piece deep-drawn bowl that measures 9 inches by 9 inches by 5 inches. The unit includes a knee operated pedal for hands-free operation. Knee valve includes a mixing valve to control hot/cold water temperature. Overall unit is 12¼ inches by 16 inches and is made of 18-gauge stainless steel.
Details
Steni Vision is the Norwegian manufacturer's first range of architectural façade panels available to the U.S. market. Steni Vision panels are made of stone composite and are suitable for use as both exterior and interior walls in commercial projects. Steni Vision includes 14 standard designs and 3 gloss variations, and Steni Vision Custom enables a façade designer to incorporate custom graphics printed directly onto the panels to suit the building or environment.
Details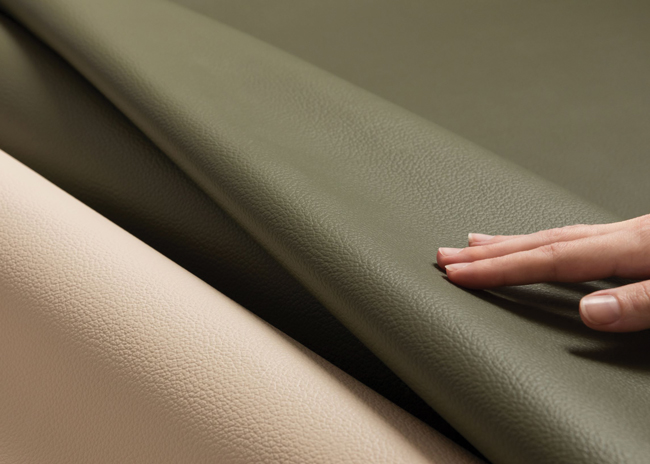 Stamskin Top Club is a leather-grain texture for the Stamskin Top upholstery range. Stamskin Top Club emulates the appearance of worn leather and is suitable for demanding environments such as outdoor, marine and hospitality. Rated as a heavy-duty material, Stamskin Top Club withstands more than 600,000 double rubs in Wyzenbook testing (ASTM D4157). This fabric provides high outdoor performance, with no color fading from UV exposure and excellent mold resistance, per the maker.
Details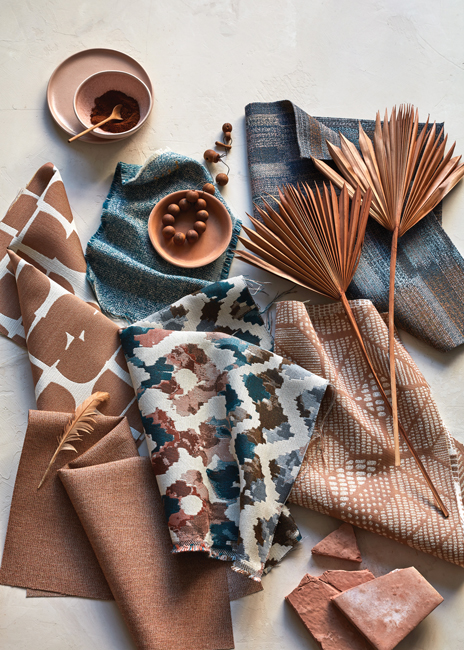 Reflections is the second joint contract upholstery collection for Sunbrella and United Fabrics. Featuring 30 new durable, soft and bleach-cleanable fabrics in tactile textures and coordinating colors, Reflections is designed to hold its vibrant colors even in high-traffic spaces.
Details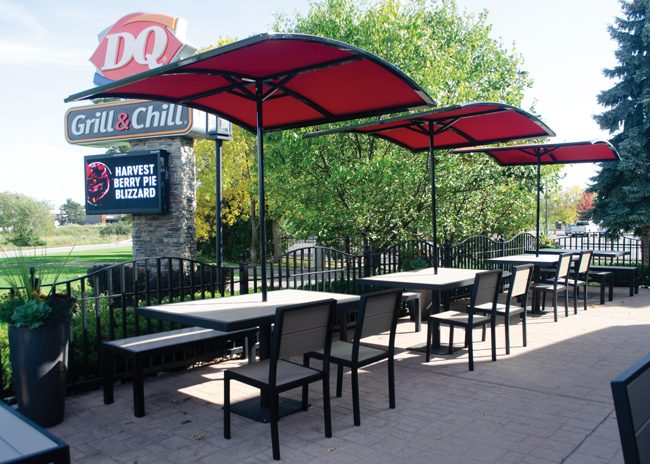 The Aurora Series is built from recycled plastic lumber, with a powder coated aluminum frame. The color is consistent throughout the entire plank material and has UV inhibitors. It will not rot, split, crack, or splinter and will hold up in extreme weather conditions, per the maker. The series includes a side chair, bench, and a variety of table sizes, in either surface mount or grout-in dining height table bases.