Solutions Center - Furnishings
Armstrong's Create! Custom Perforations
Furnishings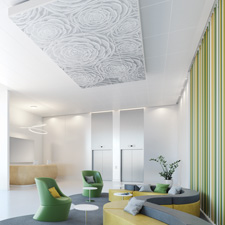 Create! Custom Perforations from Armstrong Ceiling & Wall Solutions works with a wide range of MetalWorks ceiling and wall systems. Create! custom-perforated panels are available in standard Whitelume, Silverlume, and Gun Metal colors and are part of the Sustain portfolio of ceiling products. When equipped with fiberglass infill panels, the panels can achieve a Noise Reduction Coefficient (NRC) of up to 0.90, blending art and acoustics to meet project needs. 

Arper's Cila Chair
Furnishings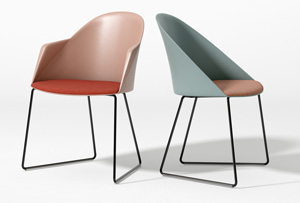 In addition to a fully upholstered and polypropylene version, the Cila chair collection is available with an additional cushion for improved comfort. Cila's silhouette is complemented by by a variety of available bases.
Blueprint Lighting's Grand Bouquet Chandelier
Furnishings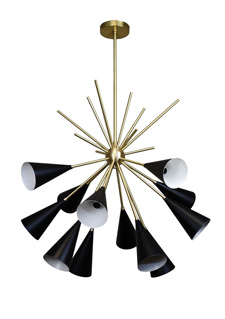 A mix of French and Italian modernism with a touch of Hollywood glamour, the Grand Bouquet is a large lighting fixture that casts light via 12 enamel-coated cones artfully connected by a natural brass frame. The fixture is available in several metal finishes, including bronze, nickel, matte black, and antique, brushed or mirrored brass. Twelve E12 bulbs are best for providing up to 25 watts of illumination power; LED bulbs are also suitable. Enamel coating is available in 36 hues.
Decora Picnic Tables
Furnishings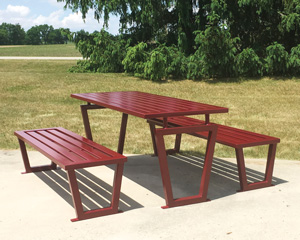 Paris Site Furnishings' Decora Benches and Picnic Tables offer contemporary lines in a maintenance-free design. They are constructed of steel, Pau Lope or recycled plastic, in backed or backless styles, with or without arms, in 4- or 6-foot lengths (picnic tables in 6-foot lengths only). Built-in anchor holes allow secure mounting to a solid surface like concrete.
Derek Marshall Lighting's the Sea of Tranquility
Furnishings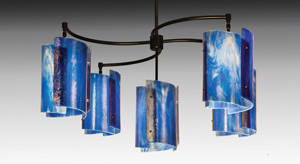 Featuring five art glass pendants, The Sea of Tranquility sculptural chandelier from Derek Marshall Lighting offers both direct down light and ambient light filtered through the glass panels. Shown in a blue, textured iridescent Tiffany glass but available in dozens of art glass colors, the armature itself can be finished in oiled bronze, satin brass or chrome. Weighing approximately 27 pounds, the light is 28 inches in diameter by 27 inches in depth, not including the main drop tube.
Jasper Chair's Porter Stool
Furnishings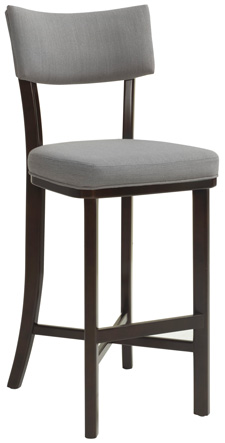 Jasper Chair added a stool to its Porter Collection. Weighing 23 pounds, the stool features a maple wood frame, a steam-bent ply backrest, upholstered seat and tapered legs. It is 18 ¾ inches wide and 46 inches tall. Select single- or dual-tone finish in a range of colors. It also features a crosswise stretcher for strength.
Mills Privacy Partitions from Bradley Corporation
Furnishings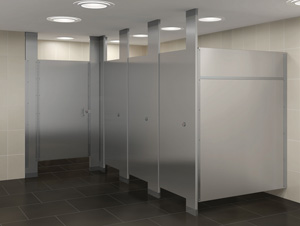 Mills Privacy Partitions feature 72-inch-tall doors and panels mounted 6 inches above the finished floor for standard stalls, and 69-inch-tall doors and panels mounted 9 inches above the finished floor for ADA stalls. To provide additional space, panels are available up to 84 inches deep and feature a new aluminum H bracket that provides a cleaner design aesthetic and faster installation. Available in stainless steel, powder coated, phenolic core and Bradmar solid plastic.
MTS Seatings' Billowed Contour Chair
Furnishings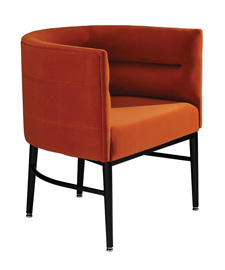 In collaboration with designer Stacy Garcia, MTS Seating launched a collection that includes the Billowed Contour Chair. It features a steel tapered powder-coated leg base, base, and upholstered decorative outer back stitching and non-marring clear glides.