Solutions Center - Furnishings
DeepStream Designs' Oahu Bins
Furnishings
Oahu recycling and trash bins feature a quick-change slide-in panel system that allows for a custom appearance for any space. DeepStream Designs' proprietary anodized aluminum extrusions and 316 stainless-steel components have no paint or powder coating. The open-grid liner support and no-leak plastic bins reduce the likelihood of pests hiding in them. Available with nonmarking feet, casters or adjustable feet. All parts are replaceable.
The Foodie Booster
Furnishings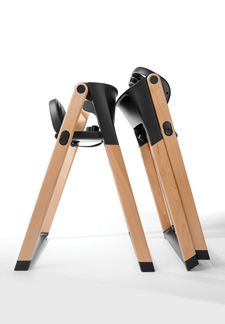 The Foodie Booster is a low-profile foldable restaurant high chair constructed from beechwood and features matte black food-safe plastic. Hidden stainless-steel hardware ensures easy cleanup and debris-free joints. It folds down with a single movement to 7 inches wide for storage and weighs 10 pounds. The Foodie Booster meets new ASTM F404-18 safety guidelines that will take effect for all high chairs sold starting in June 2019.
1429 Mfg's Table
Furnishings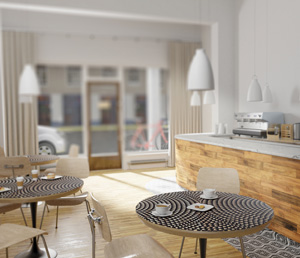 With clear midcentury modern influences, the Remi Table from 1429 Mfg is available in standard and custom sizes and features a top that can be customized in 37 different patterns. Tabletops are made from 1.75-inch-thick solid white oak, maple or walnut and available in three edge profiles.
MTS' Lehto Chair
Furnishings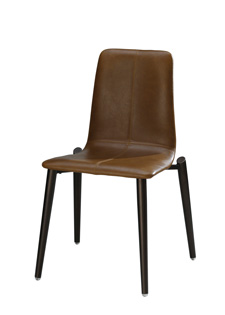 The Lehto chair features a contemporary 
upholstered shell design. Add optional stitching to complement or contrast the upholstery. Choose from a variety of base designs, including a steel tapered four-leg base (pictured). Backed by a 5-year structural frame 
warranty.
Modern Forms' 60-Inch Kinetic Chandelier
Furnishings
Modern Forms added a 60-inch chandelier to its Kinetic line. The gyroscope-inspired openwork globe with individually adjustable rings offers a customizable, futuristic appearance. The luminaire comes with either a titanium or black finish, with full range dimming. The chandelier operates with a Universal Driver (120V-220V-277V) within the canopy and 0-10V dimming. The chandelier features a 3500K CCT and a long-lasting rated life of 84,000 hours using high-output LEDs that deliver up to 3475 lumens. An optional fifth ring is also available.
SONNEMAN—A Way of Light's Intervals
Furnishings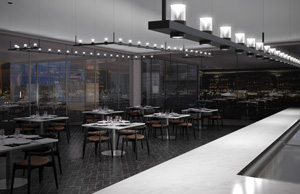 Intervals is an architecturally scalable system of rhythmically aligned bidirectional lighting. Intervals' suspended horizontal beam spans long lengths within a space, supported via ceiling-mounted cables. Evenly spaced integrated downlight lenses and upward illuminated decorative glass diffusers offer solutions to expansive architectural locations. Available in 4- or 8-foot lengths, the collection features connections that allow linear scalability as well as right angle connection points. Additionally, Intervals features a dual circuit so up and down lighting can be independently controllable. Each 4-foot beam contains its own driver, allowing for evenly distributed lighting both up and down.
Tonik's SWIZZLE Light
Furnishings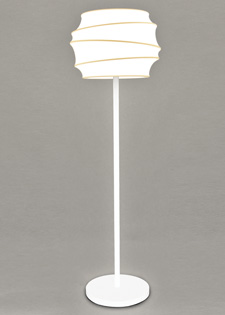 Tonik's SWIZZLE line of indoor/outdoor furniture now includes a floor lamp. The lampshade consists of Tonik's Moonglow-colored polyethylene, formulated to withstand high impacts and exposure to UV rays. The minimalistic tube and base are fashioned from rust-resistant stainless steel. The all-weather cord is available in three colors. SWIZZLE light comes in three sizes: a floor lamp and both small and large tabletop pedestals.
Beaufurn's Amelia Seating Collection
Furnishings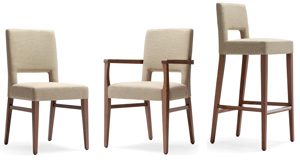 The Amelia Seating Collection includes a side chair, armchair and barstool. The clean lines of the exposed beechwood frame with its gently tapered legs and partially open back provide a solid, elemental silhouette suitable for restaurants, cafes, country clubs, universities and assisted living establishments. The wood frame can be stained in any of the manufacturer's standard wood finishes. An upholstered seat and back are available.