Solutions Center - Furnishings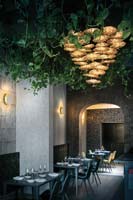 A custom Gold Moon Chandelier composed of irregular handmade golden discs and copper curls holds tiny lights surrounded by a green frame made of pothos plants at the Seta Meat Lab in Bologna, Italy. The light fixture connects the tables and the refrigerated display case.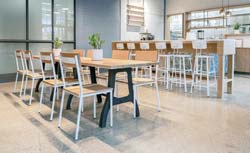 Available in mix and match finishes, the Crow Works Transit chair, shown in Lightly Toasted and Sea Salt finishes, features a solid hardwood curved back and contoured seat as well as square steel tubing. Crow Works' One Ton stool, shown in Sea Salt finish, has a frame that features riveted joints and comes with an optional back. The M3 Machine table, shown in Lightly Toasted and Gunmetal finishes, features a sand-cast aluminum base and is paired with a solid hardwood top and a steel pipe stretcher for added stability.
Table System is a line of painted steel contract tables designed by EMU Design Centre. A complete system consisting of round, square and rectangular tables with fixed and folding tops; the top sections are round, square or low to adapt to any occasion. Match The Table System tables with all the seats in the EMU collections. Available in three dimensions and an array of colors, including military green, iron, white, black and bronze.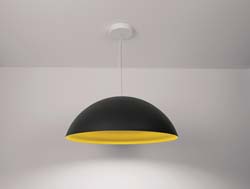 This 24-inch diameter pendant features a hand-spun aluminum dome and a unique inner contour, which can be specified with different finish combinations. Hellen uses a flat lens over the light source, rather than exposed lamping, creating glare-free, comfortable illumination suitable for both large rooms and intimate spaces. The Hellen dome pendant can be specified in three outputs, and four-color temperatures.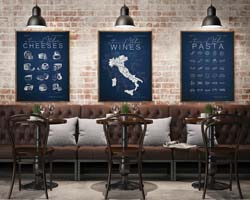 Add a touch of educational art to your restaurant with eye-catching hardwood durable large-format framed art. The Italian Food Trend Collection uses art to engage and educate guests. Hardwood frames, acoustical benefits and custom sizes available. Designed by Davide Di Meco Studio and made in the U.S. Standard sizes are 36 inches by 48 inches and 40 inches by 70 inches.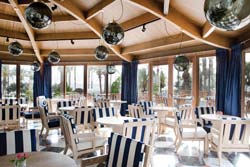 As seen installed at the Asteras Restaurant at Hotel Annabelle in Paphos, Cyprus, Globe Pendants cast a dim glow through their anthracite glass. Globe Pendants are made to order and come in several sizes and a variety of glass and attendant finishes.
The Flower chair comes in two versions, a soft touch urethane or a soft padded shell that can be upholstered in a variety of fabrics or leather. The soft-touch urethane option can be cleaned with a wide array of disinfectants. Available with several base options, including rotating column based, solid wooden legs and conical metal legs.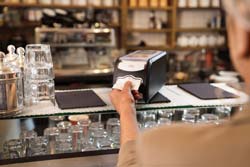 Tork Xpressnap Fit is a one-at-a-time napkin dispensing system in an enclosed dispenser. The unit's slim design saves inventory space and can help reduce waste by allowing guests to take one napkin at a time.