Solutions Center - Equipment
Advance Tabco's Self-Contained Mobile Handwashing Sink
Equipment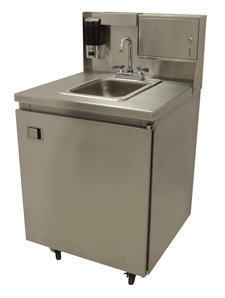 The mobile handwashing sink is suitable for handwashing in remote locations. It includes a soap dispenser, a paper towel dispenser, a 10-inch by 14-inch handwashing sink with removable utility tray. Made of with a 16-gauge 304 stainless-steel top to withstand outdoor environments, it includes casters with brakes, a lead-free faucet, and hot and cold water supply. Runs on a 120-volt, 15-amp circuit.
Eagle Group's Convenience Store Cabinets
Equipment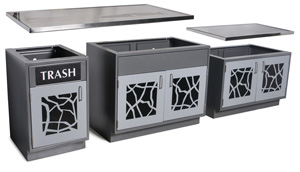 Eagle Group's Convenience Store Cabinets are powder-coated galvanized steel cabinets created as modular components that can utilize a common top (or separate tops in a scatter-system type configuration). Black and gray are standard color options with custom colors and materials on request. Inset doors are also customizable. The modular units can be standardized and provide a cost-effective option instead of using custom serving counters. Modular pieces can be mixed and matched based on requirements.
Heads Up Lock Co.'s Restroom Light
Equipment
ADA-certified and made in the USA, Heads Up Lock Co.'s restroom LED light lets diners know if the restroom is occupied without having to stand outside the restroom door. Perfect for single-stall restrooms and tight spaces where forming a line creates gridlock.
PixelFLEX's EF Series LED Video Display
Equipment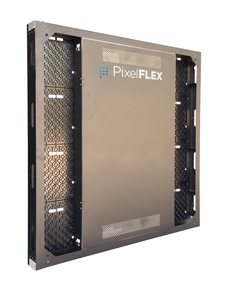 PixelFLEX's EF Series was designed as a budget-friendly solution for indoor video installations. EF Series tiles are fully front serviceable, making it an ideal wall-mount option. The EF Series offers custom upgrade capabilities to meet the specifications for right-angle and curved displays, and is available in a 3.9 millimeter, 5.2 millimeter, 6.25 millimeter pixel pitch. With multiple cabinet sizes and built-in alignment pins to guarantee proper alignment of panels, the EF Series is complete with standard power and data connectors, as well as pass-through channels, making wiring quick and easy.
Sloan's Designer Urinal
Equipment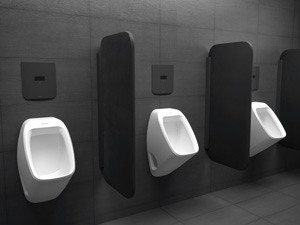 The ADA-compliant Designer Urinal's fully skirted trap way provides a smooth look and easy-to-clean surface, while its continuous, upward-pitched rim reduces splashing. The urinal is also available with SloanTec Hydrophobic Glaze, a glaze that imparts water-repellent and oil-repellent properties to vitreous china in order to inhibit the growth of germs and bacteria. Sloan's ADA-compliant Designer Urinal is available in top spud or rear spud. The urinal can be paired with any Sloan flushometer and accommodates a variety of sustainability standards with its flush volume options.
HOSPECO's Evogen EVNT3
Equipment
HOSPECO's hands-free menstrual care product dispenser provides guests with tampons or pads, free of charge, with just a wave of a hand. It holds a large capacity of both tampons and pads, meets ADA-compliance requirements, and facilitates easy loading and restocking. The dispenser is preprogrammed with a five-second delay between uses to discourage misuse and reduce waste.
Sloan XLERATOR Hand Dryer
Equipment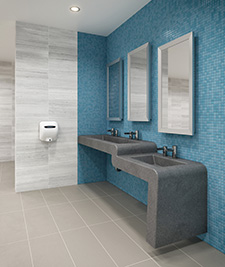 Sloan has released two new hand dryers and an update to its original XLERATOR product. The wall-mounted hand dryer now comes with a HEPA filter option. Additionally, Sloan offers accessories that include antimicrobial wall guards and a noise-reduction nozzle to reduce sound levels by nine decibels. It still features an eight-second hand-drying time.
DeepStream Designs' Nautique Bin
Equipment
Nautique is a 24-gallon leak-proof bin wrapped in 316 stainless steel. It is 17 inches in diameter and 31 inches tall. The open-grid liner support and rugged no-leak plastic bins leave no place for pests to hide. Available with non-marking feet, adjustable feet or anchor bolts.