Solutions Center - Equipment
Advance Tabco's concealed stainless-steel hand sink drawer does not take away space on the counter and installs to Advance Tabco work tables. The sink moves using integral drawer slides with a built-in safety stop tab. The unit also includes a sink drain that leads to a drainage pan, located beneath the sink bowl. Faucet and drain pipe fittings are included.
The stationary portion of the stainless-steel top, with the ½-inch polymer edge, serves as a countertop and features a lockable stainless-steel easy-glide sliding cover. The cabinet exterior is wrapped in black vinyl. The interior is lined with galvanized steel. Suitable for any facility utilizing commercial bar and beverage equipment.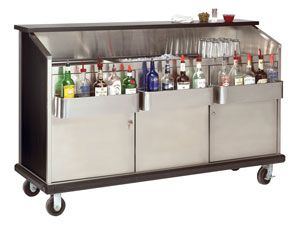 The Heavy-Duty Portable Bar line (Model AMD-6B shown) includes two stainless-steel speed rails for bottle storage as well as a stainless-steel work surface and interior. Units also include a 19-inch-by-13½-inch-by-11-inch ice bin with optional 7-circuit post-mix cold plate. Hinged doors conceal the storage space available in the portable bar's base. The bar top and front face are made of black mica laminate. Custom colors are available. Unit includes a full perimeter protection bumper and 6-inch heavy-duty swivel casters with brakes.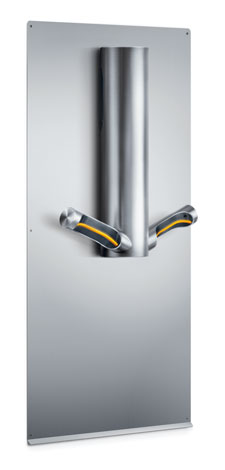 The Dyson Airblade 9kJ hand dryer features a touch-free stainless-steel design and two modes, Max and Eco. Max mode is designed for high-traffic areas and optimizes speed, while Eco mode is recommended for lower-traffic areas that want to optimize noise reduction and energy efficiency. The Airblade dries hands in just 10 seconds, per the manufacturer.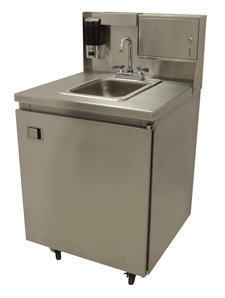 The mobile handwashing sink is suitable for handwashing in remote locations. It includes a soap dispenser, a paper towel dispenser, a 10-inch by 14-inch handwashing sink with removable utility tray. Made of with a 16-gauge 304 stainless-steel top to withstand outdoor environments, it includes casters with brakes, a lead-free faucet, and hot and cold water supply. Runs on a 120-volt, 15-amp circuit.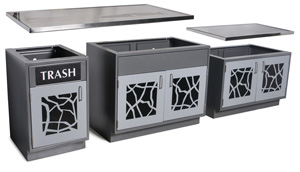 Eagle Group's Convenience Store Cabinets are powder-coated galvanized steel cabinets created as modular components that can utilize a common top (or separate tops in a scatter-system type configuration). Black and gray are standard color options with custom colors and materials on request. Inset doors are also customizable. The modular units can be standardized and provide a cost-effective option instead of using custom serving counters. Modular pieces can be mixed and matched based on requirements.
ADA-certified and made in the USA, Heads Up Lock Co.'s restroom LED light lets diners know if the restroom is occupied without having to stand outside the restroom door. Perfect for single-stall restrooms and tight spaces where forming a line creates gridlock.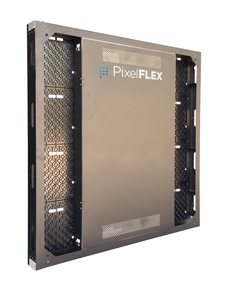 PixelFLEX's EF Series was designed as a budget-friendly solution for indoor video installations. EF Series tiles are fully front serviceable, making it an ideal wall-mount option. The EF Series offers custom upgrade capabilities to meet the specifications for right-angle and curved displays, and is available in a 3.9 millimeter, 5.2 millimeter, 6.25 millimeter pixel pitch. With multiple cabinet sizes and built-in alignment pins to guarantee proper alignment of panels, the EF Series is complete with standard power and data connectors, as well as pass-through channels, making wiring quick and easy.