Solutions Center - Equipment
HOSPECO's Evogen EVNT3
Equipment
HOSPECO's hands-free menstrual care product dispenser provides guests with tampons or pads, free of charge, with just a wave of a hand. It holds a large capacity of both tampons and pads, meets ADA-compliance requirements, and facilitates easy loading and restocking. The dispenser is preprogrammed with a five-second delay between uses to discourage misuse and reduce waste.
Sloan XLERATOR Hand Dryer
Equipment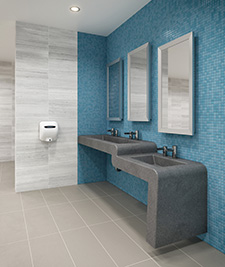 Sloan has released two new hand dryers and an update to its original XLERATOR product. The wall-mounted hand dryer now comes with a HEPA filter option. Additionally, Sloan offers accessories that include antimicrobial wall guards and a noise-reduction nozzle to reduce sound levels by nine decibels. It still features an eight-second hand-drying time.
DeepStream Designs' Nautique Bin
Equipment
Nautique is a 24-gallon leak-proof bin wrapped in 316 stainless steel. It is 17 inches in diameter and 31 inches tall. The open-grid liner support and rugged no-leak plastic bins leave no place for pests to hide. Available with non-marking feet, adjustable feet or anchor bolts. 

Eagle Group's Director's Choice Adjustable Height Option
Equipment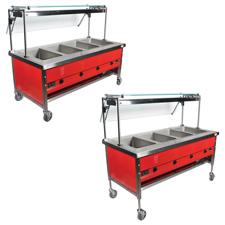 Available in both manual and electric, the Director's Choice Adjustable Height serving line allows adjustments from 28½ inches to 34½ inches, providing flexibility for both staff and customers. The unit has both stationary and mobile applications. For mobile uses, the unit has 5-inch casters, two with brakes.
Eliason SCP-3 Stainless Steel Traffic Door
Equipment
The SCP-3 Stainless Steel Traffic Door is constructed of a ¾-inch sustainable, moisture-resistant, composite wood core with stainless steel, full height cladding. Custom window, impact plates, spring bumpers and other options are also available. The model pictured has an elongated, flush, ADA window for easy cleaning and sanitization and high visibility on either side of the door.
ASSA ABLOY's Emergency Exit Device
Equipment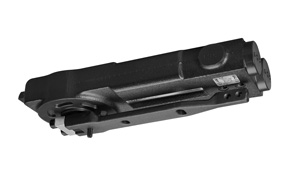 The Yale A-ALR Emergency Exit Device is suitable 
for use with new or retrofit openings within restaurants that are alarmed for security, such as back-of-the-house exit doors. The product is ANSI/BHMA Grade 1 and UL/cUL listed for panic hardware. Install or retrofit the device onto existing door preps. It includes a red LED indicator that flashes every 30 seconds when the device is alarmed and has a built-in alarm powered by 9V battery sounds at 90 dB at 10 feet.
XLERATOR Hand Dryer from Excel Dryer
Equipment
The XLERATOR hand dryer features adjustable speed and sound controls and a heat setting. Other features include external visible service LED, multi-voltage options and a HEPA filtration system.
HOSPECO'S Scensibles Receptacle Liners
Equipment
HOSPECO Scensibles is a line of sturdy yet lightweight, puncture-resistant clear poly liners suitable for use in enclosed waste bins designed to handle menstrual care products in restrooms. Lightly scented Scensibles feature antimicrobial agents that inhibit the growth of odor-causing bacteria, per the maker. These receptacle liners come in three sizes and with a 6-inch handle that wraps around the perimeter of the receptacle, securing the bag in place so it won't slide down. This also forms a tie-off handle at trash-collection time.