Solutions Center
Categories:
Details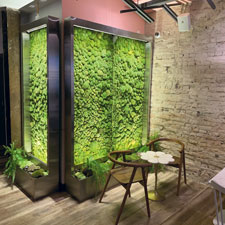 A Verdure Live Moss Wall provides a soothing visual, tranquil sounds and improved acoustics while cleansing and oxygenating the air. It comes pre-assembled in a self-maintaining ecosystem. Standard units are 4 feet wide by 8 feet tall, all welded stainless steel. The basin is 16 inches wide and 12 inches tall.
Details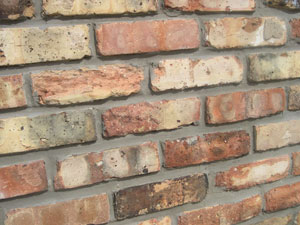 Vintage Brick Salvage's thin brick tile is made from reclaimed brick. It offers the aesthetic of a centuries-old brick wall anywhere with a product that is only a ½-inch thick. Available in a variety of colors, including Chicago terracotta shades, Milwaukee creams and St. Louis reds.
Details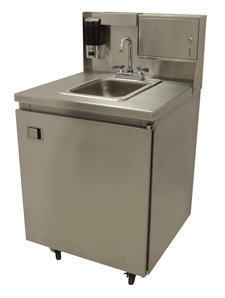 The mobile handwashing sink is suitable for handwashing in remote locations. It includes a soap dispenser, a paper towel dispenser, a 10-inch by 14-inch handwashing sink with removable utility tray. Made of with a 16-gauge 304 stainless-steel top to withstand outdoor environments, it includes casters with brakes, a lead-free faucet, and hot and cold water supply. Runs on a 120-volt, 15-amp circuit.
Details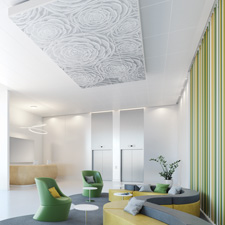 Create! Custom Perforations from Armstrong Ceiling & Wall Solutions works with a wide range of MetalWorks ceiling and wall systems. Create! custom-perforated panels are available in standard Whitelume, Silverlume, and Gun Metal colors and are part of the Sustain portfolio of ceiling products. When equipped with fiberglass infill panels, the panels can achieve a Noise Reduction Coefficient (NRC) of up to 0.90, blending art and acoustics to meet project needs. 

Details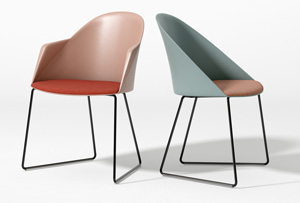 In addition to a fully upholstered and polypropylene version, the Cila chair collection is available with an additional cushion for improved comfort. Cila's silhouette is complemented by by a variety of available bases.
Details
ATI has launched five new patterns and one new finish for its MirroFlex three-dimensional thermoplastic wall panels. Patterns include Versa-Tile, Vista, Safari, Inferno and Glacier. The newest finish, Distressed White, is a light, weathered wood grain. Glacier (pictured) is available as 4-foot by 8-foot or 4-foot by 10-foot wall panels.
Details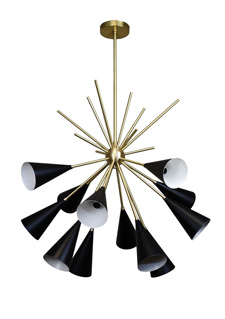 A mix of French and Italian modernism with a touch of Hollywood glamour, the Grand Bouquet is a large lighting fixture that casts light via 12 enamel-coated cones artfully connected by a natural brass frame. The fixture is available in several metal finishes, including bronze, nickel, matte black, and antique, brushed or mirrored brass. Twelve E12 bulbs are best for providing up to 25 watts of illumination power; LED bulbs are also suitable. Enamel coating is available in 36 hues.
Details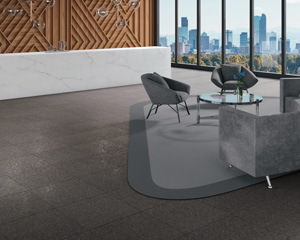 Crossville's Alaska is a terrazzo-look porcelain tile collection with a dual finish that blends matte and shimmer. It is intended to provide designers and specifiers a high-performance and cost-effective alternative to terrazzo that's suitable for commercial and residential installations. It comes in five colors: Ice, Bone, Mink, Glacier and Tundra. Field tiles are offered in 24 inches by 48 inches, 24 inches square, and 12 inches by 24 inches, as well as a classic 2-inch-square mosaic and a new polygon mosaic, mesh-mounted on 13-by-15-inch sheet. Mosaics are excellent solutions for wet-area floor installations.
Details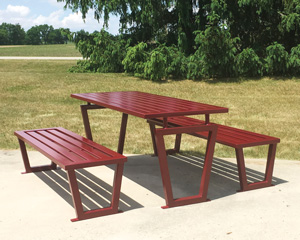 Paris Site Furnishings' Decora Benches and Picnic Tables offer contemporary lines in a maintenance-free design. They are constructed of steel, Pau Lope or recycled plastic, in backed or backless styles, with or without arms, in 4- or 6-foot lengths (picnic tables in 6-foot lengths only). Built-in anchor holes allow secure mounting to a solid surface like concrete.
Details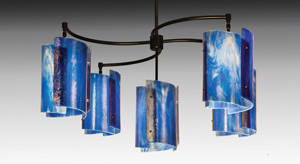 Featuring five art glass pendants, The Sea of Tranquility sculptural chandelier from Derek Marshall Lighting offers both direct down light and ambient light filtered through the glass panels. Shown in a blue, textured iridescent Tiffany glass but available in dozens of art glass colors, the armature itself can be finished in oiled bronze, satin brass or chrome. Weighing approximately 27 pounds, the light is 28 inches in diameter by 27 inches in depth, not including the main drop tube.