Solutions Center
Categories:
Details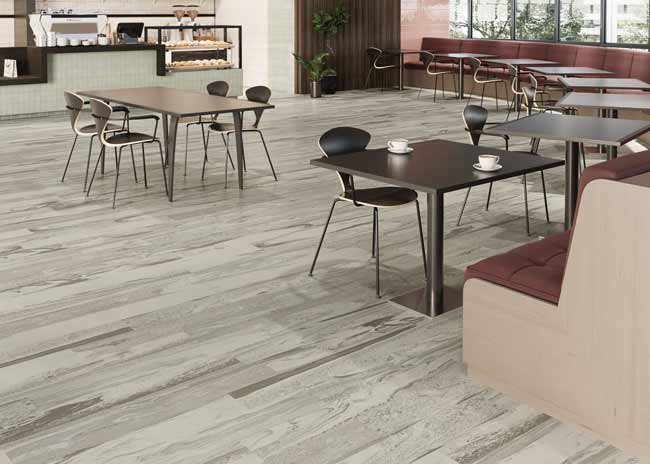 The Open Range flooring collection comes in a 6.25-inch by 42-inch plank format. Designers can choose from 12 warm and neutral tones, which coordinate with many of Mannington Commercial's other carpet and flooring lines.
Details
High-tech Italian porcelain is suitable for high traffic upscale restaurant environments that need durable floor and wall tiles in dramatic artistic designs. This restaurant scene shows the large format architectural porcelain used on the floors and walls in Nero Damascato, a striking marble look, accented in the center wall with Verde Fantastico. Produced in Italy, the Maximum Marmi 120-inch-by-60-inch large format sophisticated slabs are inspired by fine veins, color variations, and elegant details.
Details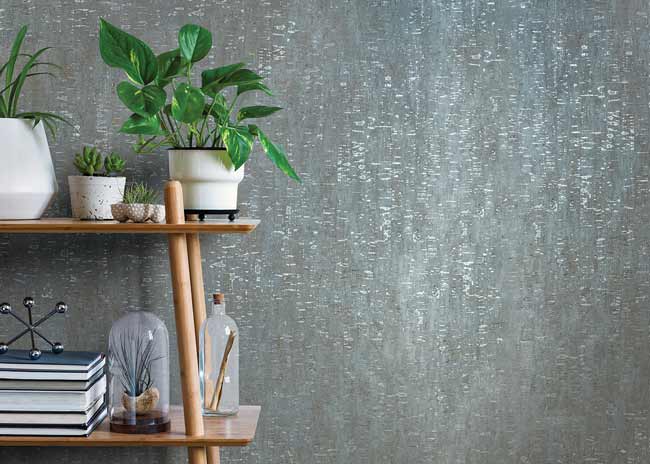 Montado gives Innovations' classic cork wallcoverings a new direction. Instead of using the widest part of the cork bark, Montado uses slices from its side. These long, narrow strips are hand-trimmed to a standard width (4 centimeters) and hand-placed on metallic foil. This approach allows the natural pockets in the cork to show their striking horizontal nature that are accentuated with saturated surface dyes and glimpses of the metallic foil underneath. Montado is available in 12 colorways. A full roll is 30 yards long and 35 inches wide.
Details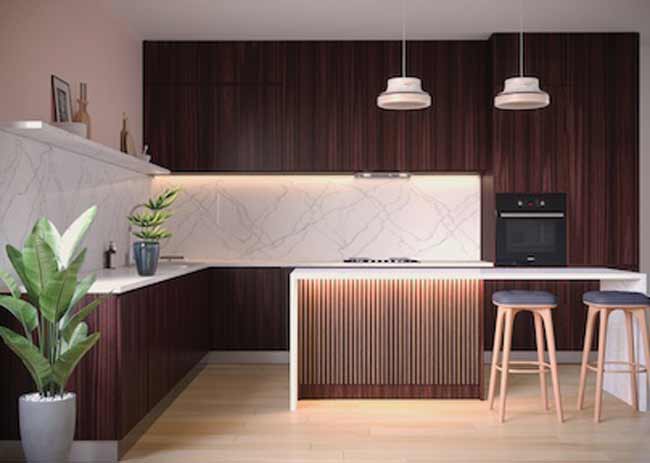 Durasein is a premium solid surface material composed of two-thirds natural minerals and one-third high-performance acrylic resin and pigments. The Dreamy Collection includes Sun Kissed (pictured), which features bronzed veins sprawling across sunlit morning waves. It is scratch, impact, heat, fire, stain and chemical resistant;  low VOC, repairable, recyclable, food-safe, nontoxic and nonporous.
Details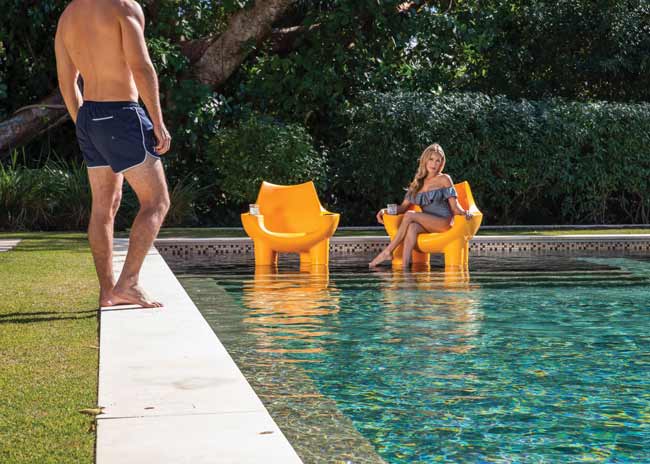 Mibster Splash Chair is a one-piece rotationally molded polyethylene seat that is suitable for outdoor use across all four seasons. Each Mibster has a weight capacity of more than 750 lbs. Suitable for high-traffic spaces including hotels, restaurants, museums and more. It has a drain hole designed into the lowest point in the seat pan. It's waterproof, rust proof and 100% recyclable.
Details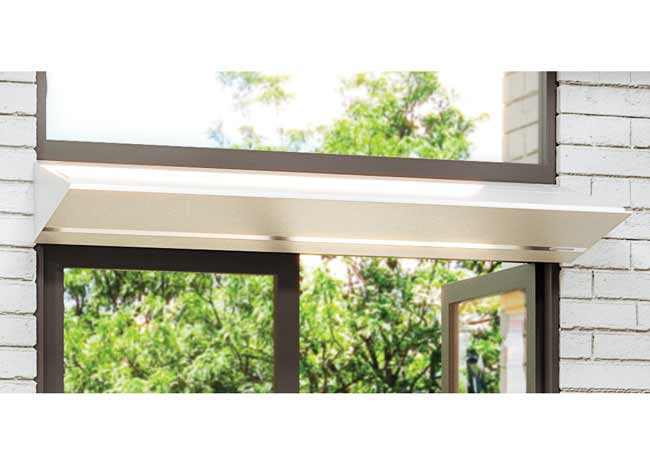 The redesigned Architectural Elite offers a quiet air curtain that may support the increased sustainability goals of the built environment in a sleek package. Features include a clear satin, anodized aluminum bottom panel that angles upward out of guests' peripheral vision when passing through a doorway. Available in 8- and 10-foot heights and single length construction of 120 or 144 inches long, it includes a wireless controller. Single unit construction doesn't interrupt laminar airflow and requires no midsection support anchors for quicker ceiling or wall-mounting installation.
Details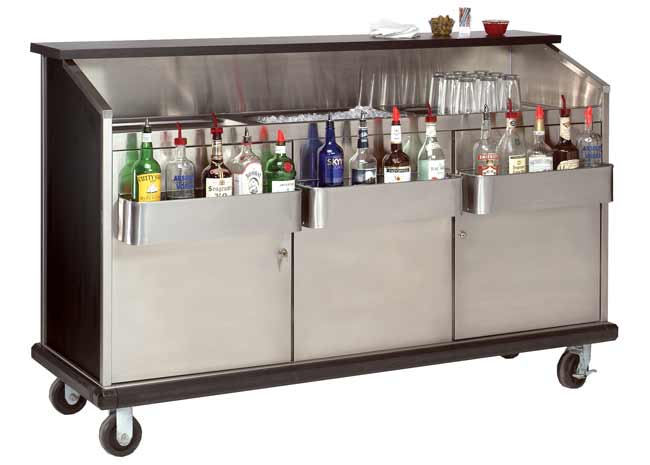 OrderHQ food lockers optimize labor efficiency while customers and delivery drivers enjoy secure, skip-the-line pickup in seconds. OrderHQ food lockers are manufactured in partnership with Merco, a Welbilt brand. The lockers also use ApexIQ software, which provide users with control and access to data.
Details
Applied Coverings prints and installs wall coverings. From off-the-shelf designs to complete customization, one-of-a-kind wallpaper can be developed and ordered online.
Image courtesy of Panda Restaurant Group, Inc.
Details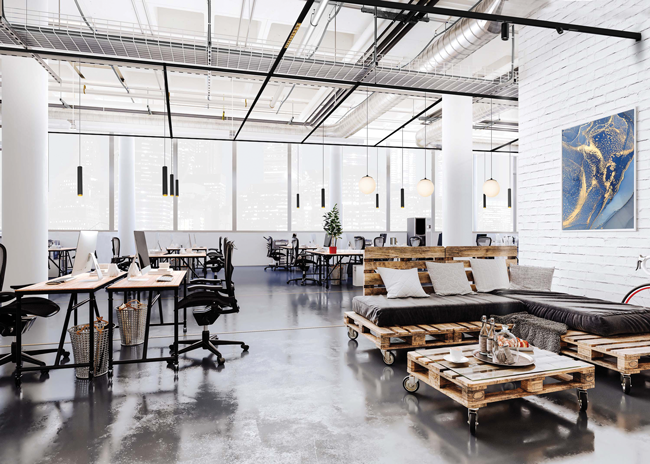 A lighting, power and control system complete with lighting elements, STRUT incorporates direct and indirect illumination, wall wash, downlighting, accent lighting, and pendants utilizing connected control technologies to give clients a personalized and modular experience. The modular system allows designers to configure standard components for a customized 48V DC lighting solution. The magnetic infrastructure allows users to slide elements within the STRUT and adjust lighting effects while powered on-site.
Details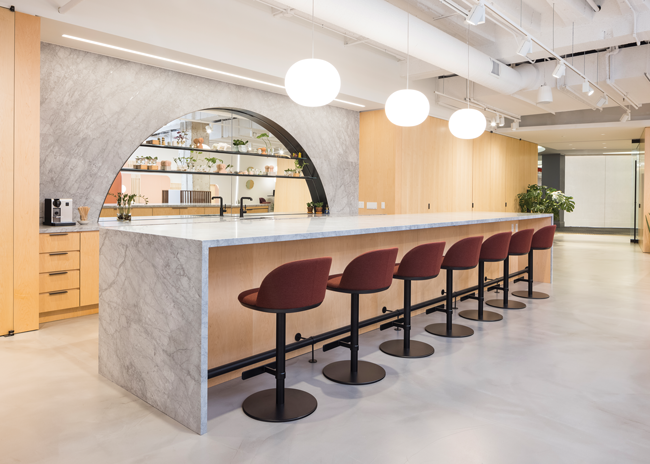 Designed by Lucidi Pevere, the Underline family of stools, guest, and task chairs offer a seat for a variety of spaces. Underline offers multiple mix and match options, with arm and armless stools and chairs in a plethora of base and finish options. Chairs are available with a metal sled, a metal or wood four-leg base, and a five-blade base. Stools are available with a metal sled, metal four-leg base, swivel wood base, and swivel pedestal. Finish options include 26 colorful VOC-free powder coats, polished aluminum, chrome, white oak, maple, walnut and opaque black.