Solutions Center
Categories:
Details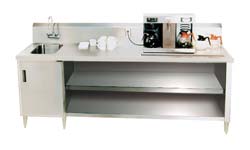 Advance Tabco's stainless steel Beverage Tables are an all-in-one unit solution for hot and cold beverage areas. The units feature a 14 gauge, no-drip edge countertop and a 10-inch backsplash. These tables include a 14-inch-by-16-inch-by-12-inch sink bowl welded into the top. A built-in urn trough collects liquids and a a GFI outlet allows operators to plug in coffee makers, blenders and other beverage equipment. A hinged cabinet and undershelf provide plenty of storage.
Details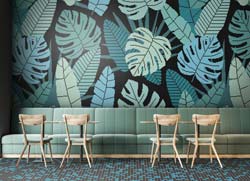 Tropic takes a modern approach to floral-inspired elements to create an illustrative piece that embraces the graphic nature of mosaic art. As part of Artaic's GLYPH Collection, the design uses a vitreous glass available in more than 180 vibrant colors. The design of Tropic showcases Artaic's progression into designs that use color as a focal point.
Details
Aspex offers total design freedom while protecting walls from damage. Custom artwork or photography is back printed onto a clear sheet, so images won't get scratched over time.
Details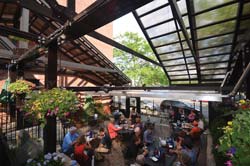 Cabrio Structures designs and manufactures patented retractable patio enclosure systems. Each structure is custom designed. The enclosures function in all types of weather and maximize the outdoor dining season via retractable roofs and opening walls.
Details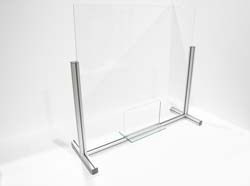 Created in response to the COVID-19 pandemic, glassSCREENS>Shield is a collection of tempered glass protective screens for countertop use. The nonporous shields prevent microbes from entering its surface and can withstand harsh chemical cleaners. The shields come in three styles and numerous sizes including a freestanding countertop unit, a single full-height unit, and a foldable double-height unit. Add-ons include transaction windows and protection screens with shutters. All are customizable to meet specific on-site criteria.
Details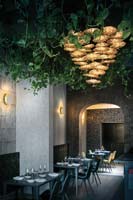 A custom Gold Moon Chandelier composed of irregular handmade golden discs and copper curls holds tiny lights surrounded by a green frame made of pothos plants at the Seta Meat Lab in Bologna, Italy. The light fixture connects the tables and the refrigerated display case.
Details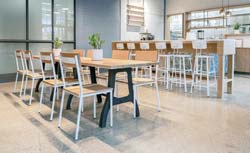 Available in mix and match finishes, the Crow Works Transit chair, shown in Lightly Toasted and Sea Salt finishes, features a solid hardwood curved back and contoured seat as well as square steel tubing. Crow Works' One Ton stool, shown in Sea Salt finish, has a frame that features riveted joints and comes with an optional back. The M3 Machine table, shown in Lightly Toasted and Gunmetal finishes, features a sand-cast aluminum base and is paired with a solid hardwood top and a steel pipe stretcher for added stability.
Details
Table System is a line of painted steel contract tables designed by EMU Design Centre. A complete system consisting of round, square and rectangular tables with fixed and folding tops; the top sections are round, square or low to adapt to any occasion. Match The Table System tables with all the seats in the EMU collections. Available in three dimensions and an array of colors, including military green, iron, white, black and bronze.
Details
Fiandre's Royal Marble porcelain tile collection was designed in Italy and will be manufactured this summer in the U.S. Royal Marble draws its inspiration from marble varieties and offers the luxury look of marble in tile. Available in a variety of neutral shades, the material's versatility allows distinctive mosaic patterns on walls and floors. Available in different sizes and special trims, six colors, polished or honed finishes in 6 mm thickness.
Details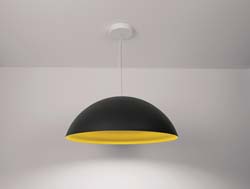 This 24-inch diameter pendant features a hand-spun aluminum dome and a unique inner contour, which can be specified with different finish combinations. Hellen uses a flat lens over the light source, rather than exposed lamping, creating glare-free, comfortable illumination suitable for both large rooms and intimate spaces. The Hellen dome pendant can be specified in three outputs, and four-color temperatures.