Solutions Center
Categories:
Details
Advance Tabco's concealed stainless-steel hand sink drawer does not take away space on the counter and installs to Advance Tabco work tables. The sink moves using integral drawer slides with a built-in safety stop tab. The unit also includes a sink drain that leads to a drainage pan, located beneath the sink bowl. Faucet and drain pipe fittings are included.
Details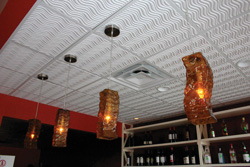 MirroFlex Lite is a value-conscious ceiling solution from ATI Laminates. Lightweight and thin, MirroFlex Lite comes in 18 of ATI's finishes and is .13-inch thick. Some MirroFlex Lite finishes are also available as a Drop-Out Ceiling Tile, specifically designed to fall out of 15/16-inch grid systems when exposed to heat from a developing fire.
Details
Chemetal Alu series of dark-aged aluminum designs emulate the appearance of weathered or blackened steel. Mill aluminum sheets are dipped in a darkening solution and then brushed by hand grinder. These sheets of thin aluminum are lighter to fabricate than steel, which can make the installation lighter. In addition to Alu, many of Chemetal's 600 Series are blackened with subtle variations for different visual effects. Available in standard sheet sizes or 4 feet x 8 feet as well as a laminate backer option for easy installation.
Details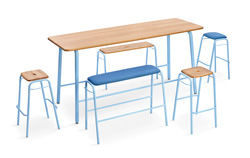 Keilhauer acquired and expanded Division Twelve, manufacturer of bent steel tube furniture. The Hectic Collection features benches, tables and stools that can be mixed, matched and moved at a moment's notice. Seats are available in white oak or upholstered; tabletops are available in white oak or laminate.
Details
The stationary portion of the stainless-steel top, with the ½-inch polymer edge, serves as a countertop and features a lockable stainless-steel easy-glide sliding cover. The cabinet exterior is wrapped in black vinyl. The interior is lined with galvanized steel. Suitable for any facility utilizing commercial bar and beverage equipment.
Details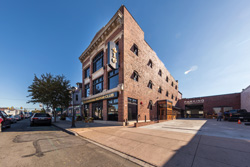 Available in three thicknesses, Glen-Gery's Thin Brick comes in numerous shades and textures and is suitable for use inside or on exterior façades. Sizes range from 8 inches to 16 inches. Glen-Gery's metal panel system Thin Tech utilizes mechanical means to support the brick, secure the veneer to the structure and engage the veneer through interlocking with the mortar joints.
Details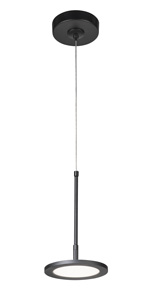 The Cirq is a circular OLED light fixture that provides a warm glow. The Cirq offers an energy-efficient lighting solution for an array of indoor spaces. A circular trim and suspended cable along with the ability to diffuse light over a large space gives designers the ability to utilize this fixture in distinct and creative ways. Available in satin black, satin white and metallic silver.
Details
Original BTC's Stanley Pendant — shown here in a grouping of three installed over the bar in 
Ouranos, a rooftop lounge and bar at Hotel Annabelle in Paphos, Cyprus — is hand-spun in Birmingham, England. Stanley is available in three sizes in black, brass, copper or nickel-plated. Choose from three finishes: hammered, smooth and reflective.
Details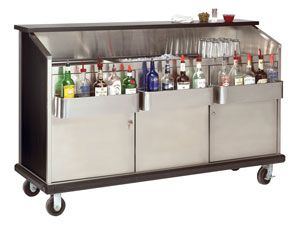 The Heavy-Duty Portable Bar line (Model AMD-6B shown) includes two stainless-steel speed rails for bottle storage as well as a stainless-steel work surface and interior. Units also include a 19-inch-by-13½-inch-by-11-inch ice bin with optional 7-circuit post-mix cold plate. Hinged doors conceal the storage space available in the portable bar's base. The bar top and front face are made of black mica laminate. Custom colors are available. Unit includes a full perimeter protection bumper and 6-inch heavy-duty swivel casters with brakes.
Details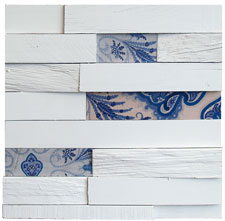 Fusión Wood Panels blend old-world craftsmanship and contemporary design. This award-winning, sustainable collection is a mix of natural and reclaimed materials, including wine barrels, steels, and siding for a textural and dimensional effect in a range of patterns. Constructed of MDF substrate with a finish layer of solid wood, wood veneer and metal-clad blocks. Standard and custom sizes available.