Solutions Center
Categories:
Details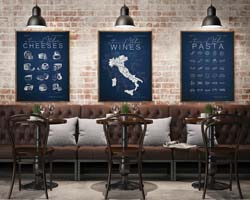 Add a touch of educational art to your restaurant with eye-catching hardwood durable large-format framed art. The Italian Food Trend Collection uses art to engage and educate guests. Hardwood frames, acoustical benefits and custom sizes available. Designed by Davide Di Meco Studio and made in the U.S. Standard sizes are 36 inches by 48 inches and 40 inches by 70 inches.
Details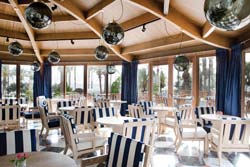 As seen installed at the Asteras Restaurant at Hotel Annabelle in Paphos, Cyprus, Globe Pendants cast a dim glow through their anthracite glass. Globe Pendants are made to order and come in several sizes and a variety of glass and attendant finishes.
Details
The Flower chair comes in two versions, a soft touch urethane or a soft padded shell that can be upholstered in a variety of fabrics or leather. The soft-touch urethane option can be cleaned with a wide array of disinfectants. Available with several base options, including rotating column based, solid wooden legs and conical metal legs.
Details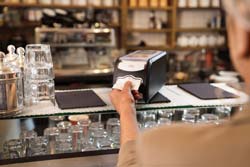 Tork Xpressnap Fit is a one-at-a-time napkin dispensing system in an enclosed dispenser. The unit's slim design saves inventory space and can help reduce waste by allowing guests to take one napkin at a time.
Details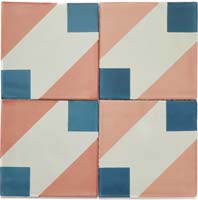 Partnering with Dekar Design, Villa Lagoon's cement tile collection draws inspiration from the Mediterranean. Each cement tile is similar to natural stone and is unique with slight color variations. Ischia, pictured, is available in two colors. It is approximately 8 inches square and ½-inch thick.
Details
Advance Tabco's concealed stainless-steel hand sink drawer does not take away space on the counter and installs to Advance Tabco work tables. The sink moves using integral drawer slides with a built-in safety stop tab. The unit also includes a sink drain that leads to a drainage pan, located beneath the sink bowl. Faucet and drain pipe fittings are included.
Details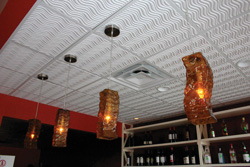 MirroFlex Lite is a value-conscious ceiling solution from ATI Laminates. Lightweight and thin, MirroFlex Lite comes in 18 of ATI's finishes and is .13-inch thick. Some MirroFlex Lite finishes are also available as a Drop-Out Ceiling Tile, specifically designed to fall out of 15/16-inch grid systems when exposed to heat from a developing fire.
Details
Chemetal Alu series of dark-aged aluminum designs emulate the appearance of weathered or blackened steel. Mill aluminum sheets are dipped in a darkening solution and then brushed by hand grinder. These sheets of thin aluminum are lighter to fabricate than steel, which can make the installation lighter. In addition to Alu, many of Chemetal's 600 Series are blackened with subtle variations for different visual effects. Available in standard sheet sizes or 4 feet x 8 feet as well as a laminate backer option for easy installation.
Details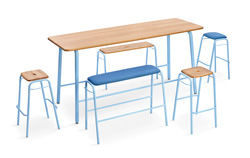 Keilhauer acquired and expanded Division Twelve, manufacturer of bent steel tube furniture. The Hectic Collection features benches, tables and stools that can be mixed, matched and moved at a moment's notice. Seats are available in white oak or upholstered; tabletops are available in white oak or laminate.
Details
The stationary portion of the stainless-steel top, with the ½-inch polymer edge, serves as a countertop and features a lockable stainless-steel easy-glide sliding cover. The cabinet exterior is wrapped in black vinyl. The interior is lined with galvanized steel. Suitable for any facility utilizing commercial bar and beverage equipment.