Solutions Center - Materials
ATI Decorative Laminates' MirroFlex Patterns and Finish
Materials
ATI has launched five new patterns and one new finish for its MirroFlex three-dimensional thermoplastic wall panels. Patterns include Versa-Tile, Vista, Safari, Inferno and Glacier. The newest finish, Distressed White, is a light, weathered wood grain. Glacier (pictured) is available as 4-foot by 8-foot or 4-foot by 10-foot wall panels.
Crossville's Alaska Collection
Materials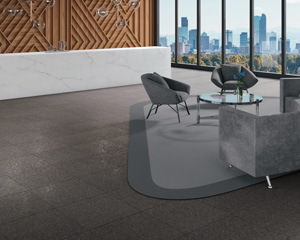 Crossville's Alaska is a terrazzo-look porcelain tile collection with a dual finish that blends matte and shimmer. It is intended to provide designers and specifiers a high-performance and cost-effective alternative to terrazzo that's suitable for commercial and residential installations. It comes in five colors: Ice, Bone, Mink, Glacier and Tundra. Field tiles are offered in 24 inches by 48 inches, 24 inches square, and 12 inches by 24 inches, as well as a classic 2-inch-square mosaic and a new polygon mosaic, mesh-mounted on 13-by-15-inch sheet. Mosaics are excellent solutions for wet-area floor installations.
DuPont's Tedlar Wallcoverings Celestial Collection
Materials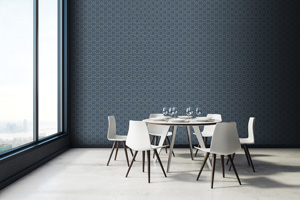 DupPont's Tedlar Wallcoverings Celestial Collection patterns, Saturn and Volans, offer a contemporary take on familiar patterns and textures. The Saturn collection is a subtle, textured, striped wallcovering that echoes the iconic feature of the ringed planet. The Volans offering emulates the flying fish found in its namesake constellation with a light, embossed pattern. Tedlar wallcoverings are easy to clean and provide stain resistance and durability.
Eldorado Stone's Dawnwood
Materials
Dawnwood is a new color palette for Eldorado Stone's Vintage Ranch profile. Dawnwood is an architectural stone veneer that emulates whitewashed beige barn wood. Made of concrete, the Vintage Ranch line has the look of a wood plank stone profile.
Enduratex's Chainmaille
Materials
Chainmaille is a new coated fabric pattern from Eduratex and is an extension of the brand's Carbon Fiber collection. Influenced by medieval knights, colors include Blue Steel, Bronze Shield, Brass Chalice and Silver Ring. The line has antibacterial and antimicrobial agents and is available on a 30-yard roll in 54-inch width and has an abrasion resistance rating of 100,000 on the Wyzenbeek #10 cotton duck. It comes fortified with a proprietary topcoat and a -10 degree F cold crack rating.
Imagine Tile, Inc.'s rePly
Materials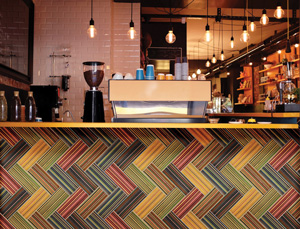 Imagine Tile, Inc.'s rePly is a multi-striped ceramic wall tile collection designed by artist Rich Moorhead. rePly was inspired by peeling back the layers of a skateboard, which reveals seven layers of colorful veneer or "ply." rePly is available in 4 ¼-inch square, 4 ¼-inch by 10-inch commercially rated ceramic wall tiles in six colorways with a standard finish. Made with preconsumer recycled materials, they contain no VOCs, are resistant to strong chemicals and are unaffected by UV light. Suitable for indoor and outdoor use.
VistaGreen Artificial Green Walls
Materials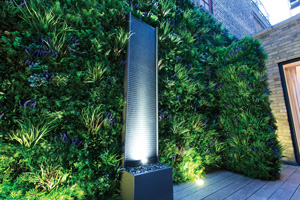 VistaGreen offers a sophisticated artificial green wall solution for every climate and application. The standard panel is approximately 15 ½ pounds, 31 ½ inches square and up to 8 inches in depth. Each standard panel is comprised of fire-rated artificial foliage fixed to a powder-coated mild steel grid.
Armstrong Ceiling Solutions ACOUSTIBuilt
Materials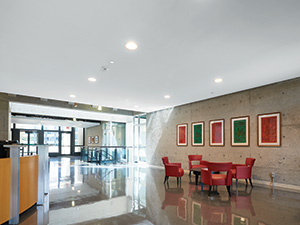 ACOUSTIBuilt Seamless Acoustical Ceilings is a new ceiling system that provides the look of drywall but performs like an acoustical ceiling. Per the manufacturer, the installed system absorbs up to 70% of the sound that strikes it and also has a high ceiling attenuation class (CAC) up to 48, indicating its ability to ensure speech privacy by preventing sound from entering adjacent spaces.