Product Guide
What's on your wish list for the types of products and solutions you'll use to enhance the guest experience and help rebuild business in 2021? Maybe it's gorgeous flooring, vibrant wall coverings, touchless restrooms, more comfortable chairs?
Whatever it may be, the Products Guide has ideas to get you started. Inside, you'll find new and innovative products in 11 familiar and mission-critical categories. And you'll hear straight from four designers about the products they chose and why they chose them to bring recent restaurant projects to life.
This special 2020 edition also includes a brand-new category, Products for a New Normal. It's packed with products and solutions designed specifically to help operators meet the challenge of operating safely and profitably right now, as the specter of COVID-19 still lingers.
One thing we know for sure is that consumers are eager to get back into restaurants and bars, and it's for the experiences —visual, tactile and social —as much as for the food and drink. Read on for leads to products that can help build buzz back and feed the need for those great restaurant experiences.
Rising to operating challenges presented by the pandemic means not only making front-of-house modifications that aim to keep guests safe but also focusing on what can be even tougher territory, the back of house.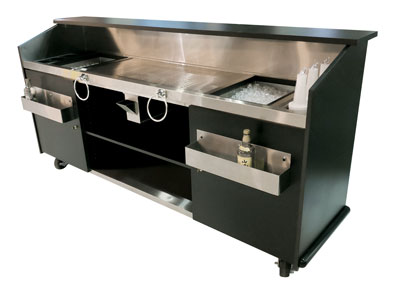 In the short term, the bar business faces a steep climb to regain the buzz and profitability of normal times. Even with many municipalities lifting restrictions earlier this fall, it will likely be some time before consumers resume comfortably relaxing and socializing shoulder-to-shoulder at indoor bars.
With 2020 finally in the rear view mirror, brands looking forward to resuming or accelerating development can expect some strong opportunities as well as a few headwinds in 2021.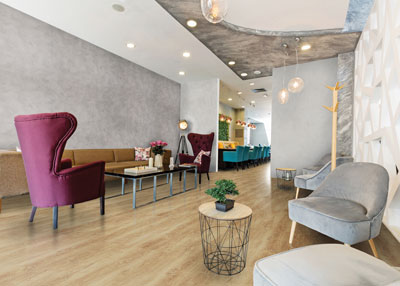 Perhaps more than any other restaurant interior product category, flooring selections demand a careful balance of functionality, safety and aesthetics. The good news is that the range and quality of products addressing all three of those selection drivers continues to increase. New product innovations continue to raise the bar, delivering highly durable, comfortable, easily maintained, fashion-forward flooring options for any budget.
Big, bold and beautiful or understated and nondescript, there's much to understand about the potential benefits and drawbacks of various flooring types for specific applications. Porcelain tile, luxury vinyl tile (LVT) and planks (LVP), and engineered hardwoods lead the list of hot restaurant floors today. Simple stained concrete remains a popular and budget-friendly choice in casual operations, and vintage materials, such as terrazzo, are being embraced anew in modern flooring applications.
And while designers' focus on flooring as an important contributor to overall brand aesthetics has sharpened significantly, flooring continues to find new functionality in the era of COVID-19 by contributing to efforts to manage social distancing. While overt floor decals and signage help guide guests, more subtle integrated design solutions keep emerging.
"We've definitely started using floor materials that double as visual cues for spatial distancing," notes Lesley Hughes-Wyman, principal and co-founder of MatchLine Design Group. "It's easy to incorporate this within the design itself, getting creative with tile patterns that subtly offer the visual cues without distracting or looking like an afterthought. The patterns are subtle enough that their immediate purpose — shifting wayfinding to encourage social distancing — is not immediately obvious. Post-pandemic, they'll continue to function as mere design details rather than blatant pandemic-driven design initiatives."
---
Designer Cement Tile
Developed in collaboration with outside designer Jim Isermann,
Tesselle's Hedge Cement Tiles come in two modules that can combine to create a variety of patterns. The 8-inch-square tiles come in four color combinations: Solstice (shown) combines shades of botanical greens; Equinox combines primary colors and black on a white backdrop; Sunset features gold and brown tones on a bright blue backdrop; and Moonrise features bright blue and neutrals on an off-white backdrop.
Tesselle
---
Low-Maintenance, Natural Hardwoods
Hallmark Floors' Regatta hardwood collection offers a
dozen visuals in a variety of species including European oak, American hard maple and American hickory. The collection features hand-applied glazes, skip-sawn textures, hand-scraped surfaces and nature's graining accented by unique brushing techniques. Regatta also features the "push-lock" fastening system for extra seam protection.
Hallmark Floors
---
Flexible Patterned Flooring
Metroflor's Metroforms patterned flooring collection with Attraxion Magnetic Attachment Technology offers a functional, fashion-forward solution for visually defining COVID-driven social distancing guidelines. Attraxion's magnetic technology allows designers to use Metroforms LVT shapes and patterns to create social boundaries and wayfinding and to later reposition the flooring for a wide arrange of design options after the easing of social distance requirements.
Metroflor
---
Hardwood Beauty, SPC Benefits
Johnson Hardwood's Public House Series evokes rustic tavern charm and vintage speakeasy vibes. Available in eight colors ranging from warm taupe to dark brown, the series offers the beauty of real hardwood with the benefits of SPC (stone plastic composite) floors. A protective 30 mil wear layer creates increased impact and wear resistance. Additional benefits include SPC rigid core for 100% waterproofing, underlayment, easy-click installation, and phthalate, formaldehyde and harmful chemical-free certifications.
Johnson Hardwood
---
Quick-Ship Spanish Tiles
Tile of Spain, the international brand representing more than 120 ceramic tile manufacturers belonging to the Spanish Ceramic Tile Manufacturer's Association, has updated the Tile of Spain USA Quick Ship collection. It now includes 30 ceramic tile companies and more than 110 products that are available for immediate purchase in the United States for delivery within four to eight weeks.
Tile of Spain
---
Artistry SPC Flooring
LG Hausys added the Artistry collection to its PRESTG line of SPC (stone plastic composite) flooring. Featuring six plank and six tile visuals, Artistry brings a mix-and-match design concept to SPC flooring. Various materials, colors, finishes, patterns and textures combine within the new collection for a highly detailed, hand-crafted appearance. All products come with a 20-mil wear layer and are available in either a click or glue-down option.
LG Hausys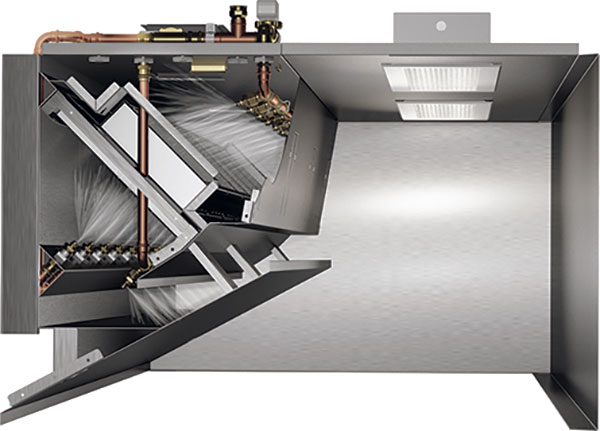 Selection and installation of effective, efficient HVAC (heating, ventilation and air conditioning) systems is expensive and not exactly sexy compared to other key elements of restaurant design, but it's among the most critical to get right.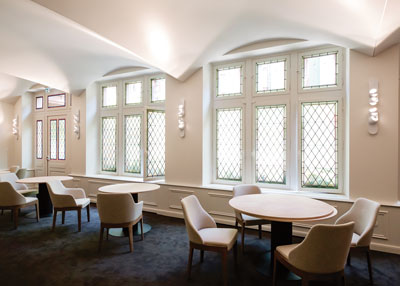 Designer Insights: Anita Summers, Principal & Lighting Designer, The Johnson Studio at Cooper Carry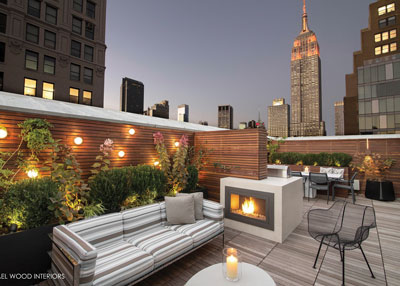 When the weather is nice, the view is appealing and/or the ambience is just so, restaurants with outdoor dining spaces often find it's hard to fill seats inside — everyone wants to enjoy the outside experience.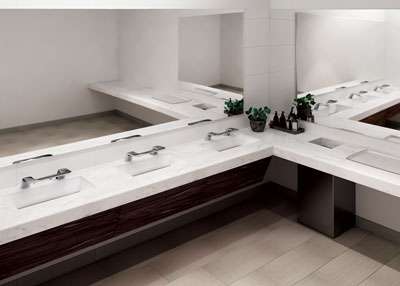 Yes, Instagram-worthy restrooms are now a thing — but that should come as no surprise. After all, restaurant guests today have a big appetite for recording and sharing images of just about anything that catches their fancy — even if it's in the loo.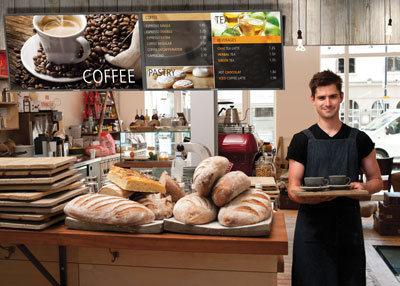 Part art, part science, menu boards and signage serve as important communication tools in a restaurant — QSR and fast-casual operations, in particular.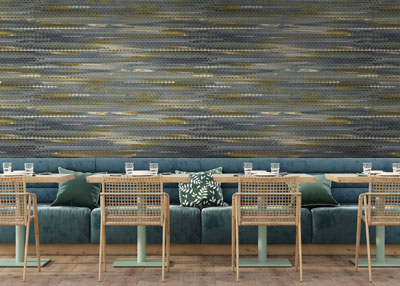 Designer Insights: John Paul Valverde & Miguel Vicens, Partners, Creative Directors, Coeval Studio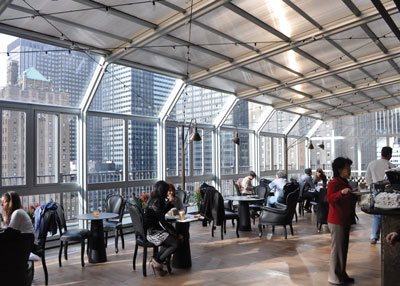 Unlike many other aspects of a restaurant's design, doors and windows must be carefully selected with multiple mission-critical functions in mind. First, they have to look good and contribute to the restaurant's brand messaging and ambience from both inside and out.