Solutions Center
Categories:
Details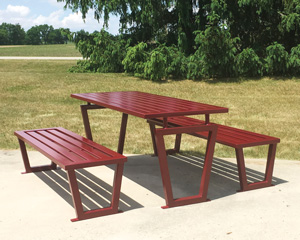 Paris Site Furnishings' Decora Benches and Picnic Tables offer contemporary lines in a maintenance-free design. They are constructed of steel, Pau Lope or recycled plastic, in backed or backless styles, with or without arms, in 4- or 6-foot lengths (picnic tables in 6-foot lengths only). Built-in anchor holes allow secure mounting to a solid surface like concrete.
Details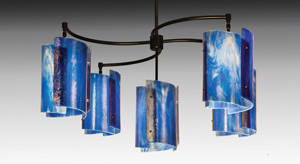 Featuring five art glass pendants, The Sea of Tranquility sculptural chandelier from Derek Marshall Lighting offers both direct down light and ambient light filtered through the glass panels. Shown in a blue, textured iridescent Tiffany glass but available in dozens of art glass colors, the armature itself can be finished in oiled bronze, satin brass or chrome. Weighing approximately 27 pounds, the light is 28 inches in diameter by 27 inches in depth, not including the main drop tube.
Details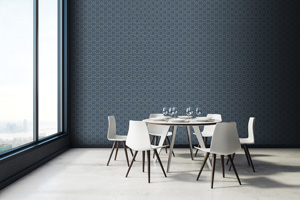 DupPont's Tedlar Wallcoverings Celestial Collection patterns, Saturn and Volans, offer a contemporary take on familiar patterns and textures. The Saturn collection is a subtle, textured, striped wallcovering that echoes the iconic feature of the ringed planet. The Volans offering emulates the flying fish found in its namesake constellation with a light, embossed pattern. Tedlar wallcoverings are easy to clean and provide stain resistance and durability.
Details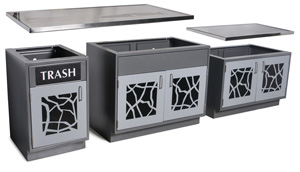 Eagle Group's Convenience Store Cabinets are powder-coated galvanized steel cabinets created as modular components that can utilize a common top (or separate tops in a scatter-system type configuration). Black and gray are standard color options with custom colors and materials on request. Inset doors are also customizable. The modular units can be standardized and provide a cost-effective option instead of using custom serving counters. Modular pieces can be mixed and matched based on requirements.
Details
Dawnwood is a new color palette for Eldorado Stone's Vintage Ranch profile. Dawnwood is an architectural stone veneer that emulates whitewashed beige barn wood. Made of concrete, the Vintage Ranch line has the look of a wood plank stone profile.
Details
Chainmaille is a new coated fabric pattern from Eduratex and is an extension of the brand's Carbon Fiber collection. Influenced by medieval knights, colors include Blue Steel, Bronze Shield, Brass Chalice and Silver Ring. The line has antibacterial and antimicrobial agents and is available on a 30-yard roll in 54-inch width and has an abrasion resistance rating of 100,000 on the Wyzenbeek #10 cotton duck. It comes fortified with a proprietary topcoat and a -10 degree F cold crack rating.
Details
ADA-certified and made in the USA, Heads Up Lock Co.'s restroom LED light lets diners know if the restroom is occupied without having to stand outside the restroom door. Perfect for single-stall restrooms and tight spaces where forming a line creates gridlock.
Details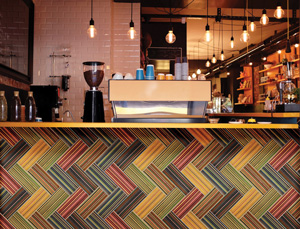 Imagine Tile, Inc.'s rePly is a multi-striped ceramic wall tile collection designed by artist Rich Moorhead. rePly was inspired by peeling back the layers of a skateboard, which reveals seven layers of colorful veneer or "ply." rePly is available in 4 ¼-inch square, 4 ¼-inch by 10-inch commercially rated ceramic wall tiles in six colorways with a standard finish. Made with preconsumer recycled materials, they contain no VOCs, are resistant to strong chemicals and are unaffected by UV light. Suitable for indoor and outdoor use.
Details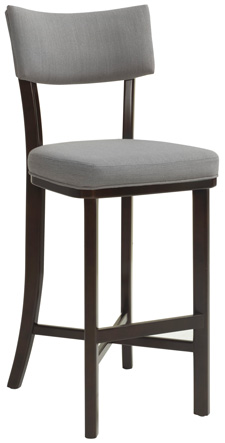 Jasper Chair added a stool to its Porter Collection. Weighing 23 pounds, the stool features a maple wood frame, a steam-bent ply backrest, upholstered seat and tapered legs. It is 18 ¾ inches wide and 46 inches tall. Select single- or dual-tone finish in a range of colors. It also features a crosswise stretcher for strength.
Details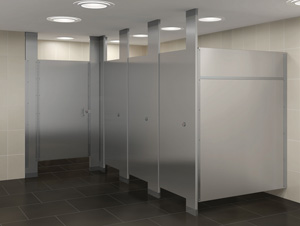 Mills Privacy Partitions feature 72-inch-tall doors and panels mounted 6 inches above the finished floor for standard stalls, and 69-inch-tall doors and panels mounted 9 inches above the finished floor for ADA stalls. To provide additional space, panels are available up to 84 inches deep and feature a new aluminum H bracket that provides a cleaner design aesthetic and faster installation. Available in stainless steel, powder coated, phenolic core and Bradmar solid plastic.