Solutions Center
Categories:
Details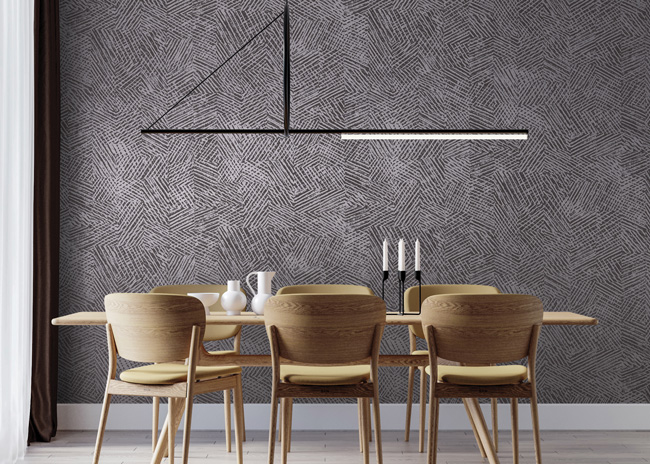 This line of wallcoverings uses light and shadow to form a pattern that emulates blades of grass. A laser-cutting technique applied to the polyester satin weave reveals a lustrous sheen and texture. This color palette ranges from warm neutrals to burgundy and beyond.
Details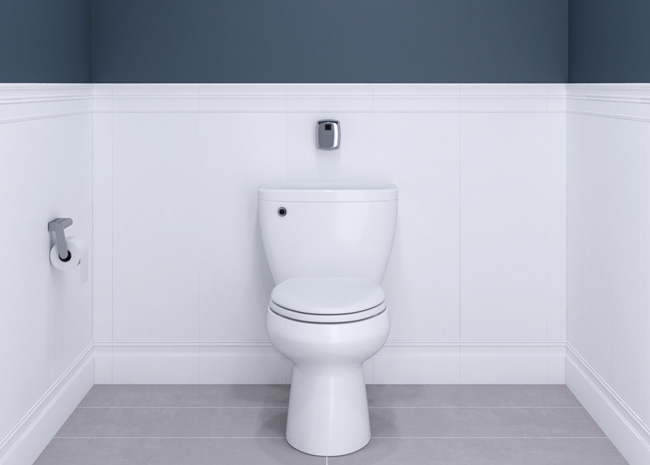 Flushmate's INTELLI-Flush Automated Flushing System is a hands-free option that works with the company's existing pressure-assisted toilets. The INTELLI-Flush system is battery-activated with adjustable sensor settings for a 5- or 7-second flush delay. It can also be programmed to use hand wave activation. An optional 24-hour Sentinel Flush will initiate an automatic flush 24 hours after its last use to ensure that restrooms stay fresher and cleaner.
Details
Paying homage to Belgium-based Studio Segers' minimalist approach to product design, Danao's nine-piece Oka Collection draws inspiration from the studio's architecture tour of Japan. The series, featuring strong lines, shapes and artforms, provides hospitality spaces with a touch of elegant modernism and wide design possibilities through its various chair sizes and ottomans. Cultivated to withstand any season, the line features a light powder coated aluminum structure. Upholstered pieces are offered in 39 high-performance fabric options.
Details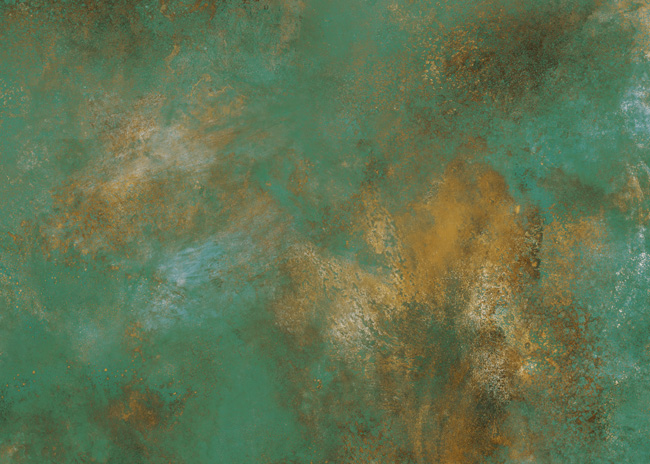 The design of this line of porcelain panel tiles evokes the appearance of materials left in the elements to weather and oxidize. The collection comes in three color variations: Nero, Bruno and Verderame, mimicking the appearance of verdigris copper and weathered metals. The panels come in 1 by 3 meter sheets with Laminam 5.6 millimeter thickness. They are suitable for interior wall and floor applications in both commercial and residential settings.
Details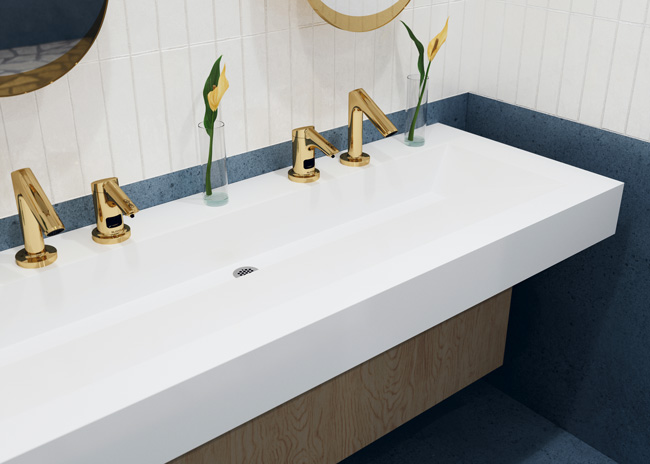 Sloan's ETF-410/EBF-415 series faucets pair with its ESD-410 soap dispensers. The ETF-420/EBF-425 series faucets pair with ESD-420 soap dispensers in Sloan's Clark and Rush Street Collections. The sensor-operated faucets and soap dispensers come in five finishes and feature the round forms and sharp angles of these lines.
Details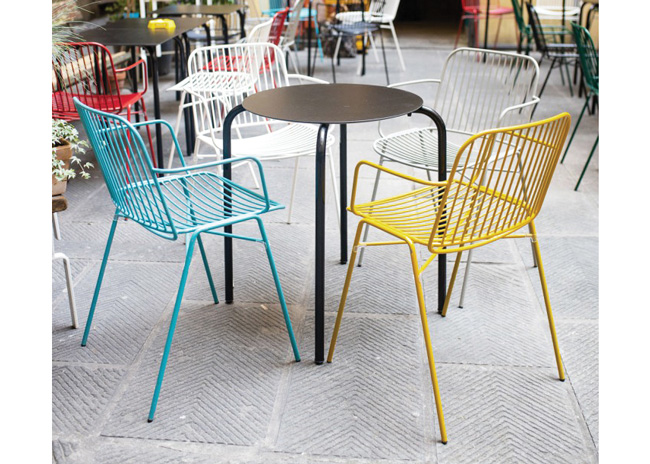 Part of Sandler Seating's Et Al collection, Shade is an Italian manufactured chair designed by Philippe Nigro. Shade is produced using tubular steel and steel rods welded together to create an optical woven effect. The stackable chairs come in 18 different colors and are suitable for both indoor and outdoor applications. Removable waterproof fabric cushions, available in two color tones, are available for outdoor use. The stackable chair comes in bar stool, lounge chair and armchair versions.
Details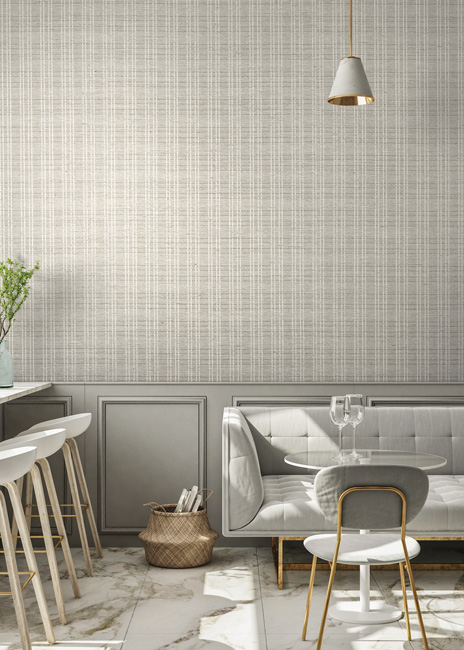 The Elemental collection of wallcoverings takes inspiration from natural elements and features calming colors and soft textures. The line includes eight new wallcoverings along with fresh new colorways of Innovations' Tahiti and Edo Silk products. One part of this line, Bodhi, includes linen yarns, intentionally left in their organic natural state to add dimension to the wallcoverings' texture and plaid-like weave pattern.
Details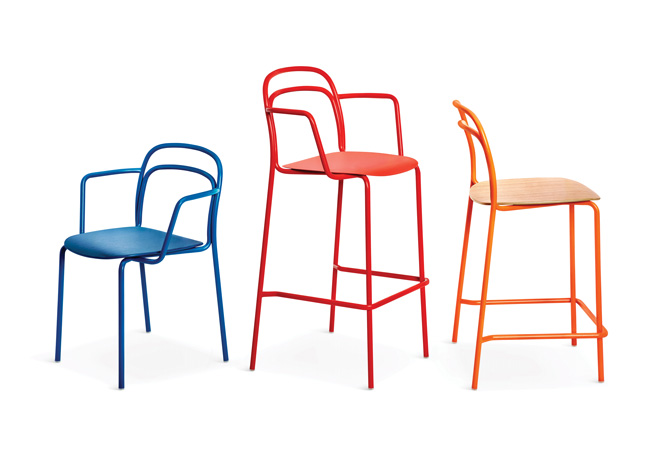 Designed by EOOS, Catty draws inspiration from the classic lion tamer chair. The light, stackable chair consists of two curving steel tubes, which form a backrest, and a smooth, thin plane of steel or wood veneer to form the seat. The wood seat option can be stained to be an exact match for the steel frame. Catty comes in cafe, bar stool or counter stool height, and has the option of arm or armless.
Details
The Portugal porcelain tile collection comes in interior and exterior finishes suitable for restaurant spaces. Portugal's interior unpolished field tiles range from 24 by 48 inches to 6 by 24 inches and the textured exterior sizes come in 12 by 24 inches and 24 inches square. Other sizes include a triangular mosaic and a traditional 2-inch square mosaic. The tiles feature a limestone aesthetic and comes in six different hues.
Details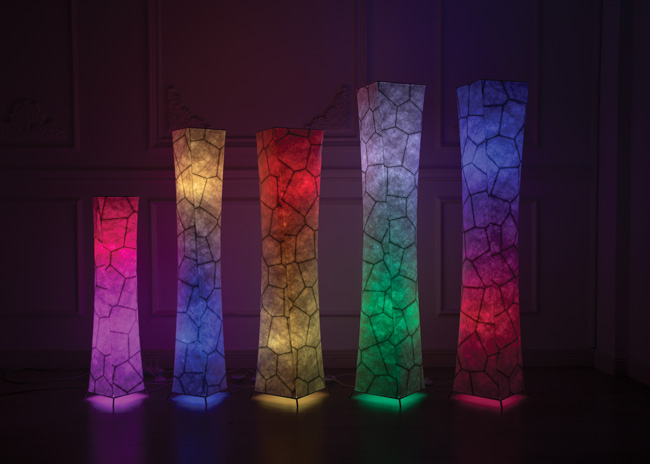 This changing ambience floor lamp has RGB mood lighting bulbs and operators can use the remote control to change color, brightness and color temperature of the light bulbs separately allowing for multiple color and lighting effects.