Solutions Center
Categories:
Details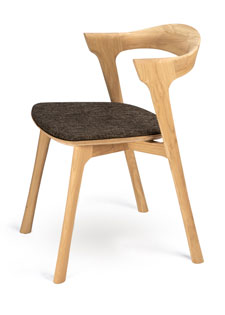 Ethnicraft has added on to its Oak Bok Dining Chair series with a mix of finishes. The Bok chair playfully experiments with contrasts. Designer Alain van Havre combines sculptural elegance and contemporary crafting into a graceful and airy form. Made of oak, the chair is 76 centimeters high and 50 centimeters wide.
Details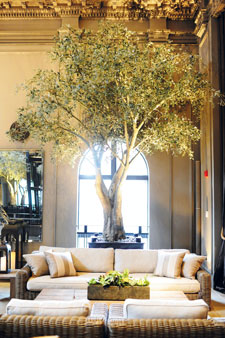 International TreeScapes creates custom artificial and preserved trees, plants and flowers. The trees are made via a proprietary process that results in durable, lightweight, fire-retardant life-size trees. Treescapes uses molds from real trees and studies foliage to ensure their creations look realistic but with none of the maintenance of a living tree. Their Fabricated Mediterranean Olive Trees are featured at multiple Restoration Hardware 
locations at 3 Arts Club restaurants.
Details
With the Ettoriano chair, designers Claudio Dondoli and Marco Pocci updated the form factor as well as the materials of a classic shell chair. Made from felt, it is the warmth of the material that reinforces the feeling of comfort visualized by the welcoming curves of the integral shell. The sleek lines of its steel base, available in chrome or anthracite-lacquered steel, underscore the minimalist aesthetic.
Details
Impact-, abrasion- and stain-resistant, Duratec is engineered specifically to stand up to the most demanding environments, including commercial kitchens, fast-food dining and other service/
hospitality-oriented interiors. It features semi-rigid surface protection technologies that safeguard against all types of glancing blows and direct hits. Duratec has the thickest wear coat on the market, per the manufacturer. Available in seven patterns and nine broad color options.
Details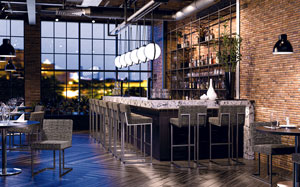 Available in dining chair, barstool and backless barstool alternatives, Lineation's high-strength steel frame puts the back of the chair and barstool at the forefront to create a unique visual. Features non-marring clear butyrate glides and an upholstered solid box-style seat.
Details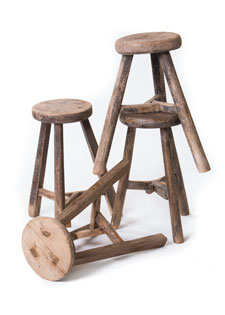 Founded by Dutch interior designer Sander van Hooydonk, Old Wooden Stool's Old Chinese Round Stools are reclaimed stools made of Chinese elmwood and are authentic and imported from China. Each stool is unique but is roughly 15 inches round and 20 inches tall.
Details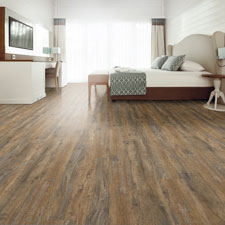 NuGen LVT flooring was designed specifically for the needs of the hospitality industry and features a rigid core floor and easy installation. Available in Tarkett's best-selling colors and patterns, each style delivers the look of natural wood grain. 
NuGen is 100% post-consumer recyclable right back into new LVT products, is FloorScore 
certified and phthalate free.
Details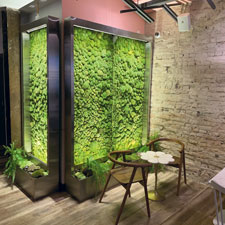 A Verdure Live Moss Wall provides a soothing visual, tranquil sounds and improved acoustics while cleansing and oxygenating the air. It comes pre-assembled in a self-maintaining ecosystem. Standard units are 4 feet wide by 8 feet tall, all welded stainless steel. The basin is 16 inches wide and 12 inches tall.
Details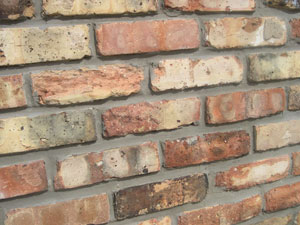 Vintage Brick Salvage's thin brick tile is made from reclaimed brick. It offers the aesthetic of a centuries-old brick wall anywhere with a product that is only a ½-inch thick. Available in a variety of colors, including Chicago terracotta shades, Milwaukee creams and St. Louis reds.
Details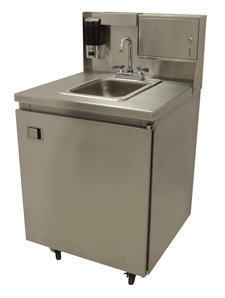 The mobile handwashing sink is suitable for handwashing in remote locations. It includes a soap dispenser, a paper towel dispenser, a 10-inch by 14-inch handwashing sink with removable utility tray. Made of with a 16-gauge 304 stainless-steel top to withstand outdoor environments, it includes casters with brakes, a lead-free faucet, and hot and cold water supply. Runs on a 120-volt, 15-amp circuit.