Solutions Center
Categories:
Carnegie's Xorel No Match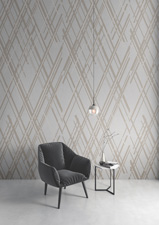 Carnegie's new Xorel No Match is a collection of high-performance wall coverings with large-scale patterns and a woven look. It features PVC-free textile with no limitation of pattern. All patterns are designed with no match horizontal repeats to ensure ease of installation, minimal waste and a randomized patterning effect. Available in three standard patterns — arrow, haze and trace (pictured) — optimal for large-scale vertical applications.
Crossville's Reformation Collection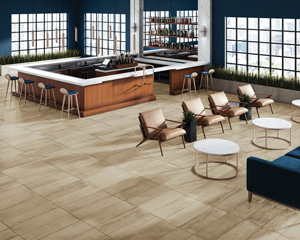 Offered in a quartet of warm-to-cool hues, Reformation is a porcelain tile collection that's available in three large-format plank tile sizes — 24 by 36 inches, 12 by 36 inches and 6 by 36 inches. The line also comes with a standard 2-foot-by-2-foot square mosaic as well as a trim package.
DeepStream Designs' Nautique Bin
Nautique is a 24-gallon leak-proof bin wrapped in 316 stainless steel. It is 17 inches in diameter and 31 inches tall. The open-grid liner support and rugged no-leak plastic bins leave no place for pests to hide. Available with non-marking feet, adjustable feet or anchor bolts. 

Fermob's Lorette Collection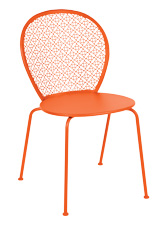 Designed by Frédéric Sofia, The Lorette Collection of tables and chairs features a flower motif with four petals. The oval-backed chair (pictured in Carrot) features four slender straight legs with flared feet to stand firmly on most surfaces, even grass. The steel tube base chairs can stack four high. The seat and back are electro-galvanized steel with an anti-UV powder coating.
Gilani's Copper Cone Bar Chair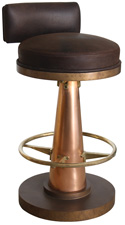 Inspired by the art deco period, the Copper Cone Bar Chair is available in both bar and counter heights. Upholstered in brown or black leather, the metal plinth and seat frame are available in a variety of finishes. A brass footrest leads down to a sturdy base that features nylon glides to prevent floor scratching.
Grand Rapids Chair Co. Frankie Table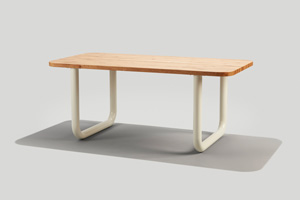 Designed by Joey Ruiter, the Frankie collection of communal tables utilizes two oversized U-shaped structural-grade steel tube legs that seamlessly intersect with a solid wood top. Available in a wide range of colors and finishes, the table ranges in length from 72 to 94 inches. 

GSky Plant Systems, Inc.'s Versa Wall
The Versa Wall's modular design allows for simple installation of living walls, including around architectural features like doors and windows. Each plant remains in its own 4-inch pot so full-grown plants can be swapped in quickly and cleanly and walls can be redesigned at will. Featuring a patented vertical irrigation technology, the Versa Wall system cuts water waste, prevents oversaturation and boosts cost efficiency by automatically running a timed gravity-based irrigation cycle less than once a week, per the manufacturer.
Original BTC's Globe Pendant
Available in three sizes as well as a wall light, the Globe Pendant is available in opal, anthracite, and clear seedy or anthracite seedy glass shade, with polished chrome or brass metalwork. The Globe Pendant with opal glass is featured in the refurbished bar of the Fox & Goose Hotel (pictured).