Solutions Center
Categories:
Innovations' Vinyl Wallcoverings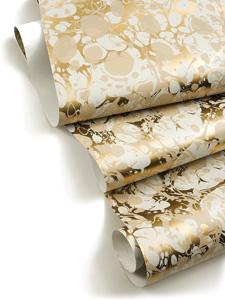 Immersion, a wallcovering from Innovations, revisits childhood with layers of texture, metallic and matte, expressing the playfulness and pure joy of bubbles. The 48-inch-wide and 31-inch-high pattern pops off the wall, making the two-dimensional surface seem three dimensional. A durable, cleanable Type II vinyl, Immersion comes in six usable colorways for hospitality walls.
Jesco Lighting Group's Linear 
Lighting System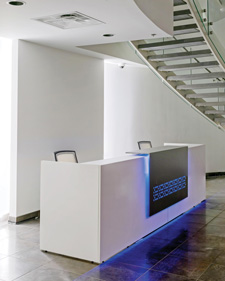 INFINA 2400K is a low-profile, high-lumen linear LED lighting system suitable for indoor and outdoor installations in hospitality, commercial, institutional and retail settings. It provides warm white and 5000K cool white linear lighting for outdoor and indoor applications. Hardwired and controlled by a remote switch, INFINIA operates directly from ordinary 120-line voltage, with no LED drivers or additional power source necessary, per the maker.
Oat Foundry's Split Flap Display
Split Flap is a retro-designed, nostalgia-inspired message board suitable for use in retail environments, restaurants, hotels and more. Users control the display through the maker's web-based application. Each hand-built display contains an array of individual modules with 50 unique character flaps. Its internal driving motor revolves each flap in a 
series of rotating animations that advance on the original Split Flap displays of the early 20th century. Designers can customize the size, color, number of modules, fonts and characters.
Optika Display's Primasee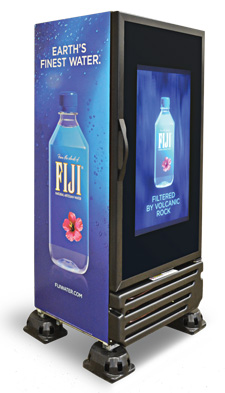 The Primasee translucent display offers a unique way to attract guests directly at the point of sale by displaying personalized digital content. Customers interact with the cooler, freezer or stand-alone glass door solution through the touchscreen display, which can display digital content. As customers interact with the solution, Primasee can gather real-time analytics. Available screen sizes range from 26 inches to 78 inches, and they come in single- and double-door configurations or as a fully customized transparent cooler, freezer or countertop solution.
Paris Site Furnishing's Bridgeline Litter Receptacles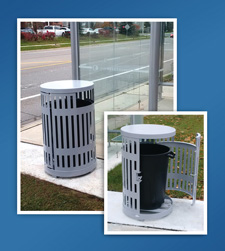 The Bridgeline series of steel litter receptacles feature contemporary styling and vandal-resistant construction. These 34-gallon containers feature a side opening door for servicing, and a side debris opening that naturally controls materials users can deposit. Rust-proof and powder-coated in a range of colors, Bridgeline litter receptacles are suitable for both interior and exterior applications.
Trex Commercial Products Ascent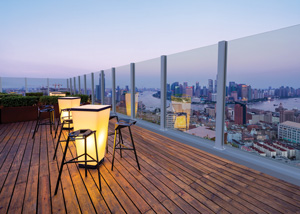 Ascent is a post-supported glass windscreen suitable for exterior use in commercial hospitality applications, specifically balconies and outdoor dining areas. This system can handle 80 psf wind loads. It comes at a standard height of 6 feet but can be customized based on project needs. Ascent uses an aluminum snap-fit system with concealed fasteners. With one side of the post in place, the glass is positioned in front of the system and held in by double-sided foam tape. The tape holds the first pane of glass in while the next piece of glass is installed. The cover is then snapped in from the front, securing the half-inch glass panel in place. To prevent corrosion, the posts are secured with an embedment or welded base plate, avoiding any contact with concrete.
Walters' Regatta Collection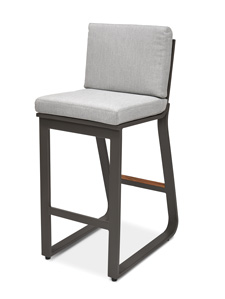 Designed by renowned architect Jeffrey Beers, The Regatta Collection of resort lounge and dining furniture is aesthetically nautical and modern. This line of outdoor furniture includes an armchair, dining chair, barstool, dining table and cocktail table. The line features a neutral color palette, and designers can choose to customize their selections through the use of accent colors and woven cord.
E = LED lighting by Yellow Goat Design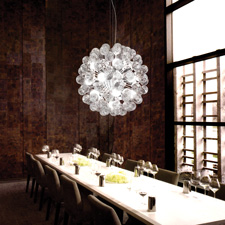 A design by mathematical equation, E = is a large-scale contemporary lighting design. This hanging pendant scatters the light in elegant magnetic fields around a room. Lit by LED bi-pins, handblown glass and crystal balls are fixed to rods and mounted to a polished aluminum core in strict, calculated locations. E = is available in a variety of finishes such as brass, gold and silver.