Solutions Center
Categories:
Lisa Batson Goldberg Peony 
Shimmer Collection
The Peony Shimmer Collection designed by Lisa Batson Goldberg is a wallpaper series featuring hand-sketched and digitally colored peony blooms with a luminescent mica finish. Each print in the collection is sold by the roll with a 70-centimeter width and a 600-centimeter height and available in five colorways.
MDC's Spectrum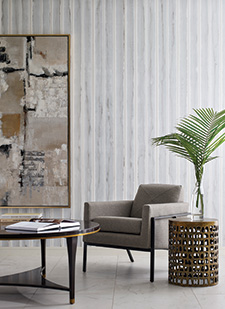 Part of the new Handcrafted collection of wallcoverings, Spectrum features unstructured vertical stripes and intricate detailing meant to be reminiscent of tranquil beaches. The poly-cellulose wallcovering is 27 inches wide and available in five colorways.
Nemo Tile's Onyx Collection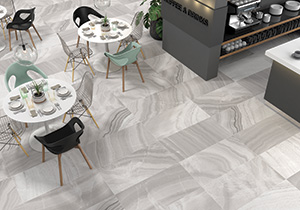 The new Onyx Collection features porcelain tiles that closely replicate natural and semiprecious stones. Available in both polished and matte finishes, Onyx is applicable to both wall and floor installations. Through advanced digital printing, the collection features high variation in appearance, mimicking the veining of natural onyx, and is currently offered in gray, white and beige colorways as well as large-format slabs, including 19-inch by 38-inch and 19-inch square.
New Growth Designs' Enduraleaf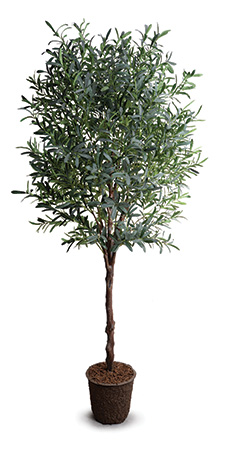 Enduraleaf's reformulated product extends the life of its weatherproof foliage. This recyclable, UV-stable product is now guaranteed to last 10 years in normal outdoor conditions (5 years in harsh sun climates) with no fading, no strength loss and no maintenance. The collection includes 5- and 8-foot-tall olive trees, as pictured. 

SelectSpace Partitions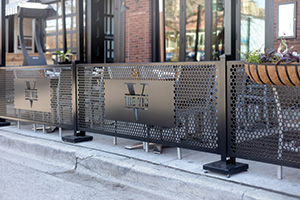 SelectSpace Partitions are a modular exterior partition system designed for easy assembly, disassembly and reconfiguration as needed. Select from a variety of interchangeable panels, stands and planters to create a custom setup. Made from aluminum and stainless steel with exterior powder coating, SelectSpace Partitions components are available in a broad range of color choices (or can be color-matched) as well as laser cut for a truly custom look.
Sloan XLERATOR Hand Dryer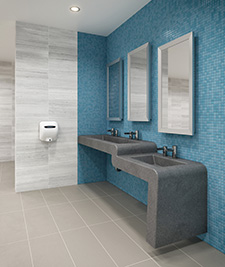 Sloan has released two new hand dryers and an update to its original XLERATOR product. The wall-mounted hand dryer now comes with a HEPA filter option. Additionally, Sloan offers accessories that include antimicrobial wall guards and a noise-reduction nozzle to reduce sound levels by nine decibels. It still features an eight-second hand-drying time.
SunBrite's Veranda Series
Designed for permanent outdoor installation in full-shade areas, the IP-controlled Veranda Series features full HDR support for color accuracy and plug-and-play compatibility for SunBriteTV outdoor sound bars. All Veranda Series displays are designed to operate in temperatures ranging from -24 degrees F to 104 degrees F, while the powder-coated rust-proof aluminum exterior protects from rain, snow, dust, insects, humidity and salt air. The new Veranda Series is available now in 43-, 55-, 65- and 75-inch models.
Tarkett's iD Mixonomi LVT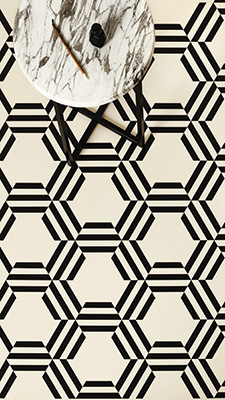 Tarkett's iD Mixonomi luxury vinyl tile features a diverse palette inspired by global travel, offering a wide array of colors from pastels to jewel tones in eight graphic shapes and three mini-shapes that can be combined in a wide variety of high-impact layouts. iD Mixonomi is low-VOC and has 32% preconsumer recycled content.