The view from 3,000 feet of the American quick-service restaurant industry is arguably more interesting right now than at any time in its history. And for companies within the segment, now is arguably as challenging a time as any. That's because the once relatively simple QSR restaurant model suddenly is no longer simple.
The original masters of the convenience universe, whose brands are part of daily life for millions of consumers, are being pressed to veer beyond their traditional lanes — and to do so quickly. With market share lost over the past decade to new sources of competition (hello, fast casuals, meal kits and c-stores!), with technology advancing rapidly, and with consumer expectations for quality and convenience shifting the landscape in seismic ways, QSRs must now be much more than simply a pit stop for decent, consistent food served quickly and cheaply. They need to be technology companies, delivery providers, caterers, experience creators and committed stewards of the environment. Their menus need to appeal to a more diverse, food-savvy consumer base without losing speed or price-point advantages. And they must do and be all of these things in a stagnant foodservice market hampered by chronic labor shortages and rising operational costs.
Zooming in on segment leader McDonald's illustrates just how dramatically and quickly QSR is transforming and how operators throughout the segment are or will be addressing such challenges. Since 2015, just four years ago, the company has made massive shifts in everything from unit design and food delivery channels to menu mix, order-taking and production technologies throughout its global system of some 38,000 restaurants.
In 2017, McDonald's rolled out delivery, partnering with Uber Eats and DoorDash as third-party providers. Delivery already accounts for some $3 billion in sales, much of it incremental.
In 2017, McDonald's rolled out delivery, partnering with Uber Eats and DoorDash as third-party providers. Delivery already accounts for some $3 billion in sales, much of it incremental. In 2018, the chain announced a $6 billion plan to refresh and remodel most of its 14,000-plus U.S. restaurants, a makeover that includes new furnishings and decor, remodeled counters, and a more modern aesthetic inside and out. To counter speed-of-service declines, menus have been streamlined — particularly relative to all-day breakfast, customizable Signature Crafted burgers and late-night options.
McDonald's most recent strides toward creating what CEO Steve Easterbrook has dubbed "experience of the future" restaurants take its digital and technology capabilities into Amazon-esque territory. Already seeing benefits from average-check-boosting self-order kiosks and digital menu technology in-store, McDonald's in March spent $300 million to acquire Tel Aviv, Israel- and New York-based Dynamic Yield to enhance drive-thru engagement, sales and speed of service. The company's personalization technology enables McDonald's to vary drive-thru menu displays based on time of day, weather, current restaurant traffic and trending menu items. It can also instantly display and suggest add-on items to a customer's order based on their current selections, effectively using machine learning to automate and enhance the suggestive selling process. The rollout is happening quickly: Deployed in some 700 units in the U.S. by midsummer, the company expects to have it active in all drive-thrus in the U.S. and Australia by the end of 2019.
In April, McDonald's further bolstered its digital technology capabilities with a $5.4 million investment in New Zealand-based Plexure, whose software powers a version of McDonald's hugely successful Global Mobile App. The transaction marks the company's first investment in a mobile app vendor, and terms of the agreement between the two companies extend McDonald's access to Plexure's technology while blocking competitors from tapping in.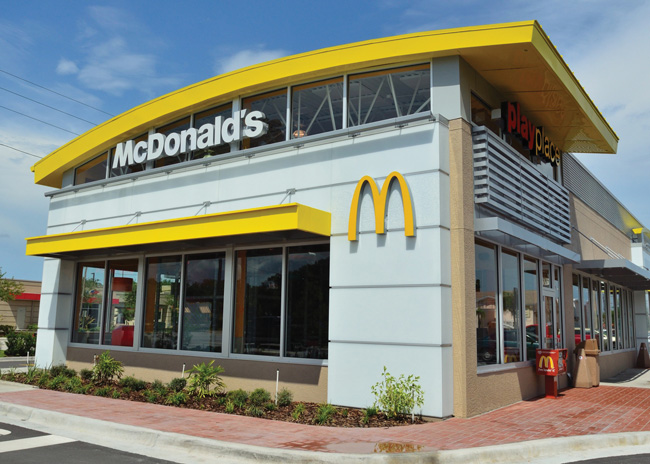 By leveraging technology and reimaging its spaces, McDonald's is leading the charge among QSR brands to become faster, smarter and more responsive to changing consumer demands. Image courtesy of McDonald's
Faster, Smarter, More Responsive
Of McDonald's rapid-fire embrace of such business transformation initiatives, Easterbrook noted during a Q2 2019 earnings call that the pace of change outside of its business had been eclipsing the pace of change inside. "We knew we had to evolve with our changing market and consumer dynamics, and we knew incremental progress wasn't going to cut it," he said during the call. "Returning to a growth company was going to require big, bold steps and greater personal accountability. We knew success would be determined by the fast beating the slow, by choosing progress over perfection and moving with a sense of urgency. So, we set out on a journey to become faster, smarter and more responsive to changing consumer expectations."
The turnaround strategy appears to be taking hold. During that earnings call, Easterbrook said the company has seen 16 consecutive quarters of positive global comparable sales growth. U.S. sales in the second quarter rose by 5.7% and international sales by 6%. While traffic continues to lag for
McDonald's, as for the rest of the industry, results follow Q1 sales gains of 4.5% and 6.0% for U.S. and international sales, respectively.
With McDonald's and other A-list QSR chains setting the pace for being faster, smarter and more responsive, willingness and ability to invest heavily in technology-driven systems will increasingly separate winners from losers, predicts Brad Christian, chief customer officer at Market Force Information, an Atlanta-based market research and customer experience management company. "In talking about technology with restaurant clients, it's not unusual to get pushback or comments to the effect of, 'we're in the restaurant business, not the tech business,'" he says. "Well, I have news for you. If you're a QSR selling burgers in this market, you're a tech company — or you'd better be."
In July, Market Force published its latest "QSR Consumer Experiences & Competitive Benchmarks Study," which highlights the growing importance of technology. The survey found that 2 out of 3 consumers had used technology to place an order at a limited-service restaurant within the previous 90 days. From 2015 to 2019, app ordering saw the largest jump, increasing from 11% in 2015 to 41% this year. In-restaurant kiosk use also showed significant gains, from 20% of consumers in 2015 to 38% so far this year.
Not surprisingly, younger consumers are more apt to use technology. Within the 18-34 age group, 1 out of 2 consumers say that if given a choice, they'd prefer to place QSR or fast-casual restaurant orders using technology.
Within the 18-34 age group, 1 out of 2 consumers say that if given a choice, they'd prefer to place QSR or fast-casual restaurant orders using technology, according to the survey.
And not surprisingly, operators are getting the message that waiting to invest in technology is no longer an option. In the National Restaurant Association's "2019 State of the Industry Report," 70% of QSR operators said they plan to ramp up investments in technology this year. The most prevalent areas of investment focus include online or app ordering, mobile payment, and delivery management, with point-of-sale systems and self-ordering kiosks receiving a nod as well.
Kiosks, in fact, are fast becoming familiar interior features as more QSR brands see the impact they can have on average order size, speed, accuracy and overall convenience. Some operators report boosts in average checks of up to 15% or even 20% when customers enter their own orders via kiosk.
Wendy's now has kiosks in roughly two-thirds of its company restaurants and is encouraging franchisees to make the investment as well, according to CFO Gunther Plosch during the company's Q1 earnings call in May. KFC plans to install kiosks in 5,000 units around the world by next year, and Taco Bell plans to have all domestic units equipped with kiosks by the end of this year.
Subway, now in year two of its Fresh Forward brand overhaul, is incorporating kiosks into its new prototype as part of a multiyear global transformation initiative focused in part on enhancing convenience and customer service. By the end of next year, the chain expects to have completed the refresh on 10,500 U.S. locations.
Burger King is also incorporating high-tech features as part of a new remodel initiative dubbed the "Burger King of Tomorrow." Inside, these features include kiosks for self-ordering, while outside, the chain is doubling down on drive-thru lanes and enhanced digital menu boards. It's all part of what Daniel Schwartz, CEO of BK parent Restaurant Brands International, described in a recent earnings call as a new image "focused on building a digitally integrated experience for guests…This is the next evolution of our image, and we have a pretty significant focus on technology."
Delivering the QSR Experience
If technology is a significant focus for the nation's leading QSR companies, so too is delivery, thanks in large part to digital ordering. What for McDonald's has grown into a $3 billion chunk of business in just the past couple years is, of course, drawing competitors to the flame as well.
Estimated by research firm The NPD Group to represent just over 3% of total restaurant industry sales, delivery sales are projected to grow at more than three times the rate of on-premise revenue through 2023, according to a new report from global consulting firm L.E.K. Consulting. Led by demand among Millennials but growing among all age groups, the firm forecasts digital delivery sales will grow at a compound annual rate of more than 22%.
Delivery sales are projected to grow at more than three times the rate of on-premise revenue through 2023, according to a new report from global consulting firm L.E.K. Consulting.
Market Force's consumer research supports the fact that delivery, much of it from QSRs, is increasingly accepted and expected. "We saw year-on-year growth across each age bracket and bigger growth in usage among younger segments of the population," Christian said. "But even in the 65-and-over age group, there was a 3% gain in use of QSR delivery from 2018 to 2019. And overall, 41% of people said they use QSRs for delivery at least monthly, while 1 in 10 does so weekly."
Yum! Brands is among industry leaders diving into delivery. The company last year funneled $200 million into online ordering platform Grubhub, which now touts nearly 20 million active users. The investment solidifies a partnership designed to drive incremental sales to KFC and Taco Bell restaurants through online ordering for pickup and delivery. In announcing the deal, Yum! said the investment will enable Grubhub to accelerate expansion of its U.S. delivery network, drive more orders to Yum! Restaurants, and further enhance the ordering and delivery experience for diners, restaurants and drivers. So far, some 3,000 KFC and 4,000 Taco Bell locations in the U.S. offer Grubhub-powered delivery and pickup service.
Chick-fil-A, which in 2018 reported a 13.7% sales gain to become the third-largest QSR chain in annual revenues after McDonald's and Starbucks, late last year announced a partnership with DoorDash to offer delivery from more than 1,100 of its 2,400 restaurants nationwide. It's another step in the chicken sandwich chain's ongoing efforts to increase speed and convenience.
In 2016, for example, Chick-fil-A debuted Mom's Valet, a service that lets parents order for their families at the drive-thru and then go inside, where an employee has a table ready for the family. The company also has a robust mobile app and loyalty program, and it routinely deploys tablet-toting employees to the drive-thru line to help take and expedite orders.
Chick-fil-A is also among QSR pioneers testing new restaurant prototypes designed solely for off-premise sales. Two locations opened last fall, in Nashville, Tenn., and Louisville, Ky., and Louisville, have no dining rooms but serve strictly as hubs for catering and delivery. As well as having no dining room, the 5,800-square-foot Nashville unit has no drive-thru. According to the company, roughly 4,200 square feet of that location's space is the kitchen. Customers can order takeout at the front counter inside the restaurant, or they can order delivery or pickup through DoorDash. They can also order catering to be delivered or picked up at the restaurant. The new 4,800-square-foot Louisville unit has no walk-up ordering. It focuses solely on preparing catering and delivery orders for Chick-fil-A restaurants in the city's East End.
Even chains not taking such dramatic steps are rethinking real estate needs and unit designs in light of the ever-increasing percentage of orders
being purchased for off-premise consumption. Rob Seely, CFSP, senior director of operations design and strategy at WD Partners, says the most obvious and appropriate response is that the back of house in general is expanding and the front of house is shrinking.
"People aren't coming inside as much, so we're steering some of that square footage that used to be needed for seating to the kitchen, which is handling more and more orders coming in from multiple channels — drive-thru and digital for pickup and delivery," Seely says. The shift creates a scenario in which operators can — and should — rethink production lines as well. With fewer customers at the counter peering inside, operators can reconfigure kitchen layouts and equipment to put laser focus on speed, accuracy and efficiency, he adds.
Plant-based beef alternatives are quickly making inroads on QSR menus. Del Taco, for one, recently began offering Beyond Beef specialties systemwide. Image courtesy of Del Taco
Food Matters
Technology and food delivery systems aren't the only revolutionary forces reshaping modern quick-service restaurants. Menus have changed, too. Yes, the standard burgers, sandwiches, fries and tacos continue to dominate, but many QSR menus have become significantly more complex in terms of number of components, possible combinations, ingredients and on-trend additions — all of which make those larger, better designed and more efficient kitchens crucial.
"If you think about the typical QSR drive-thru, this is a real issue," notes Seely. "Over the past several years, they've tried to grab back share from fast casuals and add more healthful items to their menus, making them much more complex than in the past. That means menu boards are becoming more complex, which is causing bottlenecks at the drive-thru. We're doing a lot of work to help simplify menu boards and highlight some of those items that can help consumers make decisions quicker and also that drive them to more profitable items with faster build times."
To that end, as McDonald's has done with its late-night and all-day breakfast menus, some chains are beginning to dial back the amount of variety they offer. El Pollo Loco, for one, recently announced a 20% reduction of its menu, eliminating low-margin and low-volume items as well as cutting back on LTOs. The move is intended to improve efficiency and execution and also cut down on training time related to frequent LTO introductions, according to CEO Bernard Acoca.
Jack in the Box, too, is working to reduce complexity and speed-of-service times, aiming for change to read: an average reduction of 1-minute per order by 2021. CEO Lenny Comma told analysts during the chain's Q2 2019 conference call that it has deleted low-volume items and eliminated a number of redundant ingredients, such as multiple mayo-based sauces as well as cheese and bread options, from 180 stores. Customers don't seem to mind, Comma notes, citing no detrimental impact on sales and a positive impact on execution and training.
Claire Conaghan, syndicated group manager at Chicago-based research firm Datassential, adds that the adoption of sophisticated technologies that help QSRs advance speed and accuracy may be spurring some in the segment to simplify. With the scale and financial resources to develop state-of-the-art apps and loyalty programs, a return to their core value propositions of speed and convenience seems to be underway, she says.
With the scale and financial resources to develop state-of-the-art apps and loyalty programs, a return to their core value propositions of speed and convenience seems to be underway.
"When McDonald's tried to do their customizable Signature Crafted burger program, for instance, I think they found that their new technologies were better suited to helping them improve upon what they already do so well," Conaghan says. "With speed and convenience becoming increasingly important to consumers, some QSRs are moving away from trying to introduce menu items and options designed largely to compete with fast casuals. They don't need that level of customization or variety. They can use LTOs to introduce on-trend or special items without moving too far away from their core competencies."
But even within the context of "what they do best," QSR menus are moving forward, not back. That's especially true with regards to ingredient quality but also to changing consumer eating habits. Fresh beef, cage-free eggs, antibiotic-free chicken, reduced-antibiotic beef, and other ingredients with a halo of health benefits now get special billing on mainstream QSR menus. The same is true of salads, wraps and meatless options, including a fast-growing slate of plant-based beef alternatives.
Early sales results show growing support for these alternatives. White Castle introduced its Impossible Slider over a year ago and rolled the item out nationally in April due to significantly higher-than-anticipated demand. It's now incorporating the plant-based sliders into signature LTO offerings as well. Burger King began testing its Impossible Whopper in April and is now taking the item national. Described as an LTO initially, the company says it could become a permanent menu addition.
In April, Del Taco became the first national Mexican QSR to add a 100% plant-based protein option to its menu. In the first two months, Del Taco reports it sold nearly 2 million Beyond Tacos and Beyond Avocado Tacos.
It all bodes well for consumers, who increasingly have access to fast food that's faster, more convenient and (somewhat) more healthful. As the segment starts to hit its stride with initiatives such as delivery and mobile app ordering, the pace of change and growth should only accelerate — at least for those brands with the foresight and wherewithal to innovate and keep pace.
"We're definitely beginning to see QSR showing some recovery," notes Conaghan. "After a number of years of challenges and all sorts of reformatting of systems, menus and interiors, there's been a bit of a rebound. They've traditionally been later-stage actors on both food trends and the physical restaurant experience that their brands presented, but they're now beginning to catch up with some of the fast-casual competitors who cut into their market share. And to some degree, as fast casual grows and as consumer groups like Millennials, who are now starting families, seek more convenience and value, some customers are coming back to standby QSR favorites, finding improved quality on many levels."
London-based LEON landed in the Washington, D.C., market last September and has plans for rapid expansion of its "naturally fast food" concept in the U.S. Image courtesy of LEON
QSR Spotlight: LEON
Concept: Naturally fast food, Mediterranean
HQ: London
Founded: 2004
Units: 61 (U.K., Norway, Netherlands); 2 U.S.
Braving the highly competitive and well-entrenched U.S. fast-food market, London-based LEON landed in Washington, D.C., late last year with a next-gen menu and bold plans to one day become as successful and ubiquitous on the QSR scene as McDonald's, so says Glenn Edwards, managing director of LEON's fledgling U.S. operations.
The first U.S. LEON opened September 2018 in a 2,000-square-foot storefront space on L Street. The second, a 4,500-square-foot unit, was on track to open in August on New York Avenue. A third, at 3,700 square feet, is under construction on I Street, and leases for two more units have been signed, including one in nearby Fairfax, Va. The company is now scouting locations with drive-thru capability as well. Initial targets for U.S. expansion include Virginia, Maryland and North Carolina. Locations could be as small as 600 square feet in markets such as transportation stations that don't require seating.
Of the LEON concept, Edwards says founders John Vincent, Henry Dimbleby and Chef Allegra McEvedy set out to create something that would capture the spirit and convenience of fast food but with an emphasis on natural, clean, better-for-you ingredients.
As LEON has developed, its owners and marketing team emphasize that it is, indeed, fast food and that the concept isn't out to create a new space but rather to redefine one. "As I started talking to landlords here, everyone said I should downplay fast food, that it would scare them off," Edwards says. "And landlords would look at our menu and our imagery and think we actually are fast casual. But we're not. We're fast food. The food might be made to order or it might even have been made a few minutes before it's ordered, but it's still fresh, tasty and good for you. We can hand something over faster than it takes for the credit card transaction to process. That's an economic advantage because it enables more throughput. If we have 12 terminals, we can do 24 transactions per minute during peak times. And with faster service and higher volumes, we can afford to do better, higher-quality ingredients."
Celebrating its 50th anniversary year this year, Taco John's is testing a new food truck and introducing a new design prototype with a bright, modern aesthetic. Image courtesy of Taco John's
Celebrating its 50th anniversary year this year, Taco John's is testing a new food truck and introducing a new design prototype with a bright, modern aesthetic. Image courtesy of Taco John's
QSR Spotlight: Taco John's
Concept: Mexican
HQ: Cheyenne, Wy.
Founded: 1969
Units: 385 franchised, 11 company owned
It is a particularly challenging time right now for QSRs, says Jim Creel, president of Taco John's, a privately held Midwestern Mexican QSR chain that has seen its share of ups and downs over its 50-year history.
"Traffic overall is down, and there's a lot of discounting. That's not so unusual, but what's more difficult today is that while we're having to discount our products, we're also having to invest a lot in technology," says Creel. "As a result, a lot of brands are reducing their store numbers, some significantly. I think those that are able to survive the next few years will begin to see growth opportunities again."
For its part, Taco John's is in the midst of implementing mobile app- and kiosk-based ordering, and it recently signed online ordering and delivery agreements with DoorDash for all stores. The chain is also turning to technology as much as possible to help ease labor issues in the back of the house as digital orders are poised to rise, according to Creel.
Taco John's recently began testing a food truck and is introducing a new design prototype and an updated logo. "We wanted something that was fresher, brighter and more appealing to the modern consumer," Creel says. "We really like the new design and feel it's going to be something that will attract attention. And we love the food truck. It's an opportunity for some of our franchisees to service small towns nearby on a rotating schedule as well as tap special events. And it may help us to test new markets as well."
The first two new prototype units were under construction this summer in Taco John's home market of Cheyenne, Wy.
Taco John's has plans to introduce a new menu in the first quarter of 2020. Some unprofitable items are being removed.
Within the next three years, Creel anticipates Taco John's reaching the 450-store mark. Fourteen new units will open this year, but like many others in the segment, the chain is also focused on right-sizing. "While we're opening new stores, we're also closing some that are just no longer viable, so the net gain will be smaller," he says.