Subway introduced an image refresh called Fresh Forward designed by FRCH Design Worldwide. The new design features a bold color scheme, self-ordering kiosks, curated music and more.
"We've created a modern design that gives our guests choices – from how they order, to how they pick up their food, to how they enjoy their meal," says Trevor Haynes, vice president of operations at Subway.
Subway redesigned counter
The dine-in experience has been updated with bright colors inspired by fresh vegetables, curated background music, comfier seating with USB charging ports and complimentary Wi-Fi.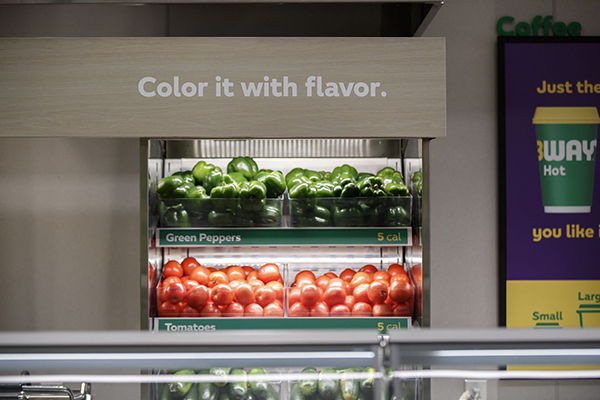 Subway fresh veggie display
Reinforcing the concept of Fresh Forward is a display of fresh veggies that features whole tomatoes, green peppers, onion and cucumbers. A new bread and cookies display sits placed on the front of the line as well. The refresh also introduces several new menu items and sauces, including pico de gallo, house-made pickles and gluten-free bread.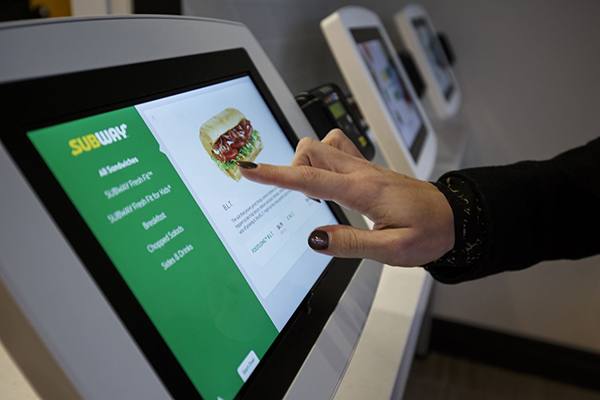 Subway self order kiosks
Technology is front and center with self-ordering kiosks in selection locations, new digital menu boards and mobile payment options. Subway Digital debuted in 2016 to develop an omnichannel strategy for the brand. Guests will now have a separate food preparation area and a designated pre-order pick-up location for kiosk, mobile app, delivery, catering and bot for Messenger orders.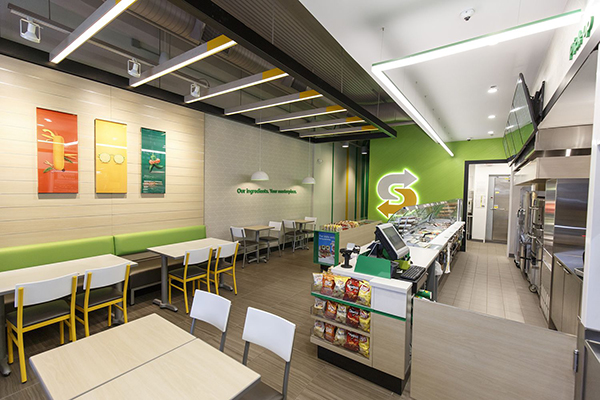 Subway redesigned interior
Subway is piloting the new design in 12 pilot locations in the U.S., Canada and the U.K.: Tamarac, Fla.; Orlando, Fla. (2); Winter Park, Fla.; Chula Vista, Calif.; Knoxville, Tenn.; Palmview, Texas; Hillsboro, Ore.; Vancouver, Wash.; Beauport, QC; Granby, QC; and Manchester, U.K.
Last year, Subway rolled out a new brand identity designed by Turner Duckworth New York, including an updated logo, new symbol called the Choice Mark and a new color palette. The brand identity included new packaging, uniforms and signage, which started rolling out this spring in North America. Many elements of the new brand identity will be worldwide by the end of 2017.
Subway has restaurants in 113 countries and more than 44,800 franchised locations.