California's Four Seasons Westlake Village hotel recently upgraded three of its foodservice operations. The spaces were all designed by EDG design and are owned by billionaire businessman David Murdock.
Four Seasons Westlake Village
The largest of the three operations is Coin & Candor, a nod to Murdock's humble beginnings with just six cents in his pocket after serving in the Army during World War II.
This space offers a California spin on the relaxed French brasserie, says Jennifer Johanson, CEO and president of EDG. "We combined classic Brasserie motifs with a contemporary edge to capture the essence of California style and attitude. We curated a balance of glamourous, muted, and rich materials to achieve the look of a 'Crisp California Brasserie'"
The biggest challenge in creating this concept, says Johanson, was the physical space itself. Large and round, much of it was underutilized by the previous occupant. In response, EDG developed a large circular island bar that serves as the focal point of the restaurant.
Highlighting this bar are the marble finishes and the brass colored half-sphere overhead. That sphere was already in place, noted Johanson. EDG made it pop by adding the brass finish. More brass at the bar can be found in the stools and in liquor display shelving.
Four Seasons Westlake Village
To address the room's large size, EDG brought the exterior wall in several feet, creating an outdoor dining space.
"We optimized the potential of the space by creating a new outdoor dining patio for the ultimate California indoor-outdoor dining experience that is laidback but sophisticated," Johanson says.
Four Seasons Westlake Village
Like Coin & Candor, Prosperous Penny's name was inspired by Murdock's life story. This space, says Johanson, was previously a lobby area that was converted into a lounge, with the intention of bringing in guests and locals alike for socializing, drinks and maybe a bite to eat.
"Coin & Candor is ideal as a day spot and a natural happy hour point with all the natural light. People can have another late night option with Prosperous Penny," she says.
According to Johanson, Prosperous Penny is designed as a speakeasy with a very masculine feel. Lighting is low, armchairs and leather couches are dark. To keep the place from being too dark, though, the designers worked in some softer touches, including crisp lines in the carpeting and slightly softer blue on the back bar.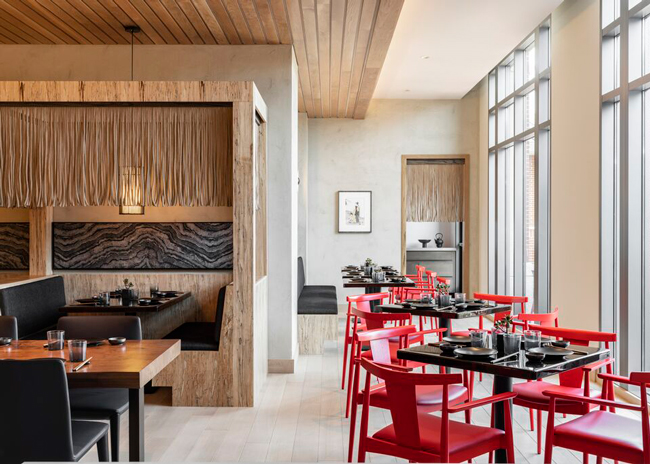 Four Seasons Westlake Village
While Coin & Candor and Prosperous Penny are new concepts, Onyx opened its doors more than a decade ago and has found success as a Japanese restaurant. The designers inherited the space and were charged with giving it an update.
While Coin & Candor puts a California spin on French-style dining, here the Golden State influences a traditional Japanese space. The restaurant makes nods to the Japanese quest for harmony with nature, Johanson says, with the use of many natural materials, including hardwoods and ceramics.
It also features nods to sea, sky, forest and mountains. The white light fixtures, for example, resemble clouds while the veined artwork in the booths call to mind both earth and sea.
The space does have some more playful modern touches, such as the cloud light fixtures and the unexpected red chairs by the windows.
"Onyx is modern reinterpretation of California themes through the lens of traditional Japanese design principles. We wanted the space to feel fresh and fun with modern design elements," says Johanson.