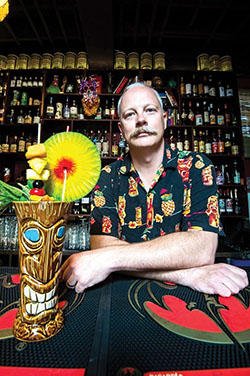 Stefan Was at Porco. Image courtesy of Ken Blaze
The tiki phenomenon first took root in the United States in the 1930s with the opening of the legendary Don the Beachcomber and Trader Vic's restaurants in California.
By mid century, Polynesian pop culture permeated America — in restaurants, home decor, art and fashion — thanks to a confluence of influences that included GIs returning from the Pacific Theater; the Kon-Tiki expedition; and the best-selling book, musical and movie "South Pacific." Elaborately designed tiki dens of yore offered an escape into an exotic tropical paradise.
The phenomenon fell out of vogue during the Vietnam Era, but dedicated artists, collectors and aficionados kept the tiki spirit alive. Today, tiki bars and restaurants are enjoying a resurgence. New wave designs pay homage to tiki's history by rescuing and incorporating artifacts from its storied past while amping up the drama to include high-tech volcanoes, waterfalls and other special effects. Tiki bars are now part of the greater landscape of bars and restaurants that offer immersive experiences.
Porco Lounge & Tiki Room, Cleveland
A museum of tiki's storied past lives on in Cleveland at the Porco Lounge & Tiki Room. "We are curators and caretakers of these tiki artifacts and are teaching a new generation about this colorful history," says owner Stefan Was.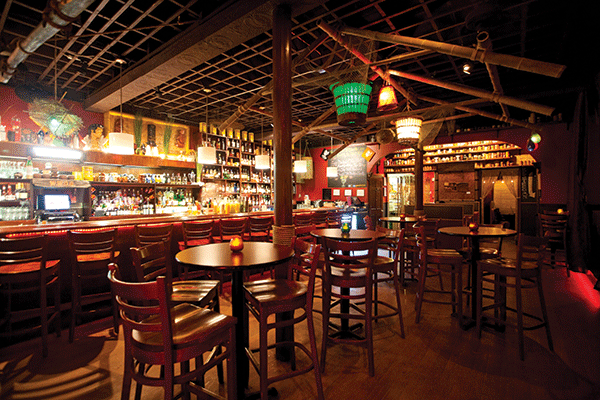 Porco Lounge & Tiki Room features decor scavenged from the Cleveland unit of the famed Kon-Tiki restaurant chain, which closed in 1976. Image courtesy of Sam Twarek
Many of the prized pieces exhibited were scavenged from the Cleveland unit of the famed Kon-Tiki restaurant chain, which closed in 1976. That includes the two hand-carved Polynesian outrigger canoes — Princess Kaiulani and Surf Rider — hanging from the ceiling, pufferfish lamps and the original doors from Kon-Tiki, made of mahogany with ornate brass handles, weighing 300 pounds each. "When customers walk in here, they pass through the very same doors that opened into the Kon-Tiki," notes Was. "It's humbling and neat. I love that connection to Cleveland's past."
Many of these original pieces from the Kon-Tiki and other defunct bars were provided through the generosity of a local tiki collector, David Jackman. He would lend out the artifacts until Was had enough money to pay for them. Now deceased, Jackman's cremains are ensconced in a hand-carved statue in a place of honor at Porco's bar.
"It was designing on a shoestring budget," recalls Was, who scoured the internet for the remains of defunct tiki bars. For example, he scored some chairs from Chin Tiki in Detroit, which closed in 1980, and rescued a few artifacts from The Kahiki in Columbus, Ohio, which was torn down to make way for a Walgreens parking lot.
"For the tiki decor, we just cobbled together elements we found for free," Was says. This included roof thatch from a hair salon/ice cream shop that was going out of business, for example, and an old bamboo hut abandoned behind a barn. "We power-washed the hut, and now the bamboo lines our walls. A bit of thatch and bamboo go a long way to conceal any cosmetic blemishes."
Porco Lounge & Tiki Room occupies 2,800 square feet and has 75 seats, mostly square high-tops and stools. The patio seats 40 and includes a big waterfall feature. "That's a huge plus because people love to sit outside, and we can plant exotic foliage instead of the fake stuff," Was says. The patio also sports traditional tiki torches. Inside, fire is limited to Flaming Scorpion Bowls; thatch and bamboo make torches a fire hazard.
A display of over 2,000 tiki mugs lines shelves in the bar. Was started the collection by searching thrift stores; then, customers started to donate them. "It's amazing how fast mugs accumulate," Was says. For actually serving drinks, he had master carver Danny Gallardo, aka Tiki Diablo, design a set of tiki mugs.
Porco's bar. Image courtesy of Sam Twarek
Many tiki drinks are garnished with umbrellas and swizzle sticks shaped like monkeys, palm trees and other fanciful motifs — mementos customers can take home as souvenirs. Porco's original bar top was in bad shape, so Was got the idea to place the collection of swizzle sticks he'd amassed over the years on the bar, then flood it with clear epoxy. It's a big attraction. "Most of these bars don't exist anymore," he says. "People see them and say, 'Oh, yeah, I remember that place.' Every swizzle stick tells a story."
Despite Porco's dark atmosphere, the bar is fairly well lit to display the bartenders' skill in action. "That's our altar," Was says. "It's impressive to see bartenders handling two shakers at once and building a dozen drinks at a time." Customers can enjoy the show from all over the room.
"Tiki is not just about what goes in the glass; it focuses on the whole experience. Decor, music, fashion — so much comes into play creating a tiki concept," says Was. "Tiki is escapism without getting on a plane. You can walk down the block, enter a tiki bar and be whisked away to paradise."
See False Idol in San Diego on the next page.
False Idol,
San Diego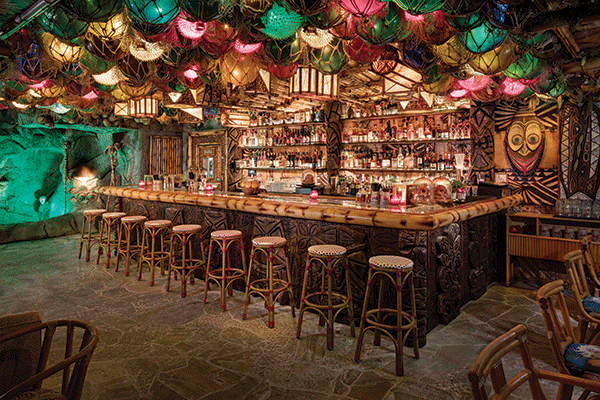 At False Idol, every square inch of the 1,000-square-foot space is decorated with artifacts. Image courtesy of Zack Benson When guests order drinks like the potent punch Alkala the Fierce at False Idol, they will be shaking in their seats — thanks to a volcano that erupts with a rumbling roar, spewing smoke and lava, that rattles the banquettes. Besides the flaming volcano, the tiki bar also boasts an indoor waterfall. "We spent six months of engineering figuring out how to create the water and fire features. We installed servos to shake the seats, and the 90-foot water feature requires pumping massive amounts of water," says Arsalun Tafazoli, co-founder of CH Projects, the San Diego-based hospitality group known for its boundary-pushing, design-forward concepts like Ironside Fish & Oyster, Polite Provisions, Noble Experiment and UnderBelly.
San Diego has a long association with tiki culture, says Tafazoli. During the 1950s, the city boasted over 40 tiki bars (now extinct). Today, the city hosts the annual Tiki Oasis, a major convention devoted to Polynesian pop culture. The company saw a need for a new kind of tiki bar, combining principles of current cocktail culture with groundbreaking decor.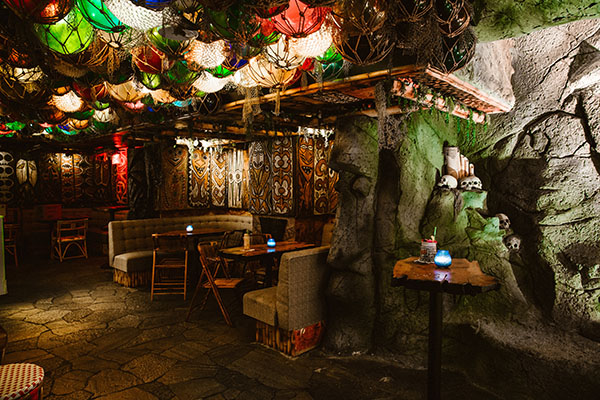 FalseIdol BrogenJessup 0008
CH Projects partnered with cocktail and tiki authority Martin Cates, owner of Smuggler's Cove and Whitechapel in San Francisco, to craft False Idol. The secret entrance to the 40-seat bar is hidden behind a walk-in cooler in the company's Craft & Commerce restaurant. Every square inch of the 1,000-square-foot space is decorated with artifacts, such as traditional Papua and Maori-style masks and a ceiling covered with over 400 glass buoys and petrified pufferfish. "We wanted to create an immersive experience with this organic, undersea environment. It's all part of the escapism component that is so important to tiki concepts," says Tafazoli.
CH Projects enlisted the expertise of some famed tiki artists: Bosko Hrnjak created elaborately detailed wood-panel carvings that adorn the main bar and the walls, while Ignacio "Notch" Gonzalez combined traditional design elements into a cohesive whole. The duo also designed a bespoke False Idol tiki mug for the venue.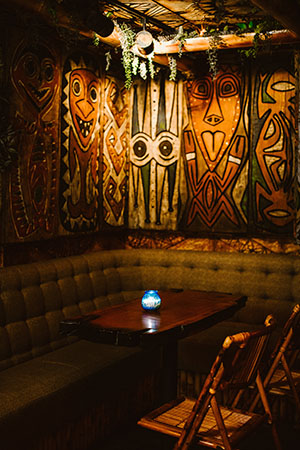 An extensive collection of over 300 different rums on the back bar is an impressive focal point. The bar itself is a mini museum dedicated to local tiki history. Supported on a base of custom-carved panels, the top is a bamboo-sided, glass-topped case displaying memorabilia from local tiki establishments. "People loaned us their collections, relics from now-extinct tiki bars — original menus, napkins and matchbooks," says Tafazoli. Every piece is unique, and customers always
discover something new when they come to the bar.
The project required extensive research. "Tiki has certain design aspects — incorporating elements of fire and water, for example — that have to be respected," says Tafazoli. When tiki bars lost popularity during the Vietnam conflict, the culture traveled underground and into private home bars. The CH Projects team toured those home bars to explore that culture and discover the genres and nuances of tiki design. "We learned it was traditional that the bar be
protected with a bamboo structure," says Tafazoli. "We also decided to go with a more Papua New Guinea approach in the design."
The hospitality company will explore different genres in the future, Tafazoli says. "Tiki is more than a trend; it's been around for a long time and is here to stay."
See South Seas Tiki Lounge in Charleston, S.C. on the next page.
South Seas Tiki Lounge, Charleston, S.C.
"The Trilogy of Tiki" is how owner Jonathan Buckley describes the experience at South Seas Tiki Lounge. "We have a tiki bar where customers who are into cocktailing can interface with mixologists; a big, beautiful outdoor space; and now the lounge, where we focus on large-format bowl drinks — Scorpion Bowls, Volcanoes — served and flamed tableside."
South Seas Tiki Lounge decor draws from owner Jonathan Buckley's extensive personal collection of tiki artifacts. Images courtesy of South Seas Tiki Lounge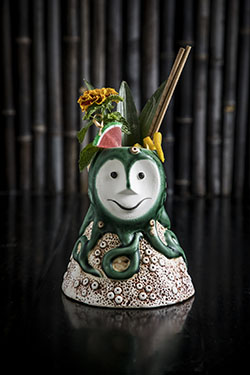 Buckley executed the design himself, drawing from his extensive personal collection. "I'm a longtime tiki buff. For years at my beach house in North Carolina, I hosted an annual tiki party and accumulated a lot of ceramic mugs and other Polynesian-themed paraphernalia." He had noted that there wasn't a good tiki bar in the Southeast outside of Florida and saw an opportunity. "Timing and the stars aligned for the South Seas."
Buckley drew on his hobby for much of the interior. "I had an awesome collection of vintage hula skirts, handmade with shell beading, which I converted into wall hangings," he says. Also on the walls are 12 vintage 1960s Witco carved owl plaques, a "digital aquarium" and tiki heads carved by Bosko Hrnjak. In the lounge, lights are integrated in vintage parasols hanging from the ceiling to tie into the "umbrella drinks" theme.
The bar top was fashioned from split green bamboo, crafted by hand using a technique that required weeks to complete. The furniture is vintage 1958 Ficks Reed Far East Collection bamboo chairs and tables, including a rolling bar cart for tableside service. South Seas' backbar, aka the Rum Altar, is a 1940s British Colonial teak piece that Buckley had been using at his home. "The approach was mid-century furniture and materials," he explains. "Back then, tiki bars were all the rage."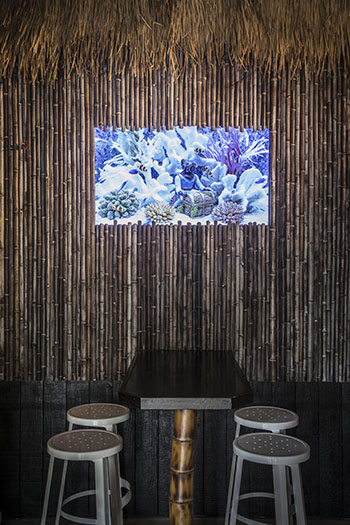 Buckley opened South Seas last summer in Camden Depot, a historic train station. The long, skinny building — "You could drive a train through it," he jokes — is 7,000 square feet. The South Seas Tiki Lounge is about 1,800 square feet, with the bar seating 25 and the lounge about 45 guests comfortably. The outside patio is about 1,500 square feet and holds 60 to 75 guests; a pass-thru window serves as a 6-seat bar outside. The train station also houses Buckley's newest venture, South Seas Sushi, and a large event space. Buckley's other restaurant, Scarecrow & Co., is located nearby.
Previously, the space had contained Buckley's Wise Buck Smoked Meats restaurant. For the tiki project, the train station's walls were stripped bare and the interior was outfitted with black bamboo. "We found a guy in Georgia who grows bamboo as a sustainable resource," says Buckley. "The fact that the product is both local and sustainable is a real plus. And it's incredibly beautiful and unique."
Buckley's next project is to commission a mural on the outside of the building that will fit the South Seas theme — an elaborate art installation to wow customers. "In this era, you need to have an element people will want to post to Instagram," he notes.