Page 3 of 3
South Seas Tiki Lounge, Charleston, S.C.
"The Trilogy of Tiki" is how owner Jonathan Buckley describes the experience at South Seas Tiki Lounge. "We have a tiki bar where customers who are into cocktailing can interface with mixologists; a big, beautiful outdoor space; and now the lounge, where we focus on large-format bowl drinks — Scorpion Bowls, Volcanoes — served and flamed tableside."
South Seas Tiki Lounge decor draws from owner Jonathan Buckley's extensive personal collection of tiki artifacts. Images courtesy of South Seas Tiki Lounge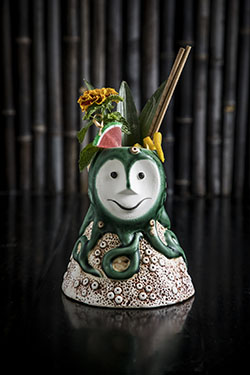 Buckley executed the design himself, drawing from his extensive personal collection. "I'm a longtime tiki buff. For years at my beach house in North Carolina, I hosted an annual tiki party and accumulated a lot of ceramic mugs and other Polynesian-themed paraphernalia." He had noted that there wasn't a good tiki bar in the Southeast outside of Florida and saw an opportunity. "Timing and the stars aligned for the South Seas."
Buckley drew on his hobby for much of the interior. "I had an awesome collection of vintage hula skirts, handmade with shell beading, which I converted into wall hangings," he says. Also on the walls are 12 vintage 1960s Witco carved owl plaques, a "digital aquarium" and tiki heads carved by Bosko Hrnjak. In the lounge, lights are integrated in vintage parasols hanging from the ceiling to tie into the "umbrella drinks" theme.
The bar top was fashioned from split green bamboo, crafted by hand using a technique that required weeks to complete. The furniture is vintage 1958 Ficks Reed Far East Collection bamboo chairs and tables, including a rolling bar cart for tableside service. South Seas' backbar, aka the Rum Altar, is a 1940s British Colonial teak piece that Buckley had been using at his home. "The approach was mid-century furniture and materials," he explains. "Back then, tiki bars were all the rage."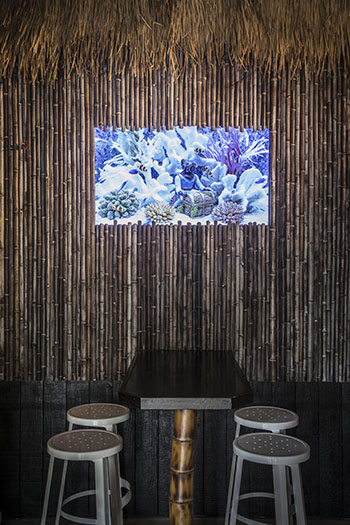 Buckley opened South Seas last summer in Camden Depot, a historic train station. The long, skinny building — "You could drive a train through it," he jokes — is 7,000 square feet. The South Seas Tiki Lounge is about 1,800 square feet, with the bar seating 25 and the lounge about 45 guests comfortably. The outside patio is about 1,500 square feet and holds 60 to 75 guests; a pass-thru window serves as a 6-seat bar outside. The train station also houses Buckley's newest venture, South Seas Sushi, and a large event space. Buckley's other restaurant, Scarecrow & Co., is located nearby.
Previously, the space had contained Buckley's Wise Buck Smoked Meats restaurant. For the tiki project, the train station's walls were stripped bare and the interior was outfitted with black bamboo. "We found a guy in Georgia who grows bamboo as a sustainable resource," says Buckley. "The fact that the product is both local and sustainable is a real plus. And it's incredibly beautiful and unique."
Buckley's next project is to commission a mural on the outside of the building that will fit the South Seas theme — an elaborate art installation to wow customers. "In this era, you need to have an element people will want to post to Instagram," he notes.