Page 1 of 3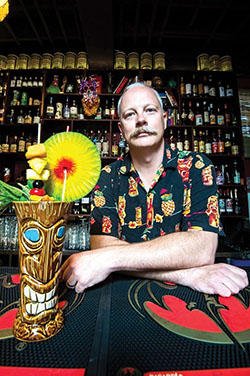 Stefan Was at Porco. Image courtesy of Ken Blaze
The tiki phenomenon first took root in the United States in the 1930s with the opening of the legendary Don the Beachcomber and Trader Vic's restaurants in California.
By mid century, Polynesian pop culture permeated America — in restaurants, home decor, art and fashion — thanks to a confluence of influences that included GIs returning from the Pacific Theater; the Kon-Tiki expedition; and the best-selling book, musical and movie "South Pacific." Elaborately designed tiki dens of yore offered an escape into an exotic tropical paradise.
The phenomenon fell out of vogue during the Vietnam Era, but dedicated artists, collectors and aficionados kept the tiki spirit alive. Today, tiki bars and restaurants are enjoying a resurgence. New wave designs pay homage to tiki's history by rescuing and incorporating artifacts from its storied past while amping up the drama to include high-tech volcanoes, waterfalls and other special effects. Tiki bars are now part of the greater landscape of bars and restaurants that offer immersive experiences.
Porco Lounge & Tiki Room, Cleveland
A museum of tiki's storied past lives on in Cleveland at the Porco Lounge & Tiki Room. "We are curators and caretakers of these tiki artifacts and are teaching a new generation about this colorful history," says owner Stefan Was.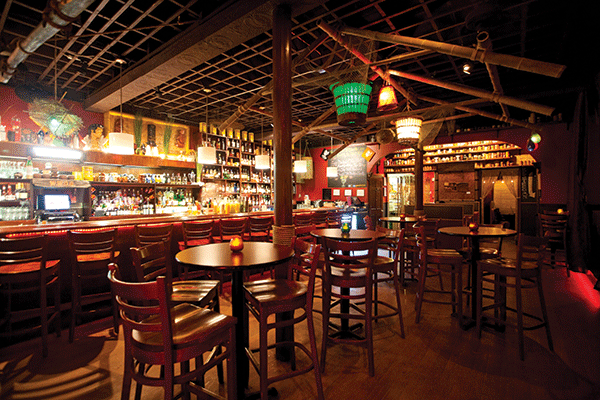 Porco Lounge & Tiki Room features decor scavenged from the Cleveland unit of the famed Kon-Tiki restaurant chain, which closed in 1976. Image courtesy of Sam Twarek
Many of the prized pieces exhibited were scavenged from the Cleveland unit of the famed Kon-Tiki restaurant chain, which closed in 1976. That includes the two hand-carved Polynesian outrigger canoes — Princess Kaiulani and Surf Rider — hanging from the ceiling, pufferfish lamps and the original doors from Kon-Tiki, made of mahogany with ornate brass handles, weighing 300 pounds each. "When customers walk in here, they pass through the very same doors that opened into the Kon-Tiki," notes Was. "It's humbling and neat. I love that connection to Cleveland's past."
Many of these original pieces from the Kon-Tiki and other defunct bars were provided through the generosity of a local tiki collector, David Jackman. He would lend out the artifacts until Was had enough money to pay for them. Now deceased, Jackman's cremains are ensconced in a hand-carved statue in a place of honor at Porco's bar.
"It was designing on a shoestring budget," recalls Was, who scoured the internet for the remains of defunct tiki bars. For example, he scored some chairs from Chin Tiki in Detroit, which closed in 1980, and rescued a few artifacts from The Kahiki in Columbus, Ohio, which was torn down to make way for a Walgreens parking lot.
"For the tiki decor, we just cobbled together elements we found for free," Was says. This included roof thatch from a hair salon/ice cream shop that was going out of business, for example, and an old bamboo hut abandoned behind a barn. "We power-washed the hut, and now the bamboo lines our walls. A bit of thatch and bamboo go a long way to conceal any cosmetic blemishes."
Porco Lounge & Tiki Room occupies 2,800 square feet and has 75 seats, mostly square high-tops and stools. The patio seats 40 and includes a big waterfall feature. "That's a huge plus because people love to sit outside, and we can plant exotic foliage instead of the fake stuff," Was says. The patio also sports traditional tiki torches. Inside, fire is limited to Flaming Scorpion Bowls; thatch and bamboo make torches a fire hazard.
A display of over 2,000 tiki mugs lines shelves in the bar. Was started the collection by searching thrift stores; then, customers started to donate them. "It's amazing how fast mugs accumulate," Was says. For actually serving drinks, he had master carver Danny Gallardo, aka Tiki Diablo, design a set of tiki mugs.
Porco's bar. Image courtesy of Sam Twarek
Many tiki drinks are garnished with umbrellas and swizzle sticks shaped like monkeys, palm trees and other fanciful motifs — mementos customers can take home as souvenirs. Porco's original bar top was in bad shape, so Was got the idea to place the collection of swizzle sticks he'd amassed over the years on the bar, then flood it with clear epoxy. It's a big attraction. "Most of these bars don't exist anymore," he says. "People see them and say, 'Oh, yeah, I remember that place.' Every swizzle stick tells a story."
Despite Porco's dark atmosphere, the bar is fairly well lit to display the bartenders' skill in action. "That's our altar," Was says. "It's impressive to see bartenders handling two shakers at once and building a dozen drinks at a time." Customers can enjoy the show from all over the room.
"Tiki is not just about what goes in the glass; it focuses on the whole experience. Decor, music, fashion — so much comes into play creating a tiki concept," says Was. "Tiki is escapism without getting on a plane. You can walk down the block, enter a tiki bar and be whisked away to paradise."
See False Idol in San Diego on the next page.