Page 2 of 3
False Idol, 
San Diego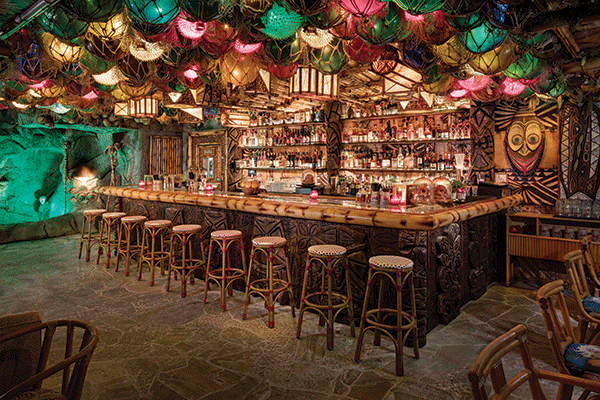 At False Idol, every square inch of the 1,000-square-foot space is decorated with artifacts. Image courtesy of Zack Benson When guests order drinks like the potent punch Alkala the Fierce at False Idol, they will be shaking in their seats — thanks to a volcano that erupts with a rumbling roar, spewing smoke and lava, that rattles the banquettes. Besides the flaming volcano, the tiki bar also boasts an indoor waterfall. "We spent six months of engineering figuring out how to create the water and fire features. We installed servos to shake the seats, and the 90-foot water feature requires pumping massive amounts of water," says Arsalun Tafazoli, co-founder of CH Projects, the San Diego-based hospitality group known for its boundary-pushing, design-forward concepts like Ironside Fish & Oyster, Polite Provisions, Noble Experiment and UnderBelly.
San Diego has a long association with tiki culture, says Tafazoli. During the 1950s, the city boasted over 40 tiki bars (now extinct). Today, the city hosts the annual Tiki Oasis, a major convention devoted to Polynesian pop culture. The company saw a need for a new kind of tiki bar, combining principles of current cocktail culture with groundbreaking decor.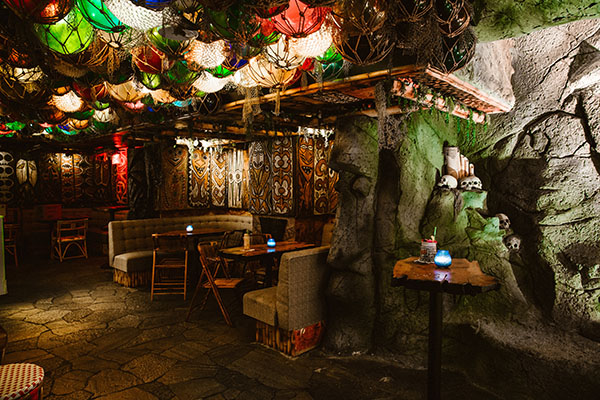 FalseIdol BrogenJessup 0008
CH Projects partnered with cocktail and tiki authority Martin Cates, owner of Smuggler's Cove and Whitechapel in San Francisco, to craft False Idol. The secret entrance to the 40-seat bar is hidden behind a walk-in cooler in the company's Craft & Commerce restaurant. Every square inch of the 1,000-square-foot space is decorated with artifacts, such as traditional Papua and Maori-style masks and a ceiling covered with over 400 glass buoys and petrified pufferfish. "We wanted to create an immersive experience with this organic, undersea environment. It's all part of the escapism component that is so important to tiki concepts," says Tafazoli.
CH Projects enlisted the expertise of some famed tiki artists: Bosko Hrnjak created elaborately detailed wood-panel carvings that adorn the main bar and the walls, while Ignacio "Notch" Gonzalez combined traditional design elements into a cohesive whole. The duo also designed a bespoke False Idol tiki mug for the venue.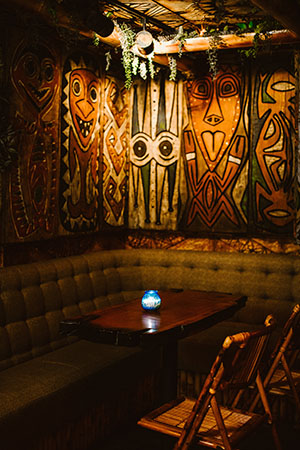 An extensive collection of over 300 different rums on the back bar is an impressive focal point. The bar itself is a mini museum dedicated to local tiki history. Supported on a base of custom-carved panels, the top is a bamboo-sided, glass-topped case displaying memorabilia from local tiki establishments. "People loaned us their collections, relics from now-extinct tiki bars — original menus, napkins and matchbooks," says Tafazoli. Every piece is unique, and customers always 
discover something new when they come to the bar.
The project required extensive research. "Tiki has certain design aspects — incorporating elements of fire and water, for example — that have to be respected," says Tafazoli. When tiki bars lost popularity during the Vietnam conflict, the culture traveled underground and into private home bars. The CH Projects team toured those home bars to explore that culture and discover the genres and nuances of tiki design. "We learned it was traditional that the bar be 
protected with a bamboo structure," says Tafazoli. "We also decided to go with a more Papua New Guinea approach in the design."
The hospitality company will explore different genres in the future, Tafazoli says. "Tiki is more than a trend; it's been around for a long time and is here to stay."
See South Seas Tiki Lounge in Charleston, S.C. on the next page.