Page 8 of 12
Restaurant Flooring Trends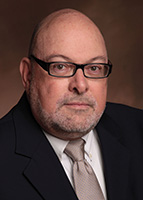 A Q&A with Mark Shannon, EVP of Sales, Crossville
Q: What differentiates your company from others in the marketplace?
Mark Shannon: As the tile market grows, the uniqueness of our company shines brighter. We were the first domestic porcelain tile manufacturer over 32 years ago and have flourished ever since. That's because we're owned by U.S.-based, privately-held Curran Group. This gives us resources and support to let us be innovative — in product design, technology, sustainability initiatives, and support solutions. And while our history is the core of what makes us stand out, we know it's essential to bring new, better, more advanced products to market. So we invest constantly to up the game for our industry.
Q: What new trends do you see coming for 2019?
MS: As confidence across market sectors holds strong, we're anticipating more bold looks and innovative designs. That means more tile with nuanced details making the most of manufacturing technology. It means more offerings of gauged porcelain tile panels. Likewise, you'll see us expanding into new applications for our products, as we have advanced offerings to take the market to the next level.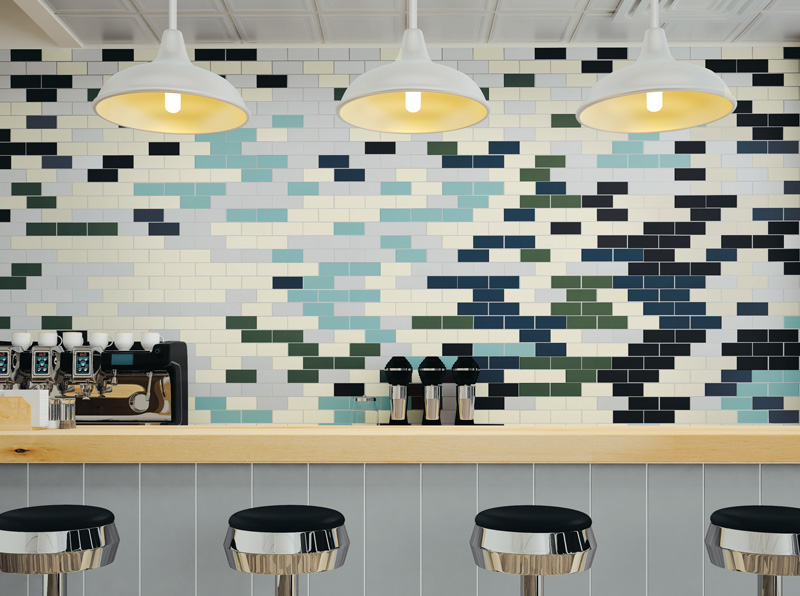 The hues and shapes of Crossville's Retro Active 2.0 tile collection invite colorfully custom installations on walls and floors in demanding restaurant environments.
Q: How are you working with designers or restaurant concepts to customize a unique solution?
MS: We approach everything with the entire design process in mind. We know tile is just part of any project; it must work well with other materials. We're in close touch — always — with the design community. From participation in associations nationally and regionally to being a leader in design trend discussions at nationwide conferences, we're at the heart of the tile and design industries.
Q: How are you able to serve the larger scale requirements associated with a chain re-design rollout or a new concept design?
MS: We're big enough to answer any need yet lean enough to be responsive to customer demands. That makes us an ideal partner for chain re-designs. Our products hit the marks for functionality, easy maintenance, endurance, and design. Our support solutions make sampling and specifications simple and fulfillment reliable — with predictability project leaders can rely on.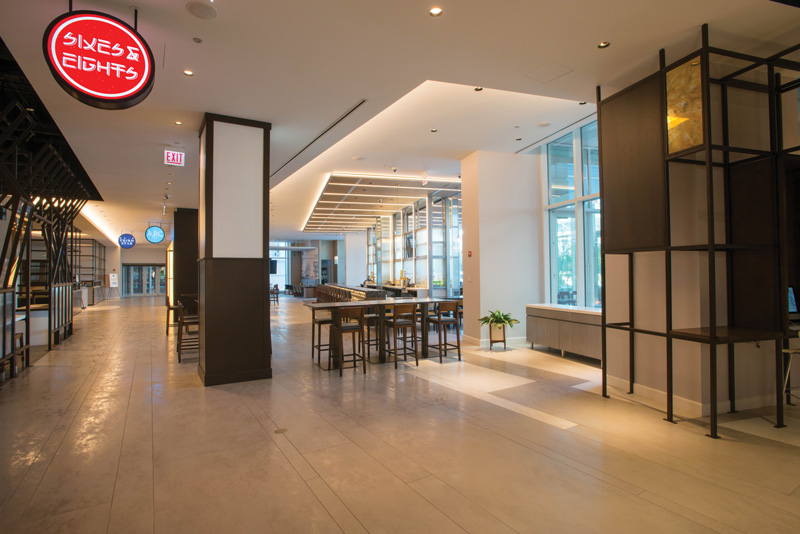 Crossville's gauged porcelain tile panels, tiles measured in feet—not inches, offer grand style and superior performance for this restaurant space at Hyatt McCormick Place in Chicago.
Q: What role is tile playing in restaurants today?
MS: Tile today is more than just the best flooring for front and back of house. Tile panels are great for covering walls and surfaces like countertops. Our cladding options dress restaurant exteriors durably and beautifully. With our tile panels, those needing speedy remodels can install tile-over-tile for efficient transformations that save time and money.
Q: When specifying tile for a new restaurant what are the most important considerations to address?
MS: Tile performance and safety are always at the top of the list. It's essential to spec the right product for the project's demands. We offer full details so specifiers can select products with confidence for any installation. We believe you never have to compromise aesthetics to achieve technical performance.
CrossvilleInc.com