Page 2 of 12
Talking Design Trends and Color Palettet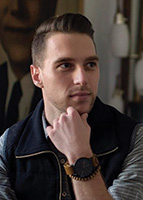 A Q&A with Dean Jeffery, director of marketing, Grand Rapids Chair Company
Who is Grand Rapids Chair Company?
First and foremost, we are an American manufacturer with a specific focus on craft and modern design. What makes us different is our ability to personalize our products more than any other company, whether that's tweaking a standard product or developing one from the ground up.
What design trends are you anticipating for 2019?
We're going to see an even stronger shift away from industrial style (at least I hope) to spaces that feel more authentic and intentional. Expect more color on furniture and more vibrant patterns on fabrics, tiles, and flooring.
One exciting trend is that restaurants are revamping their interiors more frequently to keep the customer's
experience front and center. While the physical footprint is shrinking because of delivery and take-out, design will still be key. You'll see those bolder colors, more unexpected uses of materials, and bespoke accents like wallpaper, tiles, and lighting.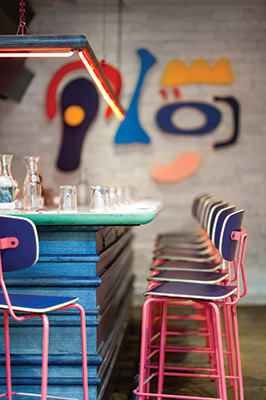 The Reece barstool features a plywood shell and steel tube frame and legs.As the head of new product development, what's your favorite product?
The Hurdle collection. It's so simple — no frills, no fuss. Hurdle uses quality materials like white oak and steel to create a super strong foundation. It's approachable with just enough quirkiness to make it memorable.
What color palette are you loving right now?
Color is such a personal experience. As long as the palette is authentic to the brand, it can be successful. That being said, I love seeing rust and olive green being used as neutrals that are complemented by dusty pinks.
Aside from the obvious, how does furniture play a role in restaurant design?
First, furniture helps restaurants tell their story and articulate their message. Furniture is increasingly viewed as an integrated aspect of how to bring a brand to life. There are many ways to do this – custom color, intricate fabric, even the curvature or angularity of a chair — all can play a role in branding.
The minimal design of the Hurdle barstool offers an informal sophistication that makes it ideal for a variety of spaces.Second, furniture physically defines space. It can establish the context for the overall atmosphere and even the types of customer interactions. Think of a communal table versus barstools perched at a window. Each configuration lends itself to a different set of customer expectations. McDonald's pioneered this idea when they introduced fireplaces, TVs, and soft seating into their stores with their McCafé campaign. Furniture can change the entire experience.
What does "design-forward" mean to Grand Rapids Chair Company?
Five years ago, we made a commitment to team up with industrial designers to create unique products that are both structurally and aesthetically long-lasting. We balance trend with practicality. While we admire (and create!) modern design, we don't want to be the fast-fashion of furniture.