Solutions Center - Materials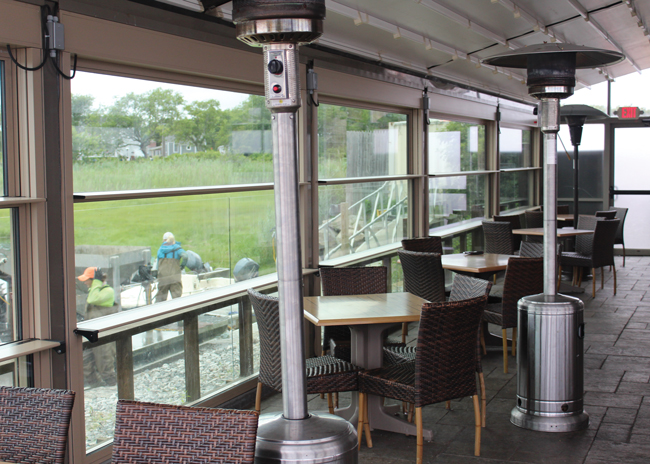 Libart Panora View Windows and Doors provide solutions for large openings up to 14 feet wide and 13 feet high. Impact rated systems are available for seacoast restaurant applications. Panels stack within the opening to save floor space and provide optimum room capacity. Window panels stack at the floor to create a glass balustrade. Door panels stack at the top of the opening. Electric operation provides custom ventilation. Screens are available.
DeepStream Designs offers easily installed barriers, enclosures and movable fixtures that allow restaurants to add social distancing elements inside and outdoors. The modular design allows designers to join panels of any size.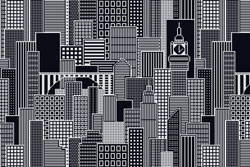 Artaic's new GLYPH wallcovering collection takes a modern approach to the ancient concept of hieroglyphics, showcasing simple images that tell a detailed narrative. Inspired by the properties of Artaic's new tile line, Vitreous Glass in 1-inch and ½-inch tile sizes, the collection can be custom fit. This high-quality Italian-style glass allows for modular capabilities and is available in more than 180 colors, with the ability to mix and blend shades to create a perfect color match.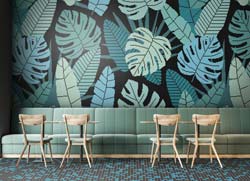 Tropic takes a modern approach to floral-inspired elements to create an illustrative piece that embraces the graphic nature of mosaic art. As part of Artaic's GLYPH Collection, the design uses a vitreous glass available in more than 180 vibrant colors. The design of Tropic showcases Artaic's progression into designs that use color as a focal point.
Aspex offers total design freedom while protecting walls from damage. Custom artwork or photography is back printed onto a clear sheet, so images won't get scratched over time.
Fiandre's Royal Marble porcelain tile collection was designed in Italy and will be manufactured this summer in the U.S. Royal Marble draws its inspiration from marble varieties and offers the luxury look of marble in tile. Available in a variety of neutral shades, the material's versatility allows distinctive mosaic patterns on walls and floors. Available in different sizes and special trims, six colors, polished or honed finishes in 6 mm thickness.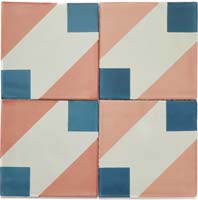 Partnering with Dekar Design, Villa Lagoon's cement tile collection draws inspiration from the Mediterranean. Each cement tile is similar to natural stone and is unique with slight color variations. Ischia, pictured, is available in two colors. It is approximately 8 inches square and ½-inch thick.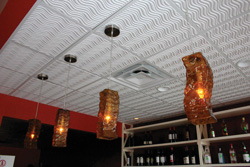 MirroFlex Lite is a value-conscious ceiling solution from ATI Laminates. Lightweight and thin, MirroFlex Lite comes in 18 of ATI's finishes and is .13-inch thick. Some MirroFlex Lite finishes are also available as a Drop-Out Ceiling Tile, specifically designed to fall out of 15/16-inch grid systems when exposed to heat from a developing fire.