Solutions Center - Materials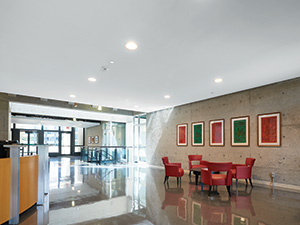 ACOUSTIBuilt Seamless Acoustical Ceilings is a new ceiling system that provides the look of drywall but performs like an acoustical ceiling. Per the manufacturer, the installed system absorbs up to 70% of the sound that strikes it and also has a high ceiling attenuation class (CAC) up to 48, indicating its ability to ensure speech privacy by preventing sound from entering adjacent spaces.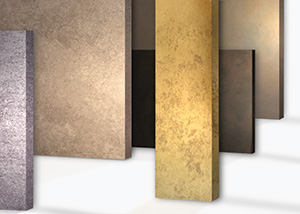 Moving to Mood is Chemetal's new collection of eight new metal designs for interior spaces. The predominantly neutral color palette offers colors and layered designs that are rooted in the building metals of civilization: bronze, pewter and brass. Available in standard sheet sizes.
Cultured Stone's new brick veneer color palettes, Canvas and Titanium, provide monochromatic color options with deft highlights that emphasize the textural qualities of hand-formed bricks. Canvas offers an array of saturated white and off-white tones, while Titanium features hand-stained silvery grays.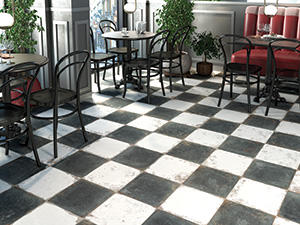 Rhapsody juxtaposes a distressed finish with modern design flexibility. White-and-black simplistic, modern diagonal and organic-inspired floral patterns enable a wide array of design aesthetics. Available in classic square 13-inch by 13-inch tiles, and applicable for both interior and exterior floor and wall surfaces.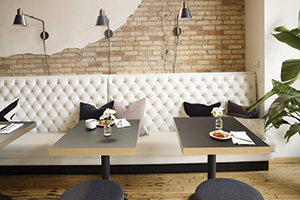 The expanded range of ColorCore2 laminates features a super matte finish that is fingerprint resistant, offers antimicrobial surface protection and thermal heating capabilities, and has a matching colored core that eliminates the brown edge typically seen with laminates. Can be applied horizontally or vertically and is suitable for casework, countertops, furniture and signage.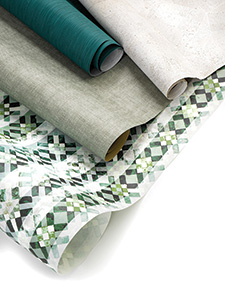 Lattice is part of Innovations' 2019 Summer collection. It is a non-woven wallcovering inspired by the bright tilework of Lisbon. A durable vinyl alternative, Lattice is a 50-50 cotton-poly blend. Comes in four colors: Grackle, Grenadier, Parakeet and Starling.
The Peony Shimmer Collection designed by Lisa Batson Goldberg is a wallpaper series featuring hand-sketched and digitally colored peony blooms with a luminescent mica finish. Each print in the collection is sold by the roll with a 70-centimeter width and a 600-centimeter height and available in five colorways.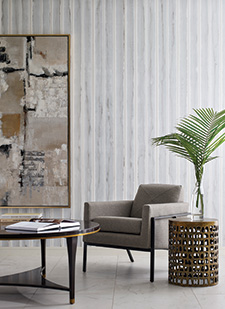 Part of the new Handcrafted collection of wallcoverings, Spectrum features unstructured vertical stripes and intricate detailing meant to be reminiscent of tranquil beaches. The poly-cellulose wallcovering is 27 inches wide and available in five colorways.