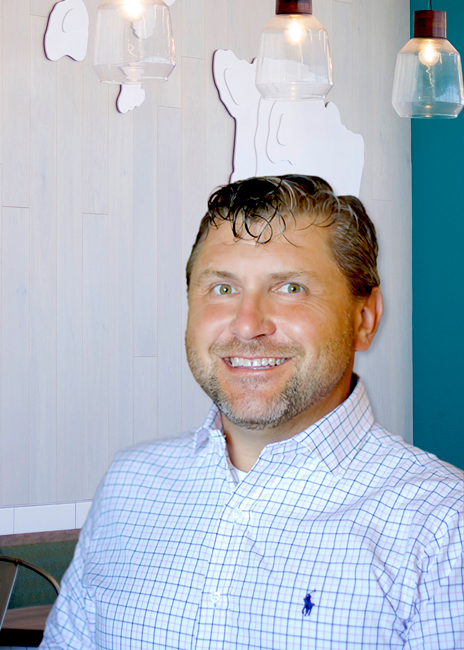 Scott FordIn the next few months, fast-casual concept, Hawaiian Bros., which specializes in traditional Hawaiian plate lunches and related fare, will open its first Texas storefronts after having run ghost kitchens in Austin and Dallas since May and September, respectively.
"Our first ghost kitchen was proof of concept. We were really blown away with the results we got out of Austin," says Scott Ford, president of the Kansas-based chain. "The consumer response was great. We were doing double what an average QSR would do in a brick-and-mortar location."
Hawaiian Bros. will open storefronts in Kyle, which is just outside Austin and 20 minutes away from the ghost concept there, and in Dallas. The concept has six other locations.
By operating a ghost kitchen first, says Ford, "we can open a little bit better, a little bit stronger. It speeds up market entry because we can open up the ghost kitchen and get customer response while we're evaluating sites and starting the real estate process."
Ford shares his best practices for moving into brick-and-mortar locations after operating ghost kitchens in a given market:
1. Pay attention to the market.
A ghost kitchen is a much less expensive way to validate the market than a brick-and-mortar store, and faster, too, says Ford. "We didn't have to take a year to figure it out but could do it concurrently with making money."
By operating a ghost kitchen, Ford says he found "our target demographic was consistent market to market, and we still have the same distribution through all age groups and income levels."
It also showed that were hitting the right demographic before investing in a front-of-house. Ford notes that ghost kitchens helped the chain know if the area's populated with professionals, blue collar workers or students, for example.
He supplemented all of this with some information from his marketing team that supplied demographic and awareness profiling.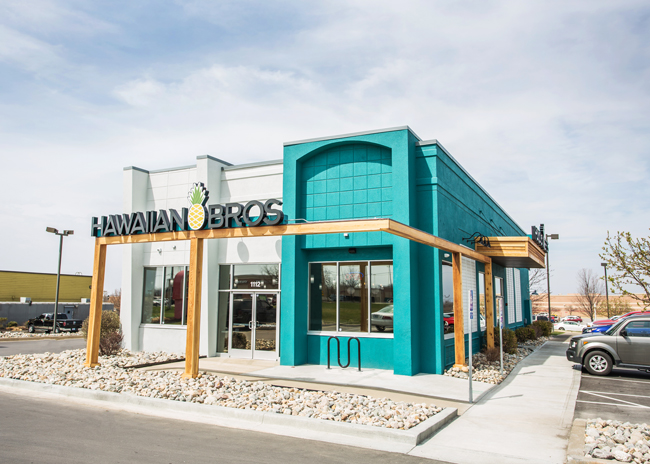 Images courtesy of Hawaiian Bros.
2. Right-size the restaurant.
Opening the ghost kitchen has also helped iron out how large the brick-and-mortar locations need to be. "We've rethought the efficiency of our kitchen," says Ford. The brand's typical ghost kitchens is just 350 square feet.
"We've learned how to store vertically and how to compress our line and get operational efficiencies. We look at our footprint and look at the timing of when functions have to happen. So instead of consecutive we think linear — so a space can be used for prep and then used for construction later on in the day. It's allowed us to maximize our efficiency in our brick-and-mortar sites."
3. Optimize staff.
It's difficult to hire staff for a concept they're not familiar with, Ford says, so ghost kitchens help get some visibility for the brand. Having the ghost kitchen means you can bring those potential candidates into the kitchen and have them try the food. "It's important to get them to taste dishes," says Ford. "You're trying to hire quality people, but quality people already have a job and if you want to attract them from someone else, you can show them. I let them taste the food and experience the simplicity and ease of the concept."
Ford is also using the Austin ghost location for hiring, sending out "we're hiring" bag stuffers with delivery orders. "It really helps if we leverage the people who are already fans," he explains.
The management staff for the nearby Kyle location are moving from the Austin ghost concept. "The things they learned there are invaluable and they translate," says Ford. "And if we have management, we can bring the remaining staff in to train beforehand."
The ghost kitchen also helped validate that there would be sufficient people applying for restaurant jobs in the area.
4. Use ghost kitchens strategically.
Ford sees Texas as a large potential market for Hawaiian Bros. In Austin alone there could be 12 to 15 locations, he says. However, no brand can cover all ground and that's where the ghost kitchens come in.
"There might be an opportunity to use ghost kitchen as a fill site. We pull delivery from a 3-mile radius of the market but there will be some gaps where we're just not servicing, but it also doesn't make sense for us to have a brick-and-mortar store there. So, we have an opportunity to drop in some ghost kitchens to get to the delivery customer." Ultimately, this strategy builds awareness and creates an eventual need to open a more traditional unit.