Page 1 of 4
Car-charging stations have popped up in the parking lots of grocery stores, big-box retailers, even hotels – allowing electric car owners to recharge while they shop or sleep.
Some gas stations have also added the chargers, and now they're showing up at restaurants as well. For example, last fall McDonald's installed a unit that can accommodate 2 cars at once at the first of 90 locations in Prague, allowing customers to charge their cars while enjoying their Big Macs.
Indeed, following on the heels of the curbside takeout trend, the modern restaurant parking lot seems to be changing. Offering special parking for electronic cars offers restaurants another way to reduce their carbon footprint and put forth a "greener" message outside their kitchen doors. Often these stations are partially or fully funded by governmental and private subsidies.
Installation costs vary based on the charging station, existing infrastructure and desired location. But as pioneering operations have discovered, government subsidies designed to encourage the adoption of alternative energy solutions can offset a big chunk of the cost of tapping into this trend. Here's a look at some who are out front.
Café Yumm!
HQ: Eugene, Ore.
No. of Units: 11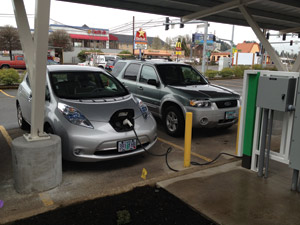 Mark Beauchamp, president and cofounder of this fast-casual chain serving up rice and bean bowls, decided to install solar-powered electric car-charging stations at the Eugene, Ore., location out of a desire to help lead other businesses toward alternative energy sources.
"We consider the environment and people to be as important as profits are to our business," Beauchamp says. "Installing the solar panels and charging stations wasn't about making money, but I do see it as an investment. We knew the construction costs wouldn't 'pencil out' right away. However, there is a growing interest in electric vehicles. Car buyers want to know there are convenient and low-cost places to recharge before they consider electric vehicles, and our project showed the business community how this could be done. I also believe solar-powered vehicle-charging stations are a very important way for America to become energy independent."
Café Yumm! plans to install additional stations in the near future, but the details have yet to be decided.
The Hardware: Six charging stations and 172 solar panels (120 affixed to a solar panel "canopy" over some of the stations, 52 on the west-facing roof). The panels provide 30 percent of the electric power for the restaurant and car-charging stations.
No. Car-Charging Stations Offered: 6
Cost to Install: $37,000 ($332,000, minus $270,000 in federal and state tax credits and a $25,000 rebate from the Eugene Water and Electric Board)
Charge to Use: Free for restaurant guests. Team members remotely turn on power at one of the six charging stations when an electric vehicle owner comes in and places an order.