Car-charging stations have popped up in the parking lots of grocery stores, big-box retailers, even hotels – allowing electric car owners to recharge while they shop or sleep.
Some gas stations have also added the chargers, and now they're showing up at restaurants as well. For example, last fall McDonald's installed a unit that can accommodate 2 cars at once at the first of 90 locations in Prague, allowing customers to charge their cars while enjoying their Big Macs.
Indeed, following on the heels of the curbside takeout trend, the modern restaurant parking lot seems to be changing. Offering special parking for electronic cars offers restaurants another way to reduce their carbon footprint and put forth a "greener" message outside their kitchen doors. Often these stations are partially or fully funded by governmental and private subsidies.
Installation costs vary based on the charging station, existing infrastructure and desired location. But as pioneering operations have discovered, government subsidies designed to encourage the adoption of alternative energy solutions can offset a big chunk of the cost of tapping into this trend. Here's a look at some who are out front.
Café Yumm!
HQ: Eugene, Ore.
No. of Units: 11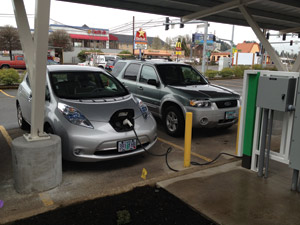 Mark Beauchamp, president and cofounder of this fast-casual chain serving up rice and bean bowls, decided to install solar-powered electric car-charging stations at the Eugene, Ore., location out of a desire to help lead other businesses toward alternative energy sources.
"We consider the environment and people to be as important as profits are to our business," Beauchamp says. "Installing the solar panels and charging stations wasn't about making money, but I do see it as an investment. We knew the construction costs wouldn't 'pencil out' right away. However, there is a growing interest in electric vehicles. Car buyers want to know there are convenient and low-cost places to recharge before they consider electric vehicles, and our project showed the business community how this could be done. I also believe solar-powered vehicle-charging stations are a very important way for America to become energy independent."
Café Yumm! plans to install additional stations in the near future, but the details have yet to be decided.
The Hardware: Six charging stations and 172 solar panels (120 affixed to a solar panel "canopy" over some of the stations, 52 on the west-facing roof). The panels provide 30 percent of the electric power for the restaurant and car-charging stations.
No. Car-Charging Stations Offered: 6
Cost to Install: $37,000 ($332,000, minus $270,000 in federal and state tax credits and a $25,000 rebate from the Eugene Water and Electric Board)
Charge to Use: Free for restaurant guests. Team members remotely turn on power at one of the six charging stations when an electric vehicle owner comes in and places an order.
The Ninety Nine Restaurants
HQ: Woburn, Mass.
No. of Units: 115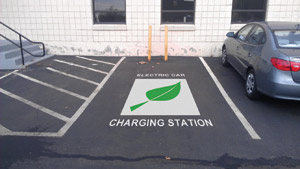 To promote its electric car charging stations, Ninety Nine Restaurants has a specially marked parking space.The 61-year-old family-focused restaurant chain, part of O'Charley's Inc., and with locations throughout New England and the Mid-Atlantic States, installed a series of car-charging stations in April 2012 as part of a larger goal to reduce the company's carbon footprint and offer customers a way to do the same.
"We are proud to be a part of a program to help consumers embrace electric vehicles as an emerging form of transportation," said John Grady, president of Ninety Nine Restaurants. "Our guests can now enjoy our food and drink while embracing a convenient service that also helps to protect the environment. It's a win-win."
To source and install the parking lot charging stations, Ninety Nine Restaurants enlisted a program that is supported by funding from the U.S. Department of Energy to provide the stations at no cost to participating cities. Utility company National Grid funds the installation costs.
The stations automatically notify the provider during instances of misuse or vandalism and feature security systems that only allow users to charge when safe to do so. Accompanying software allows the restaurant or business installing the units to choose flexible energy-billing programs based on weekly, daily or monthly use.
In Massachusetts, Ninety Nine Restaurant locations using the car-charging stations include units in Auburn, Billerica, Easton, Foxboro, Marlborough, Milford, North Andover, Revere, Tewksbury, Westford and Weymouth.
By downloading an app on their smartphones, Massachusetts customers can locate the nearest station, including the participating Ninety Nine locations. They can also reserve car-charging time and receive mobile notifications when their car is fully charged.
The Hardware: 30 planned car-charging stations total, 1 each at select restaurants.
No. Restaurants Featuring the Stations: 11
No. Car-Charging Stations per Restaurant: 1
Additional Car-Charging Stations Planned: 9
Cost to Install: None
Charge to Guests: Free; Ninety Nine Restaurants funds the cost of power to charge the vehicles.
Cracker Barrel Old Country Store
HQ: Lebanon, Tenn.
No. of Units: 621
High-speed electric vehicle chargers supply an 80 percent charge in about a half hour, less than the time it can take to order and eat a meal.The family-style Cracker Barrel Old Country Store chain has installed electric vehicle charging stations at select Texas and Tennessee locations, including its hometown of Lebanon, Tenn., as a participant in The EV Project, an initiative to increase the adoption of electric vehicles.
High-speed electric vehicle chargers supply gas-free car-driving customers with an 80 percent charge in about a half hour, less than the time it can take to order and eat a meal. While these are well-suited for highway travel and compatible with such vehicles as the Nissan LEAF, participating Cracker Barrel stores also feature other chargers for faster "topping off of the tank" during shorter-distance travel.
Cracker Barrel launched this initiative as a desire to explore energy alternatives and fill an increasing guest need. "We like to think that our guests will be pleased to see Cracker Barrel taking an active role in exploring energy alternatives that are aimed at protecting the environment," says Sandra Cochran, Cracker Barrel president and CEO.
The original Cracker Barrel stores from 42 years ago once featured gas pumps outside their restaurant doors, increasing business profits and offering diners a place to fill up their stomachs and their tanks during rural, long-distance travel, according to Cochran. Those pumps were removed during the 1970s during the oil embargo, she said.
Today, Cracker Barrel is focused on the "Tennessee Triangle" for its car-charging locations, spread throughout the 425-mile stretch of interstate highway connecting Nashville, Knoxville and Chattanooga.
Company execs did not disclose the annual cost to operate or if future charging stations were planned.
The Hardware: Chargers for long- and short-distance charging
No. Restaurants Featuring the Stations: 24 in Tennessee, 8 in Texas
No. Car-Charging Stations per Restaurant: 2
Vinsetta Garage
HQ: Detroit
No. of Units: 1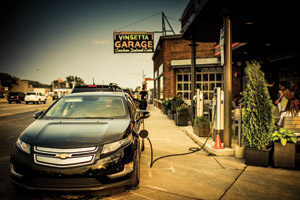 Although Vinsetta garage stopped pumping gas in the 1980s, the gas pumps remained as a design feature. Vinsetta Garage, built in 1919 by the Kurta family, is the oldest gas station east of the Mississippi. And although it stopped pumping gas in the 1980s, the pumps at the front of the building have remained as a piece of history, according to co-owner Curt Catallo. Ironically, before Catallo's team bought the property and transformed the pumps into a car-charging station for electric vehicles, they had a sign that read "No Gas."
"Our designer, Ann Stevenson, who happens to be my wife, didn't want to play up the station shtick, but we felt that it would be somewhat sad to amputate such a focal point of this historic structure," Catallo says. "To me, installing the electric charging stations gave us the ideal continuum; they actually served a purpose that the building was built to deliver, but in a more modern way."
The electric car-charging stations are just one part of the restaurant's focus on green and sustainable initiatives. "Our to-go containers are all made from fully recycled material and our waste oil is collected and converted into biodiesel," Catallo says.
An ongoing challenge with the charging stations, is that the cords must run across a sidewalk when vehicles are plugged in, and the restaurant has received tickets from the city for the violation. Catallo's team has been looking into this.
Regardless, Catallo sees charging stations becoming more popular, including at restaurants. "I think as more electric vehicles come on line we'll see more and more people hunting for places to fill up as they're eating out," he says. In Vinsetta Garage's case, he adds, "There's just something cool about seeing an old gas station with a FIAT 500E plugged in outside."
The Hardware: Two car-charging stations and a total electric hardware renovation
No. Car-Charging Stations: 2
Cost to Operate: Without disclosing specifics, Catallo says the electricity costs for the charging stations are virtually "invisible" because of the amount of electricity used throughout the restaurant.
Charge to use: Free for restaurant guests
Additional Installations Planned: With the purchase of two adjacent parking lots, the team hopes to install additional stations in the near future