Page 4 of 4
Vinsetta Garage
HQ: Detroit
No. of Units: 1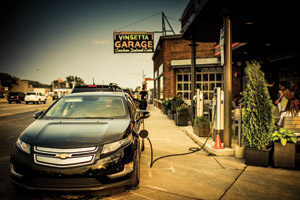 Although Vinsetta garage stopped pumping gas in the 1980s, the gas pumps remained as a design feature. Vinsetta Garage, built in 1919 by the Kurta family, is the oldest gas station east of the Mississippi. And although it stopped pumping gas in the 1980s, the pumps at the front of the building have remained as a piece of history, according to co-owner Curt Catallo. Ironically, before Catallo's team bought the property and transformed the pumps into a car-charging station for electric vehicles, they had a sign that read "No Gas."
"Our designer, Ann Stevenson, who happens to be my wife, didn't want to play up the station shtick, but we felt that it would be somewhat sad to amputate such a focal point of this historic structure," Catallo says. "To me, installing the electric charging stations gave us the ideal continuum; they actually served a purpose that the building was built to deliver, but in a more modern way."
The electric car-charging stations are just one part of the restaurant's focus on green and sustainable initiatives. "Our to-go containers are all made from fully recycled material and our waste oil is collected and converted into biodiesel," Catallo says.
An ongoing challenge with the charging stations, is that the cords must run across a sidewalk when vehicles are plugged in, and the restaurant has received tickets from the city for the violation. Catallo's team has been looking into this.
Regardless, Catallo sees charging stations becoming more popular, including at restaurants. "I think as more electric vehicles come on line we'll see more and more people hunting for places to fill up as they're eating out," he says. In Vinsetta Garage's case, he adds, "There's just something cool about seeing an old gas station with a FIAT 500E plugged in outside."
The Hardware: Two car-charging stations and a total electric hardware renovation
No. Car-Charging Stations: 2
Cost to Operate: Without disclosing specifics, Catallo says the electricity costs for the charging stations are virtually "invisible" because of the amount of electricity used throughout the restaurant.
Charge to use: Free for restaurant guests
Additional Installations Planned: With the purchase of two adjacent parking lots, the team hopes to install additional stations in the near future