Page 8 of 10
Senneca Holdings — Doors for Every Part of the Restaurant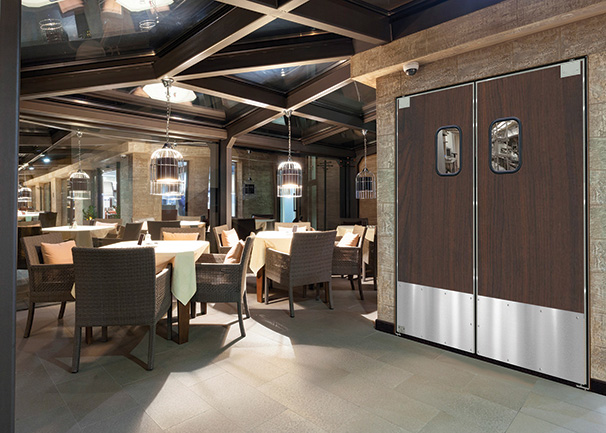 Eliason Traffic Doorsarefunctional, customizableand attractive."Replacing interior doors should be an important part of any renovation job," says MikeEvans, vice president of Sales – National Accounts for Senneca Holdings. "Operators sometimes lean towards saving a few dollars by leaving the existing doors in place," he says. "In some cases, existing doors are no longer ADA compliant because of window size or placement, so that should be a consideration."
Doors are critically important in the back-of-house areas. In the cold storage area, "walk-in cooler and freezer doors that do not seal properly waste energy dollars and can create issues with condensation and/or ice buildup," Evans notes. In the kitchen, he says, "many restaurants do not have sufficient makeup air to offset the exhaust air from ovens and grill tops, so choosing the right weight door can make a big difference in performance." And the proper door can make for a more efficient work environment for the waitstaff, he says, because "the correct type of door (lightweight sheet style versus solid core) makes it easier for servers to open the door while carrying a food tray."
Doors can also have an effect on the front-of-house environment for patrons. "Doors that offer greater sound abatement can also make the dining experience more pleasant as they help to keep kitchen noise out of the dining area," says Evans.
The Right Doors
With an unmatched range of door choices, more operators than ever are turning to the brands of Senneca Holdings for their door needs when it's time to remodel. Custom-made Eliason double-acting traffic doors are the number-one choice among restaurant operators and architects around the world. The Easy Swing hinge is the most reliable hinge available — it always meets ADA requirements and makes it a breeze for employees to pass from kitchen to dining areas, even while carrying a full food tray. Eliason doors offer a wide range of options, such as vision panels, impact plates and more. Eliason SCP models are available in a variety of finishes, including stainless steel and an almost limitless selection of high-pressure laminates.
SCP doors from Eliason are available with custom graphicdesigns — so, go ahead and get creative!
Eliason stainless-steel flush doors and frames are used in both kitchen and restroom applications. These attractive and durable 16-gauge, 304 stainless-steel doors are built to order to meet any specification and opening size and are a great way to update any restaurant's appearance. Available options include various hardware configurations, coat hooks and aluminum diamond tread kickplates.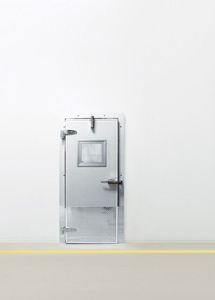 Chase ColdGuardReplacementCold Storage Doorsallow you to easily replace worn out cooler and freezer doors and frames.For walk-in coolers and freezers, Senneca offers the popular ColdGuard swinging cold storage doors from Chase Doors. These high-quality door and frame systems are custom made and are available with or without perimeter edge heat. The self-supporting extruded polymer casing design allows for replacement of cold storage doors, even in cases where the existing frame is not in usable condition. ColdGuard swinging cold storage doors feature a durable, thermally neutral fiberglass reinforced framework, polyurethane core, magnetic vinyl gaskets, and come in an array of options to choose from.
So, when it's time to remodel — or time for a new construction project — Senneca Holdings has a great door solution to meet your specific needs.