Page 4 of 10
MTS Combines Durability and Stylish Design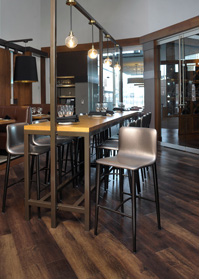 The Lehto barstools lend an upscale touch to a communal table at The Chop House.Restaurant seating has to serve twopurposes. Not only must it provide comfort for patrons, but it also must reinforce the restaurant's design aesthetic. When Mike Gibbons, president and CEO of Mainstreet Ventures Inc., was developing The Chop House on the riverfront in Toledo, Ohio, he and his design firm — the Design Collective in Columbus, Ohio — turned to MTS Seating for chairs that are both durable and stylish.
Whereas Gibbons' previous Chop House restaurant (located in Ann Arbor, Mich.) is more traditional, he calls the Toledo restaurant "far more contemporary." Finding chairs to fit this more contemporary design was no problem, he says, for his designers work with MTS Seating. When Gibbons needs a chair, the designers can present him with a variety of seating options to choose from. With a wide range of frame and color selections, MTS, Gibbons says, "can do anything. So for me, it's a very easy process."
Gibbons first discovered MTS about 15 years ago after having problems in one of his Florida restaurants with chairs breaking. A designer friend suggested he use metal chairs and recommended MTS. "Since that day, I have never bought another brand of chair," Gibbons claims. He particularly likes the durability of MTS chairs: "I can never think of having to replace a chair in 12 years," he says.
For all those reasons, Gibbons sees no reason to change his chair supplier. "As long as I'm in business, I'll be using MTS chairs," he says. "They last."