Page 6 of 10
Kitchens To Go Keeps Five-Star Hotel ServingEfficiently During Renovation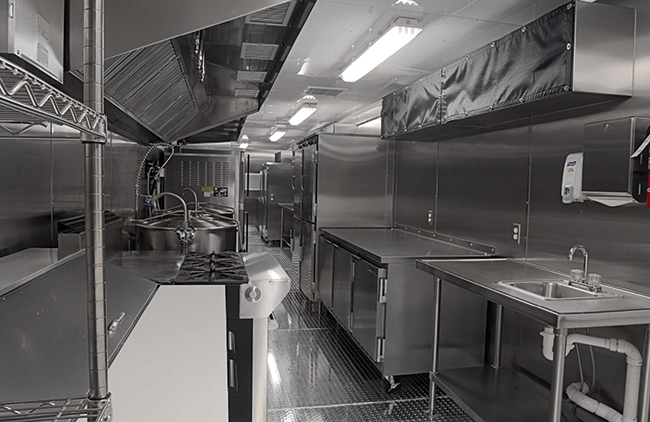 The kitchen trailers provided all the equipment needed to make more than 500 menu items.When renovations are needed, a five-star hotel can't close down its foodservice operation. The Peninsula Beverly Hills in California made the decision to remodel its primary restaurant, so they turned to Kitchens To Go built by Carlin to set up a complete kitchen complex to keep all their restaurants operating smoothly with no downtime or loss of production capabilities.
"The Belvedere Restaurant has been a staple of the Southern California fine dining scene," says James Overbaugh, who was executive assistant manager, Food & Beverage Operations for the Peninsula Beverly Hills during the project. It was decided to "reconcept and rebuild" the Belvedere, so all supporting infrastructure including the kitchen was slated to be redone as part of the major back-of-house remodel. "Because the hotel is still operating," says Overbaugh, "we brought in Kitchens To Go and put these beautiful trailers out back so that we can continue operating and taking care of our guests in this five-star, five-diamond environment throughout this project."
Executive Chef David Codney explains why the Peninsula Beverly Hills differs from other hotels. "The perception of us is that we're a small property," he says, "but the reality is we have over 500 menu items."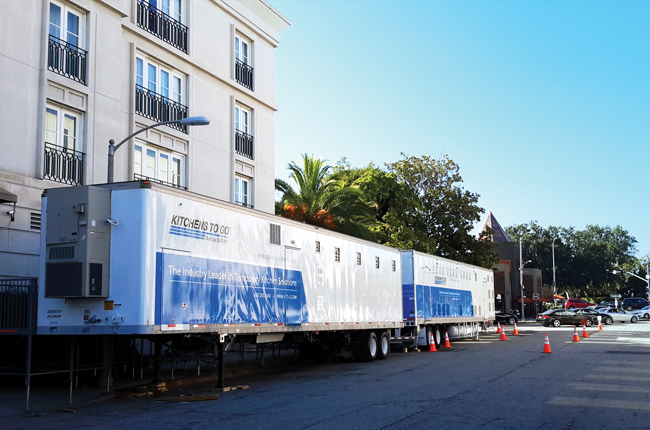 The KTG trailers outside the Peninsula Beverly Hills.To produce this extensive menu during the three-month renovation, the hotel required a complete temporary kitchen solution. KTG brought in two fullyequipped kitchen trailers, supported by a dishwash trailer (with flight machine and three-compartment sink) and an 8-foot-by-20-foot walk-in cooler/freezer unit. The trailers were positioned on Lasky Drive behind the hotel with walkways connecting them. Working in conjunction with hotel engineers and architects, the KTG team engineering staff was able to access utilities in the hotel. All this had to be done in a way as to not block the loading dock so that daily deliveries could still be made.
The end result: During a three-month renovation, the foodservice staff was able to produce the high-quality food for which the Peninsula Beverly Hills is renowned. "We have more than adequate space, with a full cook, pastry and prep trailer," says Overbaugh. "The temporary facilities equipment is in outstanding condition. Having these sorts of facilities is a luxury." Codney agrees. "I think we have more firepower in here than we actually have in the kitchen," he says.
Covered walkways made for easy transitions between the trailers and the hotel."Obviously, when you're doing something like this, you need to be flexible and you need to adjust when you encounter challenges," Overbaugh says. "We worked together and moved beyond. That's what a successful partnership is all about."
Kitchens To Go's interim kitchen solutions provide an alternative to phased renovations, allowing foodservice operations to efficiently produce high volumes of food with no loss in quality. KTG has served customers in every part of the foodservice industry — from white tablecloth to college/university to healthcare — so they understand the unique needs of differing segments and how critical it is for an operator to keep serving customers.