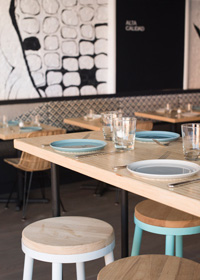 A communal table at the Silvia Zofio-designed Alta Calidad in Brooklyn. Photo courtesy of Liz ClaymanRenovation is difficult for anyrestaurant, but doing it in New York City presents a whole different set of challenges. Alta Calidad is a Mexican-inspired concept in Brooklyn which recently underwent a renovation, and Chef/Owner Akhtar Nawab talks about it.
Was your renovation front or back of house?
Akhtar Nawab:I would say 95 percent front of house, 5 percent back. It wasactually a ramen bar before we acquired the space. It had one long bar going through the center. We cut the bar way down so it only seats eight. We addedlow-top, communal and high-top tables. What that did was create an "elevation" between the high-tops and low-tops, so it gave a little more "visual texture" and made it feel like a bigger restaurant.
Did you have downtime?
AN:We built this place in three months; we had a little bit of downtime. I've built a lot of restaurants in New York, and historically, you have six to 10 months downtime. New York permitting is a little complicated. No matter what happens, there's always some degree of downtime.
Any surprises in your renovation?
AN:Cutting that bar in half really allowed more space for people to congregate. It made the space feel more inviting and welcome. And we ended up cutting a hole in the wall and exposing a portion of the kitchen, which made it feel more like a livingroom environment.
No matter where you are, the stories on the following pages can help if you're thinking about renovating.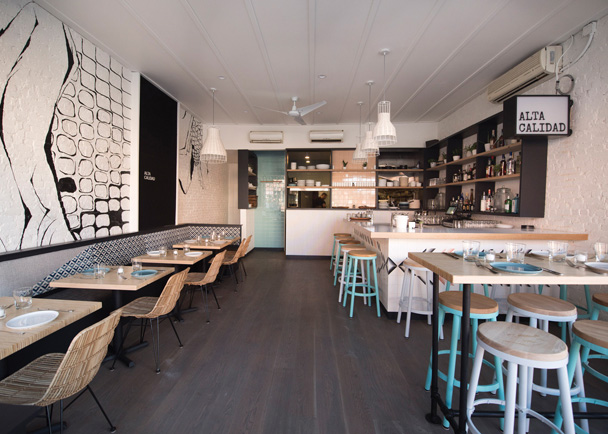 Crossville's Retro Active 2.0 collection comes in a variety of vivid colors to fit any restaurant design.
Restaurant Flooring Solutions
Slip Resistance In Step with Front-of-House Needs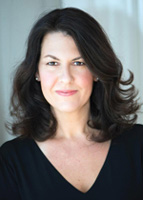 A Q&A with Melanie Tatum, A&D representative of Crossville, Inc.Front-of-house flooring is vitally important in restaurant design. Not only does flooring create the aesthetic first impression, but it should also provide the technical performance necessary for high-traffic areas. Melanie Tatum, A&D representative with domestic tile manufacturer Crossville, Inc., offers her take on the creative problem-solving solutions of porcelain tile products in restaurant design.
Q. Why is porcelain tile a smart choice for front-of-house installations?
Melanie Tatum:Not only does porcelain tile provide a plethora of design styles, it's more durable than natural stone and is so easy to maintain. It doesn't emit VOCs and won't harbor bacteria, dust, mold or mildew. Also, it's extremely budget-friendly — especially when considering life-cycle cost analysis. Designers are hired to select the right material for every application. Clients rely on design professionals' expertise to ensure they get appropriate materials for each space. With porcelain tile, they're getting a gorgeous product that's durable, easy to maintain and affordable.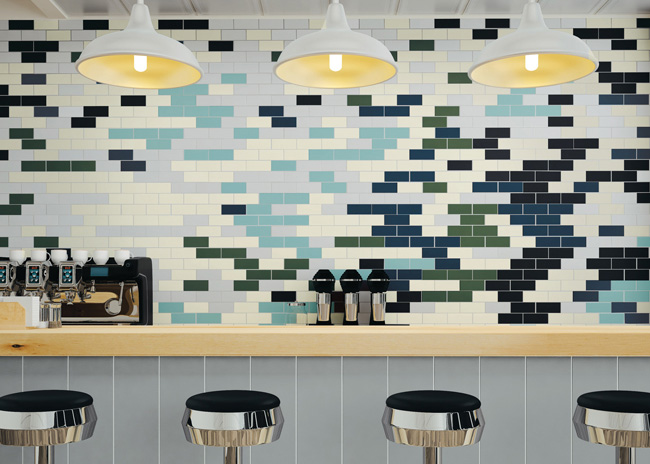 Q. What do specifiers need to know about tile's technical performance?
MT:It's important for architects and interior designers to be aware not all porcelain is created equally.They must consider the technical specifications that manufacturers provide. Certified porcelain goes through rigorous testing for the ASTM (American Society for Testing and Materials).If testing results aren't available, then the specifier should be wary.
It's important to note any tile specified for commercial flooring must meet a Dynamic Co-Efficient of Friction (DCOF) of at least 0.42 or greater. This information should be disclosed on the product website and printed materials.Porcelain tile is inherently impervious, making it exceptionally easy to maintain. Tile can be maintained with just a daily refresh with clean water and a tile and grout cleaner. We offer full care instructions for any porcelain tile on the Crossville website.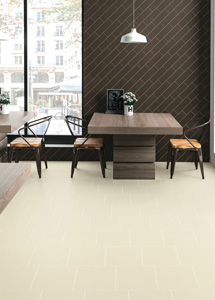 Floors and walls both take on a dramatic flair with textures from the Retro Active 2.0 collection.
Q. What advantages do Crossville's tile collections offer for flooring in front-of-house?
MT:Crossville is a family-owned, American-made porcelain tile company. We manufacture to highest standards, are sustainableat all levels of operations, use latest technology and bring customers the most current looks. Our products are stocked in the U.S.With our diverse collections and special programs, including Get Planked (for custom-cut plank size orders), Hydrotect™ (an invisible coating that uses science to defend against dirt and odors) and Cross-Sheen® (a proprietary finish that makes it simple to remove scuffs, stains and graffiti), we give specifiers problem-solving solutions to answer the demands of restaurants.
Q. What's something new that Crossville offers for restaurant design?
MT:We're excited about our new RetroActive 2.0 collection. It has pure, through-body color in 13 hues that go from neutral to super white, deep black, even shades of green and blue. And it has excellent durability. It comes in three finishes: polished, unpolished and a stunning new linear texture for floor or walls. The sizes are modern and plentiful to invite truly custom patterns.
Protect Aging Roofs with Duro-Shield™ Coatingsand Materials
As the trend to revive downtown districts by repurposing older buildings into something new and exciting continues to grow, it's important that building owners and facility managers pay special attention to their rooftop surfaces. With constant exposure to heat, cold, UV radiation, rain, snow, hail and high winds, a roof can be the most vulnerable component of a building's exterior. However, a roof's long-term performance can be enhanced — and major roofing problems avoided — with correct design, quality materials, proper installation and workmanship, and comprehensive care.
The cost of routine care is minimal when compared to the cost of repairing, removing and replacing a damaged roof. Duro-Last offers an entire line of products dedicated to helping you enhance the life cycle of this critical asset.
A contractor uses an airless sprayer to apply a coating system to the rooftop of a restaurant facility.
Duro-Shield™ Roof Coatings and Materials — available in Duro-Shield 20, Duro-Shield 10 and Duro-Shield 5 — are 100 percent elastomeric acrylic and are designed to seal and protect a variety of substrates. Their brilliant white finish reflects the sun's rays, which can lower heat buildup and reduce energy costs.
When properly prepared and appliedfollowing Duro-Last specifications, Duro-Shield roof coatings can be used on the following roof substrates:
Single-ply membranes of PVC (polyvinyl chloride), EPDM (ethylene propylene diene monomer) or Hypalon CSPE (chlorosulfonated polyethylene)
Metal
Mineral and granule-surface built up (BUR) and modified bitumen
Smooth-surfaced built up (BUR) and modified bitumen
WoodTo learn more about Duro-Shield Coatings and Materials and how they can save you time and money on your next remodel project, visit
MTS Combines Durability and Stylish Design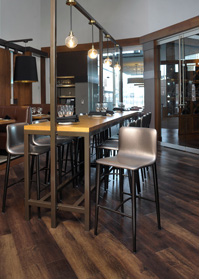 The Lehto barstools lend an upscale touch to a communal table at The Chop House.Restaurant seating has to serve twopurposes. Not only must it provide comfort for patrons, but it also must reinforce the restaurant's design aesthetic. When Mike Gibbons, president and CEO of Mainstreet Ventures Inc., was developing The Chop House on the riverfront in Toledo, Ohio, he and his design firm — the Design Collective in Columbus, Ohio — turned to MTS Seating for chairs that are both durable and stylish.
Whereas Gibbons' previous Chop House restaurant (located in Ann Arbor, Mich.) is more traditional, he calls the Toledo restaurant "far more contemporary." Finding chairs to fit this more contemporary design was no problem, he says, for his designers work with MTS Seating. When Gibbons needs a chair, the designers can present him with a variety of seating options to choose from. With a wide range of frame and color selections, MTS, Gibbons says, "can do anything. So for me, it's a very easy process."
Gibbons first discovered MTS about 15 years ago after having problems in one of his Florida restaurants with chairs breaking. A designer friend suggested he use metal chairs and recommended MTS. "Since that day, I have never bought another brand of chair," Gibbons claims. He particularly likes the durability of MTS chairs: "I can never think of having to replace a chair in 12 years," he says.
For all those reasons, Gibbons sees no reason to change his chair supplier. "As long as I'm in business, I'll be using MTS chairs," he says. "They last."
Brooklyn Bowl Goes Greener with Excel Dryer
Today, many operators are concerned with "going greener" when they do their remodels or new construction. And one of the most important places for energy conservation is often overlooked — the hand dryers in the restroom.
Brooklyn Bowl in Brooklyn, N.Y., is more than just a bowling alley. It's a music venue, nightclub, restaurant and private event space as well. What's more, "we're the first LEED-certified bowling alley in the world," says Stephen Schwarz, general manager. He adds that extensive planning was done regarding "the construction and materials we use and how we operate on a daily basis" to ensure the most efficient use of energy.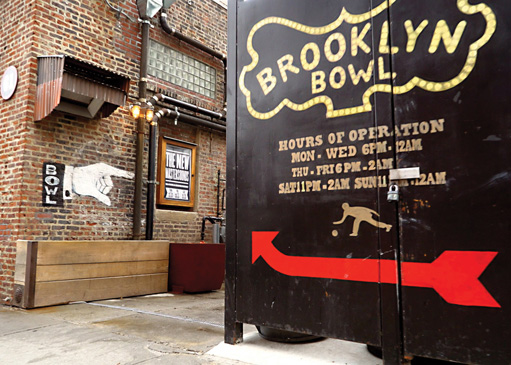 Brooklyn Bowl is the first LEED-Certified bowling alley in the world.Brooklyn Bowl has a number of eco-friendly features, including the use of 100 percent wind-powered electricity, LED stage lights, fans that augment the HVAC system and floors made of recycled cork or truck tires. The bar only serves beer on tap. Even the bowling alley pinspotters are "energy smart," using pins on strings and a drawbar system to use less electricity than traditional pinspotters. That emphasis on energy-efficient equipment carries through to every part of the operation — even the restrooms.
"Part of that 'green initiative' is that hand dryers were going to be a better choice for us in terms of energy," Schwarz says. Paper towels were actually the first choice for the Brooklyn Bowl restrooms. But those were problematic, he says, citing "the amount of waste we're going through, the clogged toilets and the mess on the floor." He readily admits that he was not a fan of hand dryers — at least the trough-style dryers. He calls them "an odd experience. There's water everywhere, and you're trying not to touch the sides. It's almost like a game of Operation."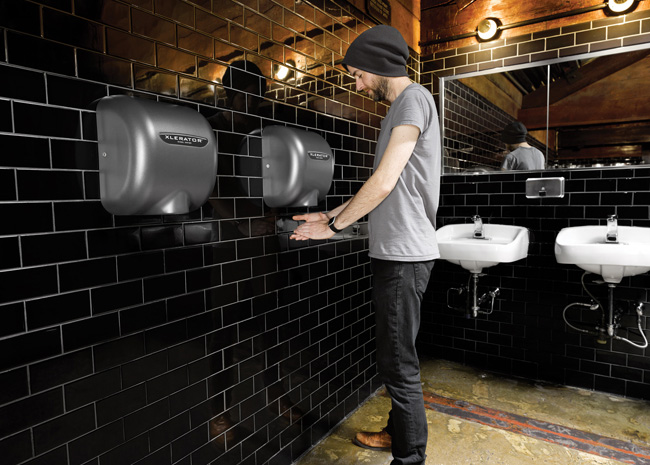 Brooklyn Bowl uses XLERATOR high-speed, energy-efficient hand dryers in their high-end restrooms.His talent buyer turned him on to the high-speed, energy-efficient XLERATOR®Hand Dryers from Excel Dryer. "The dryers are great. We love them," he says. Not only do the dryers help keep his bathrooms cleaner, but they also fit the sophisticated design aesthetic of Brooklyn Bowl. "We put a lot of thought into the way this place looks," Schwarz says. "And the XLERATOR has a sophisticated look that really fits the feel of the place. You've got a great look in there, and the XLERATOR fits right in." The bottom line: As Stephen Schwarz says, the "bathrooms are cleaner, guests are happier."
The XLERATOR is the only hand dryer with a dry time of eight seconds, and it uses 80 percent less energy than conventional hand dryers. That represents a 95 percent cost savings when compared with paper towels. It's the first hand dryer to be BuildingGreen Approved®and helps facilities qualify for LEED®v4 credits.
The XLERATOR is just one of a full lineof hand-drying products Excel Dryer offersto make restrooms cleaner and moreenergy efficient.
Kitchens To Go Keeps Five-Star Hotel ServingEfficiently During Renovation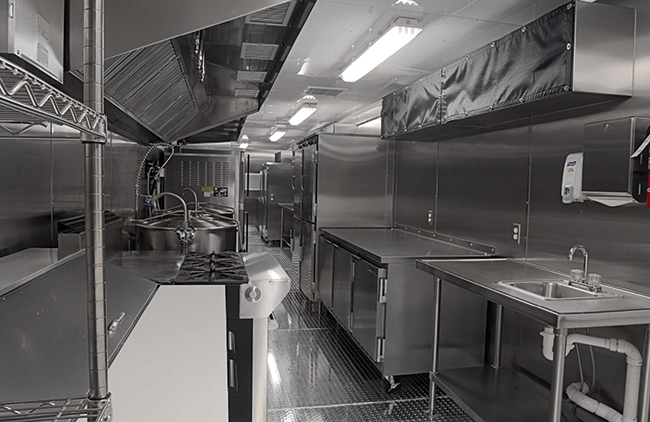 The kitchen trailers provided all the equipment needed to make more than 500 menu items.When renovations are needed, a five-star hotel can't close down its foodservice operation. The Peninsula Beverly Hills in California made the decision to remodel its primary restaurant, so they turned to Kitchens To Go built by Carlin to set up a complete kitchen complex to keep all their restaurants operating smoothly with no downtime or loss of production capabilities.
"The Belvedere Restaurant has been a staple of the Southern California fine dining scene," says James Overbaugh, who was executive assistant manager, Food & Beverage Operations for the Peninsula Beverly Hills during the project. It was decided to "reconcept and rebuild" the Belvedere, so all supporting infrastructure including the kitchen was slated to be redone as part of the major back-of-house remodel. "Because the hotel is still operating," says Overbaugh, "we brought in Kitchens To Go and put these beautiful trailers out back so that we can continue operating and taking care of our guests in this five-star, five-diamond environment throughout this project."
Executive Chef David Codney explains why the Peninsula Beverly Hills differs from other hotels. "The perception of us is that we're a small property," he says, "but the reality is we have over 500 menu items."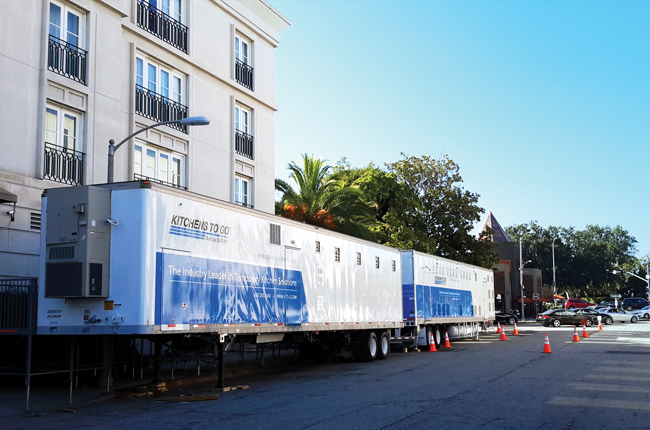 The KTG trailers outside the Peninsula Beverly Hills.To produce this extensive menu during the three-month renovation, the hotel required a complete temporary kitchen solution. KTG brought in two fullyequipped kitchen trailers, supported by a dishwash trailer (with flight machine and three-compartment sink) and an 8-foot-by-20-foot walk-in cooler/freezer unit. The trailers were positioned on Lasky Drive behind the hotel with walkways connecting them. Working in conjunction with hotel engineers and architects, the KTG team engineering staff was able to access utilities in the hotel. All this had to be done in a way as to not block the loading dock so that daily deliveries could still be made.
The end result: During a three-month renovation, the foodservice staff was able to produce the high-quality food for which the Peninsula Beverly Hills is renowned. "We have more than adequate space, with a full cook, pastry and prep trailer," says Overbaugh. "The temporary facilities equipment is in outstanding condition. Having these sorts of facilities is a luxury." Codney agrees. "I think we have more firepower in here than we actually have in the kitchen," he says.
Covered walkways made for easy transitions between the trailers and the hotel."Obviously, when you're doing something like this, you need to be flexible and you need to adjust when you encounter challenges," Overbaugh says. "We worked together and moved beyond. That's what a successful partnership is all about."
Kitchens To Go's interim kitchen solutions provide an alternative to phased renovations, allowing foodservice operations to efficiently produce high volumes of food with no loss in quality. KTG has served customers in every part of the foodservice industry — from white tablecloth to college/university to healthcare — so they understand the unique needs of differing segments and how critical it is for an operator to keep serving customers.
Making Artisanal Neapolitan Pizza with Marra Forni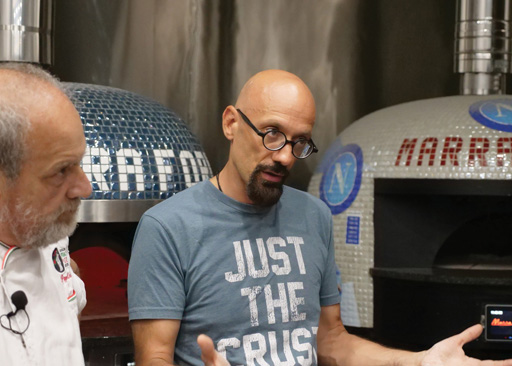 Giulio Adriani relies on Marra Forni ovens to produce perfect pizza every time.Giulio Adrianiknows more about pizza than almost anyone else. He received the Gold Medal from the 2010 World Pizza Championship in Salsomaggiore, Italy and currently holds the Guinness World Record for the world's largest pizza (1.3 miles long!). So his casual pizza restaurants in Atlanta, called The Local Pizzaiolo, are really something special. With two units now open and three more on the verge of opening, Adriani is ready to take on the rest of the country. "We of course plan to expand nationwide when the timing is appropriate," he says. But any expansion will focus on retaining the feel of a local pizzeria, rather than moving into the crowded fast-casual segment.
Everything about The Local Pizzaiolo reflects Adriani's aesthetic of putting a hip, modern spin on traditional Italian food. The restaurants feature a Mercato marketplace, which sells artisanal or imported food products, pottery and other items, all of which have been curated and "taste-approved" by Adriani himself.
Design is a major part of The Local Pizzaiolo as well, and it's as authentic as Adriani's cuisine. Murals painted by a local artist adorn the restaurants' walls; reclaimed ironwork has been recycled into shelving and tables. Just as with the food, the design reflects a respect for tradition but with a chic, urban update.
Master pizza maker Giulio Adriani at work.
The Art of Pizza
Of course, the real star at The Local Pizzaiolo is Adriani's Neapolitan pizza, made with San Marzano tomatoes, imported Sicilian oregano, Grana Padano cheese, and other premium, traditional ingredients. Paired with one of The Local Piazziolo's keg cocktails or keg wines, it makes for an unforgettable dining experience.
To produce these delicious pizzas, Adriani relies on a brick oven. "Remember, I come from Italy," Adriani says. "Italy is a country where the only ovens that exist are brick. They have been there forever.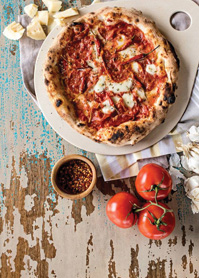 Classic flavorful Margherita at the Local Pizzaiolo."When it comes to Neapolitan pizza," he continues, "you want to cook as fast as possible without compromising the product. It's been shown by hundreds of years that with cement versus bricks, the way that the heat is transmitted to the pie is completely different." And, he says, since Neapolitan pizza cooks in just 90 seconds or so, the fast heat transmission that a brick oven provides is crucially important to producing a perfect pizza.
The oven that Adriani uses to produce that superior product is a Marra Forni brick oven. "I looked at and worked with almost every oven on the market," he says. "With Marra Forni, you have superior service." By using materials from Italy that are assembled in the U.S., he says, he's confident of having the quality of a product that's made in the United States.
"When we buy an oven, we want 10 years, 15 years of life," Adriani says. "As a restaurateur, when I consider all the options on the market, I definitely go with whoever has the best service. When it comes to service, Marra Forni is number one in the market. And, of course, the product is outstanding."
Senneca Holdings — Doors for Every Part of the Restaurant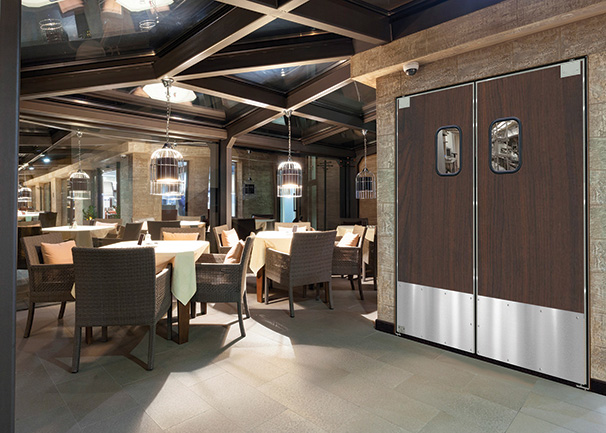 Eliason Traffic Doorsarefunctional, customizableand attractive."Replacing interior doors should be an important part of any renovation job," says MikeEvans, vice president of Sales – National Accounts for Senneca Holdings. "Operators sometimes lean towards saving a few dollars by leaving the existing doors in place," he says. "In some cases, existing doors are no longer ADA compliant because of window size or placement, so that should be a consideration."
Doors are critically important in the back-of-house areas. In the cold storage area, "walk-in cooler and freezer doors that do not seal properly waste energy dollars and can create issues with condensation and/or ice buildup," Evans notes. In the kitchen, he says, "many restaurants do not have sufficient makeup air to offset the exhaust air from ovens and grill tops, so choosing the right weight door can make a big difference in performance." And the proper door can make for a more efficient work environment for the waitstaff, he says, because "the correct type of door (lightweight sheet style versus solid core) makes it easier for servers to open the door while carrying a food tray."
Doors can also have an effect on the front-of-house environment for patrons. "Doors that offer greater sound abatement can also make the dining experience more pleasant as they help to keep kitchen noise out of the dining area," says Evans.
The Right Doors
With an unmatched range of door choices, more operators than ever are turning to the brands of Senneca Holdings for their door needs when it's time to remodel. Custom-made Eliason double-acting traffic doors are the number-one choice among restaurant operators and architects around the world. The Easy Swing hinge is the most reliable hinge available — it always meets ADA requirements and makes it a breeze for employees to pass from kitchen to dining areas, even while carrying a full food tray. Eliason doors offer a wide range of options, such as vision panels, impact plates and more. Eliason SCP models are available in a variety of finishes, including stainless steel and an almost limitless selection of high-pressure laminates.
SCP doors from Eliason are available with custom graphicdesigns — so, go ahead and get creative!
Eliason stainless-steel flush doors and frames are used in both kitchen and restroom applications. These attractive and durable 16-gauge, 304 stainless-steel doors are built to order to meet any specification and opening size and are a great way to update any restaurant's appearance. Available options include various hardware configurations, coat hooks and aluminum diamond tread kickplates.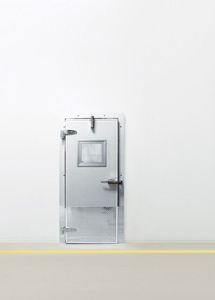 Chase ColdGuardReplacementCold Storage Doorsallow you to easily replace worn out cooler and freezer doors and frames.For walk-in coolers and freezers, Senneca offers the popular ColdGuard swinging cold storage doors from Chase Doors. These high-quality door and frame systems are custom made and are available with or without perimeter edge heat. The self-supporting extruded polymer casing design allows for replacement of cold storage doors, even in cases where the existing frame is not in usable condition. ColdGuard swinging cold storage doors feature a durable, thermally neutral fiberglass reinforced framework, polyurethane core, magnetic vinyl gaskets, and come in an array of options to choose from.
So, when it's time to remodel — or time for a new construction project — Senneca Holdings has a great door solution to meet your specific needs.
Polar Leasing: Making Temporary Refrigeration Easy and Efficient
At best, remodeling is a major disruption for any foodservice operation. At worst, the operation has to shut down while important kitchen equipment is being replaced, which can lead to a significant loss of revenue and customer disappointment. Because of that disruption, operators often choose not to replace important back-of-house equipment — such as coolers and freezers — simply because of the downtime that would be involved.
But replacing an outdated refrigerationsystem is just as critical as replacing a stove that's not heating correctly, says Bart Tippmann, president of Polar Leasing. "Outdated and underperforming refrigeration systems can dramatically affect energy consumption and overall operational costs," he says. "An outdated refrigeration system will not only cost more to operate, but the R-value of the insulation can deteriorate. Over time, panel-built walk-in units can suffer from moisture retention, lowering the R-value of the insulation and thereby reducing the overall effectiveness and efficiency of the unit. This will not only increase overall energy consumption but could also affect product quality."

No construction needed with Polar Leasing's refrigeration units — just connect to power.
One solution some operators have turned to during renovation is temporary refrigeration units. But they're not all created equal, Tippmann notes. "Panel-built units require on-site construction and refrigeration work to be performed, while reefer trucks require diesel fuel and are relatively inconvenient," he says.
So is there a less disruptive way to have on-site temporary refrigeration during renovation? Polar Leasing has the answer: seamless, fiberglass refrigeration and freezer walk-in units that are delivered ready to operate. No construction is needed — simply a hardwired connection to provide power.
Polar Leasing refrigeration units are easier to access than other types of temporary refrigeration. "With tractor-trailer and reeferstyle trucks, products must be loaded and unloaded via a long ramp. This is not only an inconvenience but also presents potential workplace dangers such as slipping or falling off the ramp," says Tippmann. "Polar Leasing refrigeration units are ground resting and NSF approved, meaning it is just a simple step to get into the unit."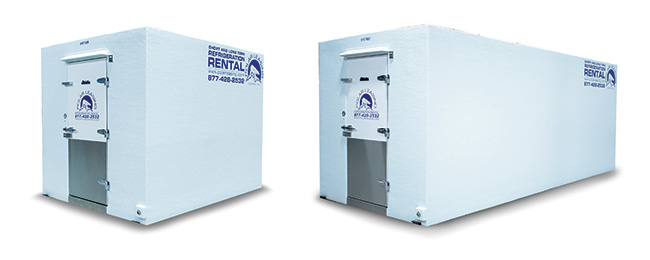 Convenient walk-in units from Polar Leasing provide efficient temporary refrigeration.
Polar Leasing units can stand up to every environment. For warm climates, the units have been tested up to 175 degrees F. They can also handle a snow load of up to 100 pounds per square foot. The strong fiberglass construction can withstand heavy rainstorms and the pounding of saltwater in coastal areas.
No matter where refrigeration may be needed, there's a Polar Leasing depot close-by. "Polar Leasing has hundreds of distribution depots nationwide and thousands of rental units available," says Tippmann. "This means that if an operator needs temporary refrigeration, Polar Leasing likely has a distribution depot nearby. This can be especially useful if an emergency comes up."
And it's the ultimate in convenience and cost savings for the operator because the units are leased for only as long as necessary with no long-term contracts. "You rent the unit for the length of time you need with an option to extend if necessary at the end of the term," says Tippmann. "We pride ourselves on being simple. Our business is built around our customers' needs."
Special-Lite Makes a Great First Impression at Bravo!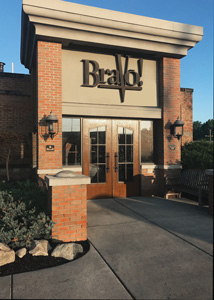 Special-Lite doors accent the exterior design at Bravo!For any restaurant, a first impression is important. And for most customers, that first impression is made right at the front door.
The 180-seat Bravo! Restaurant & Café in Portage, Mich., just celebrated its 30th anniversary serving a variety of Italian-American cuisine including pasta, calamari and its famous mushroom soup, for which Chef/Owner Shawn Hagen says, "people come from miles around."
Even with that reputation, Hagen knows that it's important to make that good impression at the front door. "That's a big impression point right there, as people enter your business," he says. More than 15 years ago, Hagen had Special-Lite SL-19 AMP Wood Grain doors installed at the restaurant, and they're still going strong.
Hagen chose Special-Lite because as he says, they have a "quality name and great reputation." Talking with other businesses that had Special-Lite doors convinced him they were the right choice.
Recently, it came time to replace the doors leading to the patio at Bravo! and after his Special-Lite representative showed him a variety of available options, new doors were installed. Hagen was impressed by "a lot of little nuances you don't even think about — how the closer would work and how it would make it a lot easier for our staff to go in and out, just by the motion of the door."
Hagen is a true believer in the quality and durability of Special-Lite doors, noting that they hold up "unbelievably well. Nothing lasts forever…but a Special-Lite door, maybe."