Page 10 of 10
Special-Lite Makes a Great First Impression at Bravo!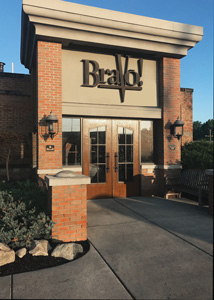 Special-Lite doors accent the exterior design at Bravo!For any restaurant, a first impression is important. And for most customers, that first impression is made right at the front door.
The 180-seat Bravo! Restaurant & Café in Portage, Mich., just celebrated its 30th anniversary serving a variety of Italian-American cuisine including pasta, calamari and its famous mushroom soup, for which Chef/Owner Shawn Hagen says, "people come from miles around."
Even with that reputation, Hagen knows that it's important to make that good impression at the front door. "That's a big impression point right there, as people enter your business," he says. More than 15 years ago, Hagen had Special-Lite SL-19 AMP Wood Grain doors installed at the restaurant, and they're still going strong.
Hagen chose Special-Lite because as he says, they have a "quality name and great reputation." Talking with other businesses that had Special-Lite doors convinced him they were the right choice.
Recently, it came time to replace the doors leading to the patio at Bravo! and after his Special-Lite representative showed him a variety of available options, new doors were installed. Hagen was impressed by "a lot of little nuances you don't even think about — how the closer would work and how it would make it a lot easier for our staff to go in and out, just by the motion of the door."
Hagen is a true believer in the quality and durability of Special-Lite doors, noting that they hold up "unbelievably well. Nothing lasts forever…but a Special-Lite door, maybe."