Page 7 of 10
Making Artisanal Neapolitan Pizza with Marra Forni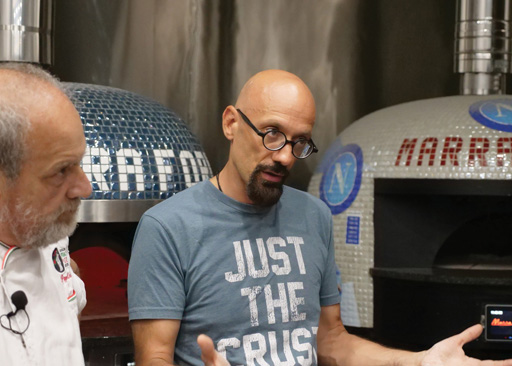 Giulio Adriani relies on Marra Forni ovens to produce perfect pizza every time.Giulio Adrianiknows more about pizza than almost anyone else. He received the Gold Medal from the 2010 World Pizza Championship in Salsomaggiore, Italy and currently holds the Guinness World Record for the world's largest pizza (1.3 miles long!). So his casual pizza restaurants in Atlanta, called The Local Pizzaiolo, are really something special. With two units now open and three more on the verge of opening, Adriani is ready to take on the rest of the country. "We of course plan to expand nationwide when the timing is appropriate," he says. But any expansion will focus on retaining the feel of a local pizzeria, rather than moving into the crowded fast-casual segment.
Everything about The Local Pizzaiolo reflects Adriani's aesthetic of putting a hip, modern spin on traditional Italian food. The restaurants feature a Mercato marketplace, which sells artisanal or imported food products, pottery and other items, all of which have been curated and "taste-approved" by Adriani himself.
Design is a major part of The Local Pizzaiolo as well, and it's as authentic as Adriani's cuisine. Murals painted by a local artist adorn the restaurants' walls; reclaimed ironwork has been recycled into shelving and tables. Just as with the food, the design reflects a respect for tradition but with a chic, urban update.
Master pizza maker Giulio Adriani at work.
The Art of Pizza
Of course, the real star at The Local Pizzaiolo is Adriani's Neapolitan pizza, made with San Marzano tomatoes, imported Sicilian oregano, Grana Padano cheese, and other premium, traditional ingredients. Paired with one of The Local Piazziolo's keg cocktails or keg wines, it makes for an unforgettable dining experience.
To produce these delicious pizzas, Adriani relies on a brick oven. "Remember, I come from Italy," Adriani says. "Italy is a country where the only ovens that exist are brick. They have been there forever.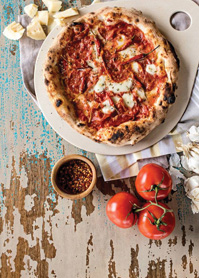 Classic flavorful Margherita at the Local Pizzaiolo."When it comes to Neapolitan pizza," he continues, "you want to cook as fast as possible without compromising the product. It's been shown by hundreds of years that with cement versus bricks, the way that the heat is transmitted to the pie is completely different." And, he says, since Neapolitan pizza cooks in just 90 seconds or so, the fast heat transmission that a brick oven provides is crucially important to producing a perfect pizza.
The oven that Adriani uses to produce that superior product is a Marra Forni brick oven. "I looked at and worked with almost every oven on the market," he says. "With Marra Forni, you have superior service." By using materials from Italy that are assembled in the U.S., he says, he's confident of having the quality of a product that's made in the United States.
"When we buy an oven, we want 10 years, 15 years of life," Adriani says. "As a restaurateur, when I consider all the options on the market, I definitely go with whoever has the best service. When it comes to service, Marra Forni is number one in the market. And, of course, the product is outstanding."