Page 3 of 4
Culver's
Headquarters: Prairie du Sac, Wis.
Locations: 476; 204 located in smaller communities (43 percent)
Menu: Frozen custard, chicken, Butter Burgers, sandwiches, soup, salad
Culver's roots are in small communities. The concept was started by the Culver family in 1984 in Sauk City, a small Wisconsin town. The hometown values found there remain the guiding factors in the corporate culture of the company. Sauk City is still small, with a population of close to 7,500, and the restaurant model established there 29 years ago is still going strong.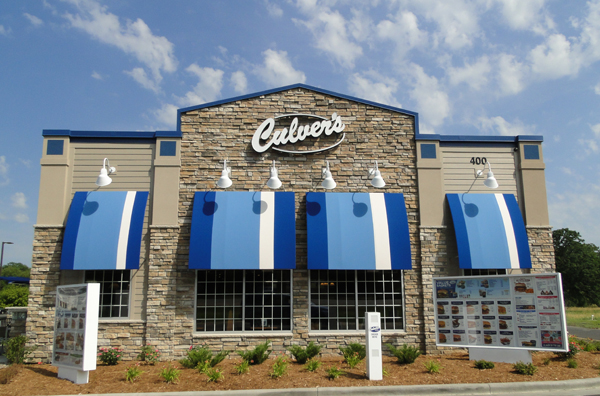 Culvers in Wales, Wiscon
However, Culver's is anything but small. The company has grown over the years to 476 locations and is still growing. Four in 10 of the company's units are in small towns, according to Paul Pitas, director of public relations and communications. That's in part because rather than market franchises to potential owner/operators, Culver's lets the franchisees come to them with the desire to open a new location or an additional unit in an existing location.
According to Dave O'Brien, real estate manager for Culver's, letting franchisees initiate the opening of a franchise unit is an approach that helps ensure success. Opening a franchise where they live allows franchisees the quality of life they seek. "We go where the franchisees want to be, where they live," he explains.
Of course, once a franchisee expresses a desire to build, the team does its due diligence on the location. The site selection process includes looking at the demographics of the population, whether there are interesting tourist attractions nearby and the existence of an interstate highway for easy access. "We look at the activity of other businesses in the area," O'Brien says. "We look at the lay of the land and the job market [to ensure a solid customer base]." Having local franchisees allows for more direct access to local government, as well. "You get answers more quickly," O'Brien says.
The organic approach to growth, fueled by the entrepreneurship of franchisees, means that the chain's operators are highly motivated. They are also engaged with the community. One of the key advantages of doing business in a small town is the building of a loyal, repeat customer base. Unless you do something really wrong, business is assured for some time to come.
The Culver's team monitors costs of entry to new markets carefully so that the franchisees will be guaranteed profitability whatever the size of the market. The cost differential varies from market to market.
Culver's offers a variety of building designs: small, medium and large. The smaller unit designs promote efficiency, especially where energy costs are concerned. All the prototypes were redesigned several years ago to be more energy efficient.