Chains are finding attractive opportunities in small town America.
In days gone by, ambitious people left the small towns of their childhoods to make it in the big city. The big cities were where the action was: jobs, culture, nightlife and plenty of dining options. As the migration grew, these cities became homes to all the national restaurant chains, from pizza to burgers to BBQ. Now, for some of these chains, the migration has reversed. Many are establishing beachheads in small towns across the country.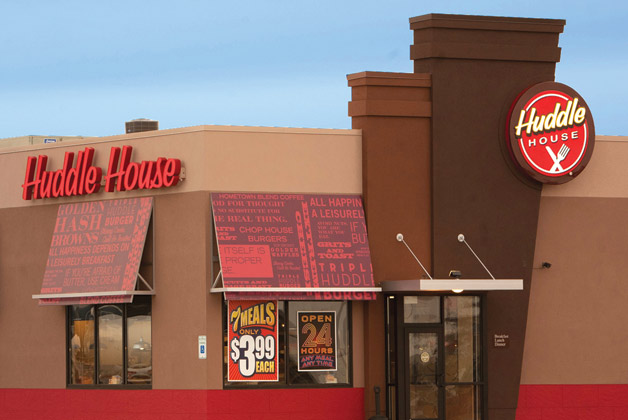 Locating in small towns offers many advantages. They are generally previously untapped markets for chains. There are lower build-out costs. Franchisees have local ties and are often known and respected in the community. Plus there is the small town reputation for friendliness, neighborliness and a strong sense of community, which can build strong customer loyalty. All of these factors are keys to success.
Some of the chains now pursuing small town expansion were born in a small town years ago. Founded by families who represented strong hometown values, they thrived because the people in those communities shared those values. For many chains, however, the migration to smaller venues today is driven by economics. Growth in traditional markets has slowed due to saturation from market maturity, while untapped smaller suburban and rural towns offer opportunities. While it is too soon to have any quantitative growth data, the trend is recognized by leading industry analysts.
"Chains are using smaller restaurant footprints with less seating and lower overhead costs as a means to build locations without the same expectation of annual unit volume," says Darren Tristano, executive vice president of Technomic, Inc. "Some full-service chains are using fast-casual formats to increase their brand's convenience and locations."
In some situations, chains can achieve synergy when entering smaller markets. Tristano notes that Darden has introduced co-branded locations with Olive Garden and Red Lobster sharing restrooms, kitchens and food storage facilities. This leverages a smaller footprint, lowers costs and reduces volume expectations.

Small towns are defined by NPD Group as those with less than one million in population. A recent NPD report includes a "QSR Traffic Growth Forecast (2011-2016)," by area of the country that predicts the increase in the number of people eating in QSR locations across the United States. The range for the top small markets, mostly in the South and West, is from 13.2 percent to 19.6 percent growth. That compares to 3 percent growth for the total United States.
While NPD considers the definition of small to include up to one million residents, the chains are looking at even smaller towns, with as few as 10,000 year-round residents. Strategies behind the desire to go small differ with the concept. Here, three chains share their approaches, describing decision factors, benefits and costs.
Woody's Bar-B-Q
Headquarters: Jacksonville, Fla.
Menu: Southern barbecue
Locations: 28; 20 in small towns (71 percent)
Woody's Bar-B-Q is going into small cities in a big way. The chain's newly created QSR Model, Woody's Bar-B-Q Express, targets 16 small towns in under-served counties in Florida. This decision was prompted by the success of two existing units. "Research proves that two of our most successful franchises are in these small, hometown communities, so we decided to target these communities and become part of the daily fabric of their lives as a community member," says Tammy Poudrier, Woody's director of marketing.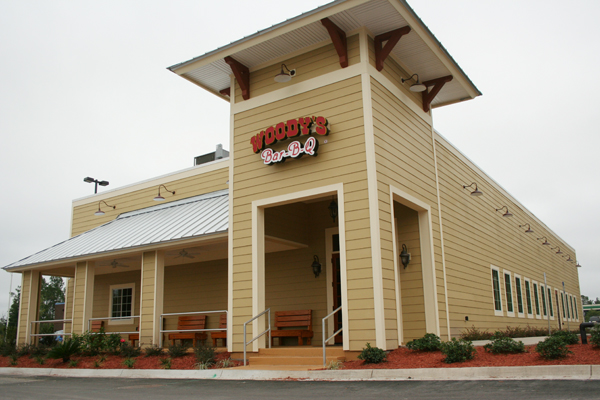 Woody's in Macclenny, Florida
The company's decision-making process focuses on locations that are presently under served. Families with strong community ties are Woody's ideal customers. "We continue to do well in communities that appreciate value propositions and our food profile serves up the comfort foods that they enjoy," Poudrier explains.
Woody's Express features a smaller footprint than the company's full-service prototype. The smaller version is 1,500 to 2,500 square feet versus 3,500 square feet and up for traditional units. The menu is also pared down, offering the strongest selling core menu items served in larger formats. Smokers, grills and kitchen equipment are all smaller models to achieve efficiency in the trimmed-down kitchens.
Poudrier notes that rental space and other fixed costs are less because of the smaller footprint. Labor and inventory costs are also less because of the smaller menu and less counter space. This decrease in costs should allow owner/operators of the franchise to become profitable more quickly.
"The benefits of going into hometown USA are the fellowship and community values that can be strengthened and celebrated at our locations," she says. "If the community enjoys the good food and great service, they spread the word and soon we are having Boy Scout meetings and chamber events at the location."
This also means that each unit must excel at food and service, because, in a small town, bad news travels just as fast as good news.
Once these initial units are established, Woody's has plans to target small towns nationally. The development team is already scouring the country for the perfect combination of great locations and good franchisees.
Culver's
Headquarters: Prairie du Sac, Wis.
Locations: 476; 204 located in smaller communities (43 percent)
Menu: Frozen custard, chicken, Butter Burgers, sandwiches, soup, salad
Culver's roots are in small communities. The concept was started by the Culver family in 1984 in Sauk City, a small Wisconsin town. The hometown values found there remain the guiding factors in the corporate culture of the company. Sauk City is still small, with a population of close to 7,500, and the restaurant model established there 29 years ago is still going strong.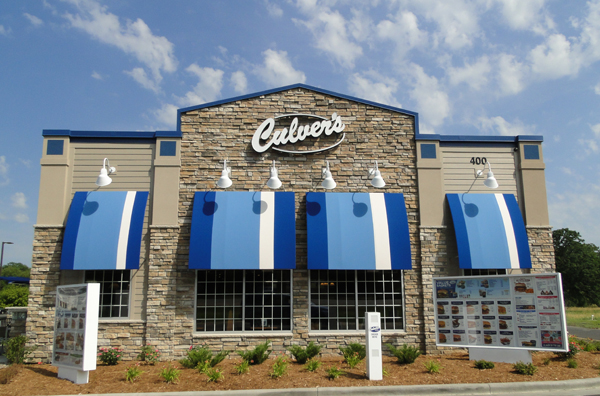 Culvers in Wales, Wiscon
However, Culver's is anything but small. The company has grown over the years to 476 locations and is still growing. Four in 10 of the company's units are in small towns, according to Paul Pitas, director of public relations and communications. That's in part because rather than market franchises to potential owner/operators, Culver's lets the franchisees come to them with the desire to open a new location or an additional unit in an existing location.
According to Dave O'Brien, real estate manager for Culver's, letting franchisees initiate the opening of a franchise unit is an approach that helps ensure success. Opening a franchise where they live allows franchisees the quality of life they seek. "We go where the franchisees want to be, where they live," he explains.
Of course, once a franchisee expresses a desire to build, the team does its due diligence on the location. The site selection process includes looking at the demographics of the population, whether there are interesting tourist attractions nearby and the existence of an interstate highway for easy access. "We look at the activity of other businesses in the area," O'Brien says. "We look at the lay of the land and the job market [to ensure a solid customer base]." Having local franchisees allows for more direct access to local government, as well. "You get answers more quickly," O'Brien says.
The organic approach to growth, fueled by the entrepreneurship of franchisees, means that the chain's operators are highly motivated. They are also engaged with the community. One of the key advantages of doing business in a small town is the building of a loyal, repeat customer base. Unless you do something really wrong, business is assured for some time to come.
The Culver's team monitors costs of entry to new markets carefully so that the franchisees will be guaranteed profitability whatever the size of the market. The cost differential varies from market to market.
Culver's offers a variety of building designs: small, medium and large. The smaller unit designs promote efficiency, especially where energy costs are concerned. All the prototypes were redesigned several years ago to be more energy efficient.
Huddle House
Headquarters: Atlanta
Locations: 398; 346 located in small towns (87 percent)
Concept: 24-hour comfort food; breakfast at any hour, sandwiches and burgers
Huddle House has been pursuing a small-town strategy for the nearly 50 years it has been in business. In 1964, John Sparks opened a restaurant in Decatur, Ga. A football fan, he wanted folks to "huddle up" to good food, thus the name was born. Huddle House restaurants now are found predominantly in the Southeastern United States.
Huddle House Exterior
While it does have units in larger metropolitan areas, including Atlanta and Birmingham, the owners saw the benefits of smaller communities early on and have continued that strategy.
Brian Kendrick, director of development, says the company targets communities with around 15,000 residents. They first make sure there are few or no direct competitors in the area, such as IHOP or Waffle House. Huddle House also strives to be the main 24-hour restaurant in town. They look for other 24-hour businesses, such as factories or hospitals, whose workers are likely to frequent an all-day, all-night restaurant. Other considerations are whether the town is a county seat, which is preferable, and is near a major highway, which is critical.
The existence of a local WalMart 24-hour Superstore is an indication that the location is a good opportunity. If WalMart has done its homework and invested time and money, says Kendrick, the venue is a pretty sure thing.
Huddle House has provided a model for free-standing units for its franchisees in the past. Recently, however, there have been conversions of existing restaurants. New units have been opening in travel plazas. The emergence of travel plaza franchises has been a positive development for the brand. These units, which make up 11 percent of the total, cater to travelers and truck drivers, offering brand exposure to customers who wouldn't necessarily be in one of the small town locations. The travel plazas also fit the 24/7 model.
A free-standing prototype is about 2,300 square feet, with seating for 75 that can expand by 12 to 15 seats. The travel-plaza version starts at 100 seats. The kitchen design is similar for both prototypes, with the exception of increased griddle capacity in some of the travel plaza units. Costs are similar for both, according to Kendrick.
The Huddle House menu is the same in both types of units, freestanding and travel plazas. Breakfast, lunch and dinner are available 24 hours.
Huddle House operates on a May to May fiscal year. In fiscal year 2013 the company opened 16 new units. In fiscal year 2014 Huddle House plans to open 22 new units.  

The company started a remodeling program two years ago. The remodel freshens up the facility and, in some cases, updates the cook line. Kendrick expects 28 remodels in the 2014 fiscal year