Indian dining experiences in the U.S. have long resided primarily on either end of a very niche spectrum: mom-and-pop curry house-style restaurants with lunch buffets and low prices or chef-driven operations offering fine, authentic Indian cuisine. Options in the middle for those who just want a quick and affordable Indian fix at lunch? Not so much. But that's about to change.
A handful of entrepreneurs have set out to bring traditional Indian dishes and flavors to the fast-casual arena. Eschewing Taj Mahal and elephant imagery, they're recasting Indian in ways they hope will make this vibrant, colorful and complex cuisine — and their pioneering brands — the next big thing. Here's a peek at three concepts leading the way.
Hot Indian
HQ: Minneapolis
After 15 years in marketing and brand strategy at General Mills, Amol Dixit took a job on the line at Chipotle. His motive: to learn all he could about fast-casual restaurant operations while cooking up plans to put his own spin on the model. Within months, he'd hired a chef, tested recipes, created a brand and launched Hot Indian, initially as a food truck which, quickly expanded to brick-and-mortar locations.
"The idea was to create a fast-casual brand that would make Indian cuisine more accessible," Dixit says. "The response to the food truck was solid, so in 2014, I opened the first location in Midtown Global Market, a food hall/incubator for minority-owned businesses. That was a great fit for us."
It still is. Hot Indian is a big draw at the food hall, and its kitchen now serves as a production commissary for the concept's other units. In addition to the truck and food hall unit, the Hot Indian portfolio now includes a food cart at Target Field and two new restaurants, one in the downtown Minneapolis skyway and one in a Mall of America food court.
Opened in May, the 1,450-square-foot skyway restaurant seats 16 and serves as the brand's flagship location. "One of the things we realized as we began thinking about growing was that in fast casual, lunch is critical," Dixit says. "I wanted our first standalone location to have a solid, built-in lunch crowd. There's nowhere better than the skyway for that in Minneapolis."
The Mall of America opportunity came about quickly thereafter. Dixit met the mall's leasing agent a couple of years ago, and she reached out to him when a space became available. That location, which measures 800 square feet, shares an open seating area with other restaurants.
With the exception of the food cart, which has no fryers, menus across the units are consistent and showcase authentic Indian flavors in simple, more familiar forms. Inspired by the Chipotle model, guests choose a base, filling and chutney before staff top off their dish with HI-Slaw, a blend of cabbage, apples, carrots and mangoes in a coconut milk dressing. Fillings include three animal protein choices (chicken tikka, pork vindaloo and lamb) and three vegetarian options (spinach paneer, vegan aloo gobi and vegan channa). Six chutney options let guests customize flavors and heat levels. Side items include Indi Frites (seasoned russet and sweet potato fries with mango pickle aioli), samosas and crispy chickpeas.
"A big part of making Indian food more approachable is simplifying it," Dixit says. "We wanted to make it easy, fun and unintimidating." To that end, design and branding also play key roles in shaping the guest experience. Graphics along the queuing area explain the menu and ordering process, helping to ensure guests have the confidence to order by the time they reach the cashier.
The graphics also help convey the brand's personality, which Dixit describes as "sexy, down-to-earth and cheeky." In the skyway, for instance, a large sign near the line advises, "Don't panic, it's just lunch." The brand's logo depicts Sona, its fun-loving muse. Her likeness appears in a variety of ways, including winking in a life-size sign inviting guests to give her a "HI 5 for living the HI life." A sign at the counter invites guests to push a button and perform a quick Bollywood dance move to get a discount on their meal.
The Hot Indian team continues to fine-tune the concept as it gears up for future growth. "We're filling out the portfolio with different formats," Dixit says. "Locally, I want to open a suburban location and a campus location so that as we move into different cities, we have a good playbook on how to operate different types of locations."
Curry Up Now
HQ: San Francisco
A food truck was the point of entry for Curry Up Now, launched in 2009 by Akash and Rana Kapoor and Amir Hosseini. Their goal: to break down stereotypes of Indian food and dining experiences with a brand that showcases authentic foods and flavors in modern, approachable presentations.
The company's portfolio now includes three food trucks and six brick-and-mortar restaurants in the Bay Area. Last year, it strengthened its infrastructure with the purchase of Tava Kitchen, a competitive fast-casual Indian concept, keeping one of its three units open and closing the others. And earlier this year, Curry Up Now partnered with a franchise development company to help take the concept national.
The first of many deals already in the pipeline will take Curry Up Now into the Sacramento, Calif., and Atlanta markets, where new franchisees are scouting locations.
The concept's success hinges on its playful approach to checking both the ethnic authenticity and mainstream approachability boxes. Its menu speaks clearly to both.
Signature items include Tikka Masala Burrito (chicken or paneer); Quesadillix (whole wheat potato-stuffed paratha flatbread with choice of filling, pickles, chaat masala, yogurt and chutney); Deconstructed Samosas (mini samosas topped with choice of protein, chana, pico kachumber, chutneys and crispy noodles), and Sexy Fries (criss-cut sweet potato fries doused in masala sauce and topped with choice of protein and cheese).
With those items at its core, Curry Up Now also ventures beyond typical fast-casual territory. The full menu includes sections for Indian street snacks and street foods; burritos and bowls with choice of turmeric white rice or riced cauliflower; shareable Thali Platters; a section offering lighter, more healthful options; a kids menu; and a selection of desserts.
The concept prides itself on offering all-natural gluten-free curries, chutneys and sauces; cage-free eggs; local, organic produce and dairy; and protein options that are halal and naturally raised.
Two locations, in San Mateo and San Jose, also feature a separately branded, speakeasy-style bar called Mortar & Pestle. Customers can access the bar from inside or via separate street entrances. Full service in format, they offer the Curry Up Now menu, Indian-inspired classic cocktails (such as a Bangalore Old Fashioned with garam masala and Indian rum), microbrews and specialty wines. "All corporate stores going forward will be that dual-concept model," Kapoor says. "It's been very successful, accounting for one-third of total sales at those units."
The company has two additional corporate stores in development, planning to open one in late 2018 and the other in early 2019. The big development push, however, will come from franchising, primarily of the smaller (1,800 square feet/50 seats inside), traditional fast-casual prototype but also of the larger (3,500 square feet/90 to 100 seats inside) bar and fast-casual model.
As part of its dive into franchising, Curry Up Now uses the former Tava unit as both an operating restaurant and R&D/training facility. And Kapoor is working with a design firm to refine its prototype, which includes self-order kiosks as well as self-serve taps for beer and wine.
"We spent months looking at imagery from a lot of different cities in India, modern stuff, street stuff, etc.," Kapoor says. "Too often, when someone walks into an Indian restaurant in the U.S., all they see are elephants, peacocks and pictures of the Taj Mahal. That's not what India is, but that's what we've done to ourselves, and for some reason, it has stuck. We offer a very different experience — vibrant, colorful, up-tempo, and driven by the street and street-food culture. That's who we are."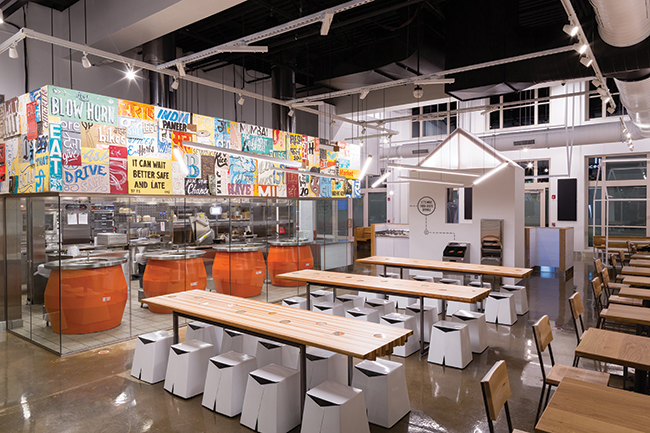 Choolaah Indian BBQ
HQ: Cleveland
Randhir Sethi and Raji Sankar, franchisees of Five Guys Burgers & Fries units in Northeast Ohio and Pittsburgh, sat on their idea for a genre-breaking Indian dining concept for nearly 12 years before kicking it off in Cleveland in 2014. Inspired by the traditional sanjha chulha clay oven, around which villagers would gather to prepare meals and share conversation, Choolaah Indian BBQ celebrates those traditions and seeks to reinvent the Indian dining experience around them in a modern, fast-casual format.
The company operates five units. In addition to Cleveland, over the past year and a half, it has developed two units in Virginia and one each in King of Prussia and Pittsburgh. Its vision: "To have a Choolaah on every corner of the globe," says Jay Nesbitt, chief creative officer.
Nesbitt, who previously owned a marketing and branding firm, feels the time of fast-casual Indian cuisine has come. "Raji and Randhir were clients of mine," he says. "I thought what they were trying to do was incredibly groundbreaking. I sold my company and came on board to help create the branding and grow the concept."
To develop the menu, Sethi moved his family back to India and spent a year researching authentic recipes and techniques, from family-style favorites to two-Michelin-star chef specialties. The team then worked to adapt recipes and streamline systems to ensure the culinary staff could prepare and serve the selected dishes in a fast-casual, four-minute window.
Choolaah Indian BBQ cooks all of the naan and hot fillings — chicken, salmon, lamb meatballs, paneer, tofu with vegetables, and vegetable croquettes — in custom-built, gas-fired tandoor ovens that reach nearly 700 degrees F. Guests can choose a signature bowl or make-your-own bowl with a base of rice or greens and select from five masala sauces. Other menu favorites include chicken or veggie biryani, tandoori wraps and street snacks. A variety of house-made sauces and diced green chilies can be added for extra kick.
Nesbitt says as the brand has developed, its culinary approach has evolved. It has always been committed to clean, natural, local and premium ingredients, but now a stronger focus on health and wellness has emerged.
"With the first unit in Cleveland, we realized that many customers were fitness- and health-driven," Nesbitt says. "We started noticing the different combinations they were creating, and that was a real aha moment for us. We've since developed a 2.0 version of our menu that's being deployed across all units. It gives us the ability to be more flexible with combinations that appeal directly to health-conscious diners."
Central to Choolaah's design as well as to its menu, the colorful tandoor ovens add theater and transparency to the guest experience. For maximum impact, a glass wall showcases the ovens in each restaurant.
"We brought the kitchen to the front," Nesbitt says. "The ovens and the open kitchen are very visual and help to demystify the cuisine. Every unit has a community table positioned in front of the ovens."
The units average 4,000 square feet with approximately 125 seats, and while each has its own unique design elements and layout, the brand maintains a consistent appearance and ambience from one location to the next. Nesbitt describes it as contemporary, light-filled, whimsical and full of distinctive art installations.
Examples of the latter include a 17-foot stack of Indian books, 3,500 spice cans mounted to the wall in the shape of the word "yum," miniature "houses" that take the place of booths, and metal walls with 2,000 poetry magnets that encourage guests to get creative. While not necessarily art, each Choolaah also includes an automated handwashing station in the front of the house, a unique element that's also functional.
Going forward, the Choolaah team expects to keep the concept privately held and to continue developing corporate stores, in existing markets first and later far beyond.