Elevated bar seats can also be plush as seen at the bar at The Club at ArrowCreek in Reno, Nevada. Images courtesy of Scott Sikora PhotographyYou can tell a lot about a restaurant by observing the seating. The choice of seating types and their composition affects guests' behavior and helps create the desired atmosphere. Intended ambience can range from quiet and intimate to vibrant and boisterous, and seating types contribute mightily to establishing the vibe.
Seating can have an impact on the types of customers an establishment attracts, their overall comfort and the size of groups an establishment can accommodate. Seating also effects guest turnover, which, of course, impacts profitability. Indeed, designers say seating choices ripple through more aspects of an establishment than laypeople would believe.
Restaurant owners have a few broad categories to select from when choosing seating types: conventional chairs, booths and banquettes, benches (generally deployed at long community tables), and high stools/elevated seats commonly used at or near bars. Other important considerations include density of the layout, the plushness of cushions, how much to spend, durability and cleanability, and quality of construction. For textile selection concerns, click here.
Before choosing seats, think through your business plan and the customer experience you want to present. Typically, designers recommend offering a variety of seating options whether your restaurant is a QSR, fast-casual, fine dining, food hall, or occupies another niche. Most restaurants attract customers from multiple demographic groups — families with children, older adults, young single adults and adult couples. Each group tends to have its own seating preferences.
Distinctive purple upholstery contributes to a unique look at The Club at ArrowCreek in Reno, Nev. Image courtesy of Scott Sikora Photography
Variety of Choices
If your aim is to attract a broad demographic, offer appropriate seating for the various cohorts. "Booth settings are ideal for families," points out Ed Doyle, president, Real Food Hospitality. "They provide shelter and privacy." That benefits other diners as well by providing separation from misbehaving children. For older diners, sturdy seats with arms make it easier to stand up, Doyle adds. Couples looking for an intimate dining experience appreciate plush cushioned seats suitable for longer stays.
Look at the dining area holistically and consider three elements — density, comfort and elevation — when choosing seating types, Doyle says. In high-density areas with guests sitting close together, you will need smaller seats to accommodate more people. This rules out banquettes and wide chairs with arms. On the other hand, spaces with widely separated tables make just about any seating option viable.
Elevated seating adds variety. "By providing elevated booths or stools, you create visual peaks and valleys," says Jessica Earp, interior designer, Cushing Terrell. In a large space, this breaks up what would otherwise be monotonous rows of tables. Elevation is also a good way to establish private nooks and present a hierarchy of space functionality, Earp says. High tables and chairs, for instance, are a widely accepted visual cue of an area for drinks and appetizers. Booths and banquettes also create zones that at a quick glance make it obvious that the place provides a variety of comfortable seating.
Seating Influences Behavior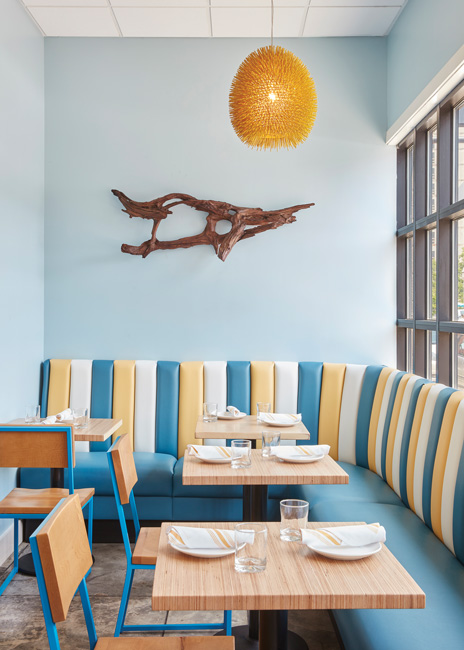 Plush seating at Tapestry in Boston adds a touch of elegance. Photo by Jared KuziaSeating type influences the posture of guests. A high bar stool, for example, prompts guests to sit up straight and lean forward. This aids in creating a lively ambience, inspiring guests to engage with each other and with bartenders. Plush banquettes, on the other hand, make people more inclined to sit back and relax. "Softer and squishier translates to lower energy," Doyle says. This makes perfect for a quiet, romantic vibe.
Posture and comfort also impact guest turnover. Seat comfortability ranges from hard (wood or plastic) to generously cushioned options that one might find in a typical home's family room. The more comfortable the seating, the more likely diners will be amenable to a longer stay.
The growth of work-from-home employment during the pandemic has stimulated a trend among some establishments to provide lounge-like furnishings. "Customers are looking for a third space, not home or the office, to hang out," Earp says. Plush, comfortable sofas or generously sized chairs makes it more desirable for people to do a little work, have a few drinks and enjoy a light meal in a setting away from the home office.
Hard seats are suitable for people grabbing a quick bite at a fast-food joint. A happy medium — cushioned but not too plush — works well in a fast-casual atmosphere seeking moderately quick turnover of an hour or less.
The COVID Factor
Expect anxiety over COVID to linger among some clientele. "I think people still have PTSD over COVID, and will continue to have proximity to others in mind when they are in public spaces," says Brent Zeigler, president, Dyer Brown. It's also likely that certain demographic groups, such as seniors who are at higher risk of serious illness, will be more sensitive to this factor than, say, healthy twenty-somethings.
If your restaurant attracts groups from both ends of the COVID sensitivity scale, it's wise to provide some seating with generous separation between parties. This is more important if guests stay longer than a half hour, as the longer you are exposed to a respiratory pathogen the more likely you are to contract it. This may mean sacrificing density and, therefore, seating per square foot — at least for now as the specter of COVID lingers — to alleviate some fears.
The pandemic prompted some establishments to remove communal tables from their seating mix. Zeigler says some clients did retain these, and others are bringing them back. Many are opting for individual chairs rather than benches now, though. This makes it easier to establish more separation between parties when desired.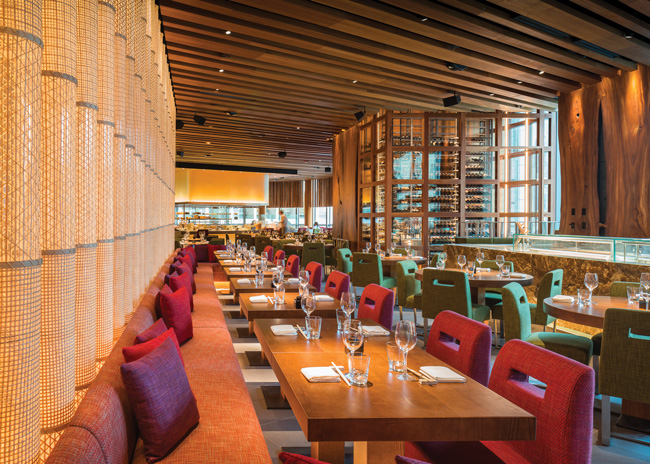 Long rows are distinguished at Zuma in Boston with different coloredchairs.Photo by Darrin Hunter
Flexibility is Advantageous
The ability to readily move seats and tables provides flexibility to accommodate parties of different sizes and expand or reduce separation between them. Smaller, lighter weight chairs are easier for staff to move. If they are easy to lift, staff can avoid having to drag them along the floor causing distracting noise and scuff marks.
The capability to add or subtract seats to increase or decrease density requires space to store chairs when they are not needed. With space often at a premium, chairs that can be stacked are advantageous. More chair designs that lend themselves to easy stacking have come on the market recently, Earp says.
There are also some banquettes made of light material on the market that can be moved around. But, this option doesn't always work out in practice. "If it is big and bulky, it tends to not get moved," Earp warns. Human nature makes people shy away from moving large objects even if they are relatively lightweight.
Other Considerations
Other aspects of the business impact how much seating to provide and where to put it. "To make good decisions about seating, first ask, what are you delivering beyond food?" says Mark Landini, creative director, Landini Associates "Also, where and how is the restaurant delivering what customers want?"
For instance, many restaurants started offering meal kits, sauces and other products during the pandemic. These establishments may want to continue to allocate space for such sales that reduce the square footage for seating. If ancillary sales are sizeable, this might be well worth the trade-off. The same goes for to-go service with dedicated space for pickup.
Banquette seating at Eviva Trattoria in Marlborough, Mass., provides separation of space within the dining room. Photo by Jared Kuzia
How Much to Spend
How much is appropriate to spend on seating is not an easy question to answer. "I can put five different chairs in front of you that look identical but vary in price by 300%," Doyle says. The price differences often reflect significant differences in quality of materials and workmanship.
"When we have a conversation about cost with a client, usually their instinct is to go with the more affordable option," Zeigler says. "I discourage that because you do often get what you pay for." He says its best for an interior designer to obtain and inspect chair samples before making recommendations.
Zeigler looks for indications of quality workmanship. For instance, staples used for jointing wooden elements is a red flag. Staples are more likely to fail over a relatively short time. Screws and bolts offer much better durability. He also warns against lightweight metal chairs, as these models don't tend to stand up to the demands of a typical restaurant. In fact, he says, beware of chairs primarily intended for the residential market, as they are not designed for the rigors of public spaces. Chairs should accommodate diners of all sizes, Zeigler adds. If you choose chairs that are too small to cram in more seats per square foot, you may unwittingly exclude larger people.
Although metal tends to withstand normal wear better than wood, that doesn't mean wood should be ruled out. "Wood chairs add warmth and can be fine when constructed well with a good protective finish," Zeigler says. Some models combine wood and metal, reaping the benefits of both materials.
An increasingly popular material, powder coated metal is a good choice for both indoor and outdoor use. This material has a baked-on finish from the factory and is often offered in a wide choice of colors. Seating made from polypropylene may be a good choice for outdoor use, as this material tends to weather well. Cushioned seating can be upholstered with multiple types of materials including leather, vinyl, and all-season outdoor fabric. All are durable and can normally be cleaned with ease. Outdoor-quality fabric can be utilized indoors as well for a seamless look.
Most manufacturers offer warranties on chairs, a feature that adds value to the purchase. Zeigler usually looks for at least a 10-year warranty. Warranties include exclusions for normal wear and tear, but manufacturers are typically willing to provide replacements when a chair suffers atypical damage or fails due to a manufacturing problem.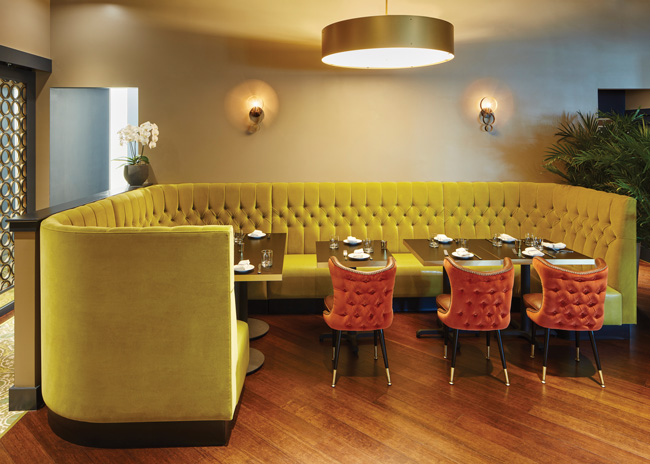 Plush seating at Tapestry in Boston adds a touch of elegance. Photo by Jared Kuzia
Sustainability Considerations
Restaurateurs, like other business owners, increasingly aim to improve the sustainability of their businesses. When choosing seating, two factors should be evaluated through the environmental lens: material choices and the product's carbon footprint.
Wood chairs are considered more sustainable if they were built with sustainably harvested wood. Find out if the manufacturer uses wood certified by organizations such as the Sustainable Forestry Initiative (SFI) and the Forest Stewardship Council (FSC).
Padding materials vary in sustainability. "The polyurethane foam that is traditionally used for padding in upholstery is a petroleum byproduct and cannot be recycled at the end of its life," Zeigler says. "Some companies are starting to use polyethylene foam made from recycled plastic bottles. This product can be recycled back into new foam at the end of its life, making it a full circle product." Natural materials including natural latex, coconut fiber, bamboo and horse-hair-based paddings are other sustainable choices.
How far a product is shipped impacts its total carbon footprint. Generally, the shorter the distance shipped, the lower the carbon impact of the product compared to its peers. So, local and domestic manufacturers tend to have an edge in this respect.
In the current economic environment, many manufacturers of seating materials including fabrics, padding, and other essentials are having difficulty getting what they need when they need it. As of spring 2022, this condition is not improving much or quickly. Thus, be prepared to wait several months for specific seating products or be willing to choose alternatives with earlier availability.