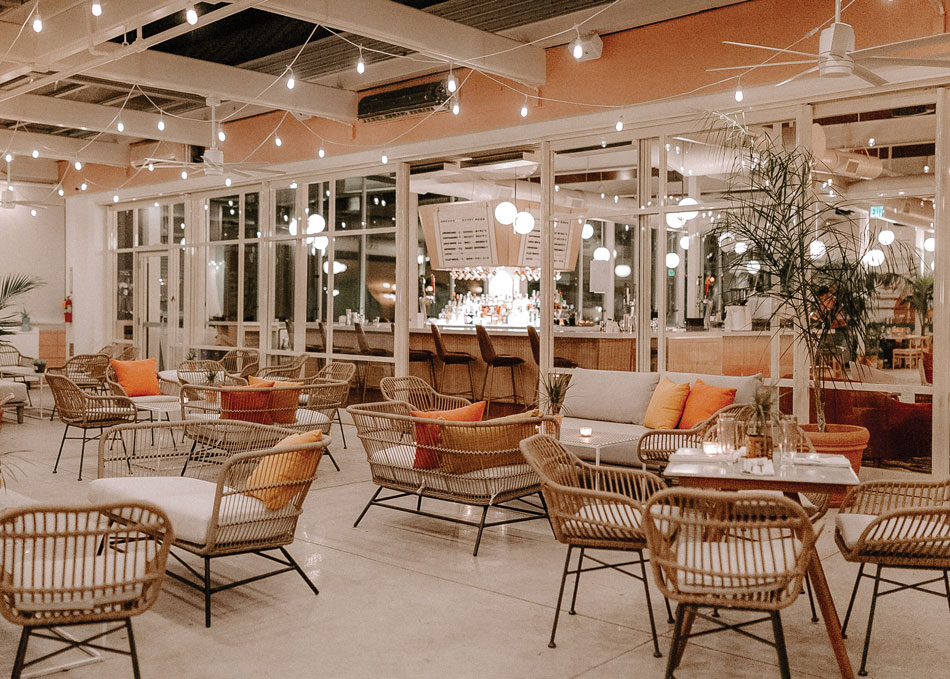 Off the bar and lounge, a dog-friendly glass atrium with retractable wall and roof provides casual, resort-style indoor-outdoor dining and lounge seating. Images courtesy of Jenni-Kate RogersHad things gone according to their initial plan, Boozehounds' co-founders— three guys with a shared love for dogs and beer — would have come onto the Palm Springs, Calif., scene with a far different business model. Their big idea was simple: build a cool but low-key "dog bar" and doggie daycare, a place where dog lovers could grab a beer, hang out and let their pets run and play freely. Between concepting and execution, however, plans changed.
Opened in April of 2021, Boozehounds came to market as a very different animal. Dogs are shown no less love — they're welcome in two dining areas, have their own menu of "mains, snacks and treats" and are supported via the restaurant's involvement with local shelter groups. But there's much more for humans to enjoy in what morphed from a dog-friendly bar into a full-blown restaurant, lounge and coffee/co-working space that's comfortable, contemporary, stylish and playful.
Bryan Rogers co-founded Boozehounds with friends Jimmy McGill and Steve Piacenza and his wife, Jenni-Kate Rogers, led design. He says several factors contributed to the business-plan pivot. Top among them were COVID-19-related closures in 2020, which caused the trio to pull back on signing one lease, wait things out a bit, and ultimately find their current site. An iconic, high-profile corner building on N. Palm Canyon Drive, this location was a game changer. At just over 9,000 square feet inside and out, with dining room, large bar and lounge, glass atrium with retractable wall and roof, generous patio with cabana bar, and 75-space parking lot, the space appealed to Bryan Rogers for its potential to provide multiple revenue streams as well as for its design possibilities. McGill and Piacenza agreed and by September of 2020, the lease was signed and conversion of what had over the years operated as a restaurant, arcade and nightclub began.
"It actually was a blessing that we had to wait and walk away from the first place we'd been interested in," says Bryan Rogers. "By the time we started looking again, last June, real estate prices were dropping and we found this space. We loved it right away, but knew that given its size and layout, our business plan needed to evolve. We'd also started talking to the city and learning that the logistics of trying to do a dog run or doggie daycare and get permitting for that would be really tough. Our pivot was toward doing an elevated restaurant and bar that would take full advantage of what we knew could be a beautiful space, and one that already had a huge, well-equipped and mostly up-to-code kitchen. But with the patio and indoor-outdoor atrium, we also knew we could create an incredibly dog-friendly place."
Canines and their human companions can enjoy the 1,400-square-foot patio, featuring a small cabana bar and open-air views of the San Jacinto Mountains.While the interior aesthetics of the 13-year-old building left much to be desired, its overall condition was another big selling point, particularly with slower than normal permitting likely due to pandemic-related delays. No major demolition or infrastructure work was required, enabling the Boozehounds team to complete the design conversion and get the restaurant open within eight months of lease signing.
"Everything that was done construction-wise was mostly out of design or concept necessity," notes Jenni-Kate Rogers, creative director and co-owner of Raven and the Willow, a lifestyle photography and design firm. "It was still a lot of work, but it was more about accentuating what was already there, breathing new life into the space and making it more comfortable and welcoming."
Along with the atrium and patio spaces, highlights of what was already there include a large 30-seat bar; exposed, 30-plus-foot A-frame ceilings, and, in the dining room, a wall of 14-foot-high windows overlooking N. Palm Canyon Drive and the San Jacinto Mountains beyond.
To maximize revenue opportunities and take full advantage of the size and dynamics of the space, the partners set out to create a mixed bag of experiences, enabling guests to engage with the brand in multiple ways throughout the day. The operation offers "coffee and co-working" daily from 8 a.m. to 3 p.m., happy hour with light bites from 3 p.m. to 5 p.m., dinner from 5 p.m., and weekend brunch. Lunch wasn't offered initially, in part because the desert heat in summer precludes using outdoor spaces, but is planned for the future as the partners upgrade air conditioning in the atrium.
A logo and branding package developed by artist Jenna Murray of Spilled Milk Creative established a primary color palette of terra cotta, mustard and sage and a playful-yet-stylish approach to putting dogs at center stage. From there, Jenni-Kate Rogers took cues from the desert environment outside and the city's rich mid-century modern aesthetic traditions to transform the formerly very dark and cavernous space into a light-filled, contemporary and comfortable spot for working, drinking, dining or just hanging out, with or without dogs.
Step one in that transformation, Jenni-Kate Rogers says, was to simply give everything a fresh coat of paint. "All of the walls were a very dark burgundy, as was the ductwork in the open ceiling," she says. "The first thing we did was to get everything back to a neutral cream color base from which to work. It really opened up the space and some features, like beautiful wood in the ceiling, which had been almost invisible against the dark ductwork, now really stood out. The brand color palette that Jenna developed was bright and playful, but I knew if I was going to put that into a space this cavernous, I had to mute it all down to make it feel comfortable and intimate. I also feel it's important to look outside and build on, not fight against, colors that are going to be seen in the natural environment while you're in the space. A desert neutral palette against that light, creamy base made sense, fit the brand colors and, in a way, seemed to bring the outdoors in."
While no demolition or major infrastructure work was required, significantly more than fresh paint was required to bring Boozehounds to life and to create a unique but cohesive aesthetic for each of its various spaces. A custom permanent host stand/reception area was designed and built using breezeway blocks, for example, and the bar got a full cosmetic makeover.
"The bar is giant and has great seating, but it was an eyesore — speckled black resin top and sheet metal front. We tried everything we could think of to make it look good and avoid having to get a new top because it's so big, but in the end we had to make the investment," Bryan Rogers says. "We went with a beautiful, cream-colored quartz top for both the bar and the back bar, got rid of the sheet metal and wrapped the bar in tambour, which is very mid-century and can be stained in any color. We loved that material, and used it elsewhere, too, including to cover what was a TV tower at the bar that we turned into menu boards, and on some wall areas."
Boozehounds' partners chose the iconic, high-profile building for its multiple-revenue-stream potential, relative ease of conversion and, most importantly, its dog-friendly outdoor areas.
Vintage Glam Meets Modern Comfort
A marriage of desert vacation resort and mid-century modern, Boozehounds' interior aesthetic flows from elevated comfort in the main dining room to soft and clubby in the lounge, open and vibrant in the bar and atrium, breezy desert retreat on the patio, and playful and cheeky in the restrooms. The intent, Jenni-Kate Rogers notes, was to "create elements of surprise in each area and ensure that there is something for everyone. You can come in wearing jeans or a cocktail dress and you'll feel comfortable. We also wanted it to feel very Palm Springs. The city has this sort of elevated vintage Hollywood glam aesthetic, but it's also kitschy and fun, and it's very mid-century modern. I tried to use all of that so that this place feels like Palm Springs at every level."
One of the biggest design challenges, she adds, was managing scale and creating intimacy, particularly in the main dining room. There, soft seating was added for comfort and tall trees help to bring the scale of the ceiling down. Velvet and leather in darker shades of forest green, rust and tobacco brown add richness and casual luxury. The original, well-worn concrete floor was simply polished and natural jute rugs were placed here and there for softness.
"I wanted that room to be glowy and warm and a little more elegant, while still also being playful," Jenni-Kate Rogers says. "And that sort of bleeds into the lounge, with soft seating and leathers. But there, I added more masculine touches for a sort of sexy, cozy library-like feel. There's a bit more leather, some cowhide rugs, and the area is separated a little from the entry by a tapered wood slat divider wall that we had installed. We also added arched, built-in bookcases there that we've filled with mid-century modern design and dog-themed coffee-table books and decor elements."
Those bookcases, along with three arched booths along one dining room wall, were created during the renovation and carry through another central element of Boozehounds' overall brand and design aesthetic — round movement. It's a theme expressed subtly and overtly in everything from logo script to vintage-style orb lighting, to accessories and furnishings.
The library-like lounge area welcomes co-workers and cocktailers alike with soft seating, cowhide rugs and arched bookcases filled with mid-century modern design and dog-themed coffee-table books and decor elements.
The dining booths, formerly squared off vignettes that the couple assumes served as video game stations in a previous "barcade" operation, presented a particularly tough design challenge. The solution became a signature feature.
"They were awkward, and I wanted to get rid of them but couldn't," Jenni-Kate Rogers says. "Jimmy had expressed wanting booths, but I didn't want to put booths in the center of the room, because I wanted to keep things open. Jenna and I had talked a lot about round movement in the brand in general and she suggested arching those vignettes and converting them to booths. The idea grew on me. I found a booth company that could do round booths, we got round tables and we even rounded out what had been square windows in the booths. Something magical actually happened. Once we made the windows round and put lights in the booths, it created a beautiful, tunnel-like effect that's visible as guests enter the space. That was a happy design accident."
Another happy accident: At night, passersby get great views into the dining room, where vintage orb chandeliers and wall sconces set a welcoming vibe, but also of the atrium beyond, where simple strings of warm lights hang from the roof frame and illuminate the patio trees. "I knew you'd see the glowing orbs in the dining room from the street at night, but what I didn't know would happen is that all the lights on the atrium and patio would look like this crazy sky full of stars as you drive or walk by," Jenni-Kate Rogers says.
Lighting also makes memorable, very intentional, statements in the restrooms. There, Jenni-Kate Rogers fully embraced the fun, kitschy side of the Palm Springs aesthetic with wild, playful wallpaper, tambour chair rails, framed celebrity mug shots, mid-century modern fixtures and neon wall signage that supports the Boozehounds brand. In the 1970s lounge-themed male-identifying restroom, the neon reads "You dirty dog"; in the pink and red female-identifying restroom it's "Bad bitches."
"I love designing elevated spaces and staying current and relevant," Jenni-Kate Rogers says. "But there always has to be a sense of playfulness. If you take things too seriously, it immediately becomes stuffy or not as welcoming. Adding a bit of cheekiness to the design really speaks to who the partners are and what the Boozehounds brand is about."
Project Team
Owners: Bryan Rogers, Jimmy McGill, Steve Piancenza
Design: Jenni-Kate Rogers, Raven and the Willow
Branding, graphics: Jenna Murray, Spilled Milk Creative
Lead contractor: Hector Aranda
Custom booths: QC Booths/Central Seating
Snapshot
Location: Palm Springs, Calif.
Opened: April 2021
Concept: Elevated-casual, dog-friendly restaurant, bar, co-working space
Menu style: Globally influenced Southern California cuisine, sharable plates, craft beer and cocktails
Project type: Conversion/remodel
Real estate type: Freestanding corner building
Size: Interior dining room, lounge and bar, 4,590 square feet; atrium, 1,187 square feet; patio, 1,400 square feet; kitchen, 1,628 square feet
Interior seating capacity: 250
Average dinner check: $110-$150 for two
Design highlights: High A-frame ceiling with exposed ductwork; mountain views; desert-inspired colors and textures; vintage orb lighting; large bar; round booths; mid-century modern, Hollywood glam and Palm Springs kitsch design influences; dog-friendly atrium and outdoor patio; "doggie door" with custom wayfinding for guests entering with pets; kitschy-cool restrooms with brand-supporting neon
Materials of note: natural wood, rattan, velvet, leather, jute, tambour, quartz, breezeway blocks
Project duration: 8 months