Hot-pot chain The Dolar Shop opened a flagship U.S. restaurant in New York City's East Village neighborhood. The 16-year-old Shanghai, China-based chain with 55 locations systemwide also has restaurants in Sydney, Vancouver, Seattle and Flushing, N.Y.
The 180-seat restaurant features a refined industrial interior highlighted by neon installations throughout the dining area. The wooden and metal booths and banquette seating areas pair with with dark steel and concrete beams to create a layered space. Designed by a team of visual artists in China, the store includes 20 full HD LED-backlit displays. Using traditional Chinese aesthetic elements, such as Chinese characters, architecture, landscapes, and more recreated through digital media, The Dolar Shop strives to present an abstract and contemporary Chinese art expression.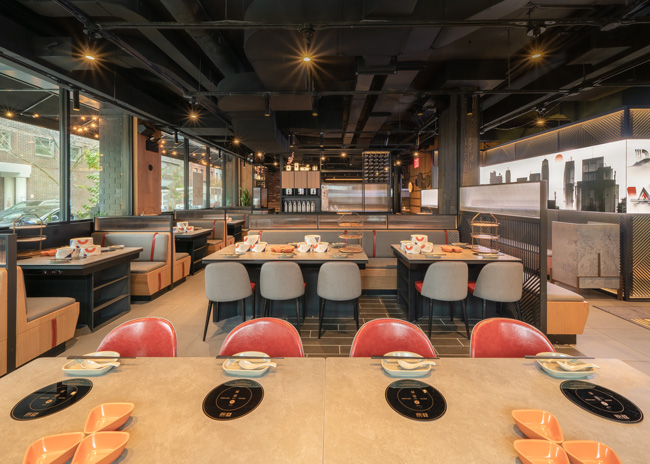 The restaurant's choice of music also reflects its rhythmic and interactive design philosophy. The Dolar Shop global playlist offers sounds from France, Hong Kong, Africa, South America, and Korea, among others. The arrangement of each hour's songs accelerates from afternoon to late afternoon, reaching a peak at 9 p.m. The daytime selections provide a relaxed atmosphere, blending funk, soul, acid jazz, and instrumental hip hop. The evening selections focus more on the gradual progression of emotions over time, starting with strong ambient soul that sets the evening mood and gradually shifts to French dance music, per a company release. Chinese songs are also interspersed as highlights, combined with other genres. The playlist ende with a soothing East Asian-inspired funk.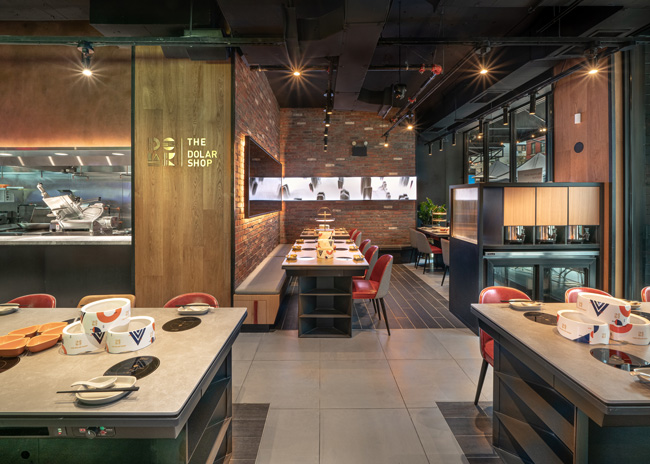 The attention to detail extends to the design of the restaurant's various tabletop elements. The restaurant worked with the product and interior design teams to create china and flatware that draws inspiration from The Dolar Shop's geometric logo. These items are made in China.
"Hot pot has a slightly different dining environment than Chinese and Western cuisine — not only are there a large number of utensils arranged tightly on the table, but as a highly interactive dining experience, it also requires flexibility in the table space and a well-organized visual aesthetic. Therefore, we hope that the tableware design will present a beautiful picture of a dense but orderly table, which will enhance the dining and social experience of our customers visually. We also hope that the newly designed tableware will help us improve the efficiency of our service because only then can our service staff focus more on each customer," says Jay Zhao, general manager of the East Village location.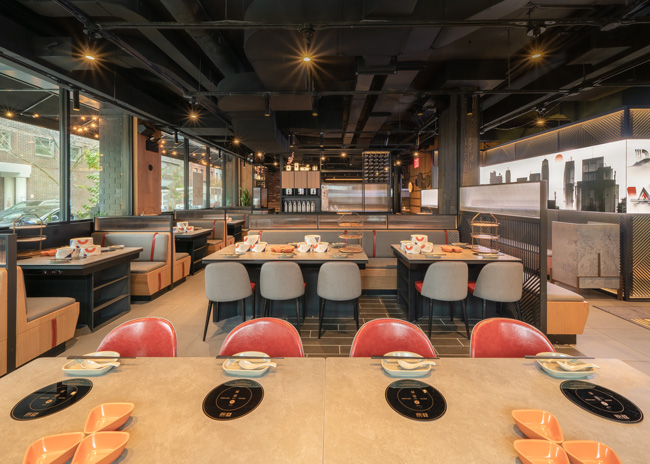 East Village is one of three restaurants the chain plans to open soon in Manhattan. The Dolar Shop set a 5-year goal to open 10 to 15 stores total in the U.S. The chain also takes a slightly different approach to serving guests. Instead of the entire table sharing one or more hot pots, at The Dolar Shop, diners receive their own individual hot pots and can finish cooking their meals by dipping the ingredients into hot broth.