Michael Lawless, project manager of Wilson Associates' Blueplate studio, has worked on projects worldwide with an emphasis on hotels, gaming and corporate food service facilities. Lawless helps create branded hospitality environments across the globe, which are rooted in strategic market research. His research informs the food and beverage concept, interior design scheme and overall brand identity. He allows clients to capitalize on the trends and opportunities in the market to ensure their restaurant and/or bar is not only a beautiful space but also a successful business venture.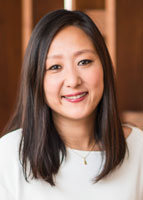 Keiko Matsumoto, design director of F&B at Wilson Associates' New York City studio, is responsible for conceptualizing the design intent of the entire project. She creates a holistic design concept that adheres to the client's criteria, taking into account the project's location, history and cultural context. Matsumoto is involved in each stage of the design process, working closely with the project team to ensure the integrity and direction of the project remain intact. Together, Matsumoto and Lawless highlight some of their favorite restaurant design trends right now.
Playful, Uplifting Dining Spaces. Recently, restaurants have been taking a more playful direction to their design approach. We are seeing simple forms and materials as well as more texture with tone on tone. Specifically, we are seeing an increase in popularity with pastel color tones. We are incorporating more curves and receding arches. We're just having more fun with design. A perfect example of a restaurant with a fun, whimsical design is Gertie in New York. This all-day cafe (which Wilson Associates did not design) showcases a super bright space with pops of pastels. The restaurant's monochromatic palette creates an uplifting feeling; it's a place where you want to spend time and enjoy the company of others.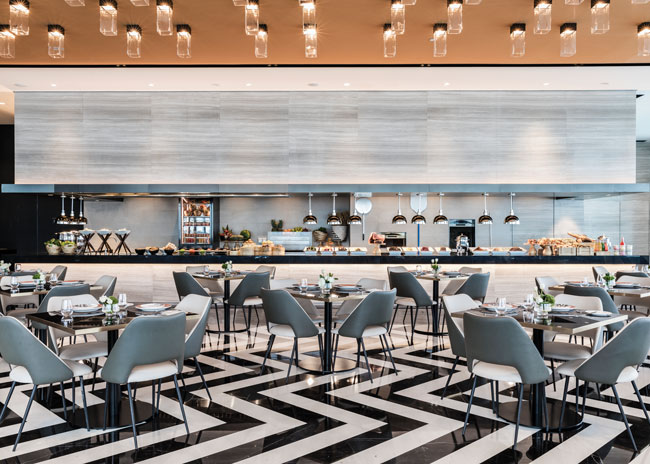 Image of Niccola Kitchen in Hunan, China courtesy of Wilson Associates
Art Deco Is In. Restaurant design is moving away from an industrial design aesthetic –– it's all about art deco. We are playing with simple forms and color inspired by the art deco movement for the design of a restaurant at a hotel in China. We're also working on a cocktail bar inside the hotel that offers art deco design traits. Situated inside a conservatory, the bar offers three separate spaces for drinking experiences — wine, whiskey and cocktails — unified by simple forms, pastels and rounded edges, all evoking the art deco period.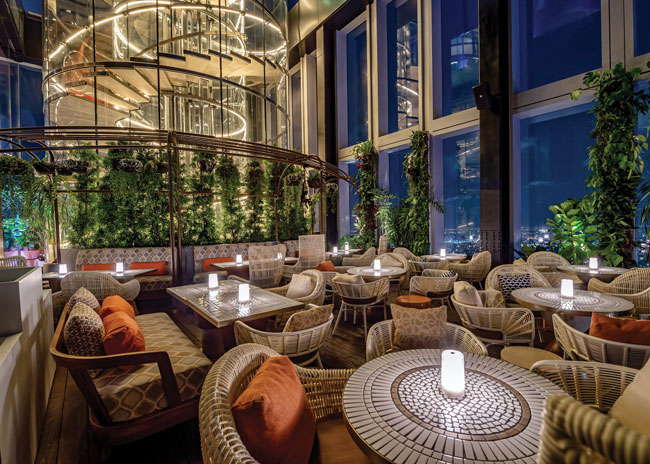 Image of Mahanakhon SkyBar Bangkok courtesy of the restaurant.
Zero Waste Food. Recently we've noticed that more and more clients want to participate in the zero-waste food movement. The notion of all-day dining is changing to support sustainability, and the buffet-style restaurants are dying in many regions. Moving away from buffet lines ultimately affects the interior design, and guests expect a specialized or a unique approach. One of our recent projects, the InterContinental Abu Dhabi-Grand Marina, is a Spanish-influenced tapas-style restaurant that serves as the hotel's all-day dining experience.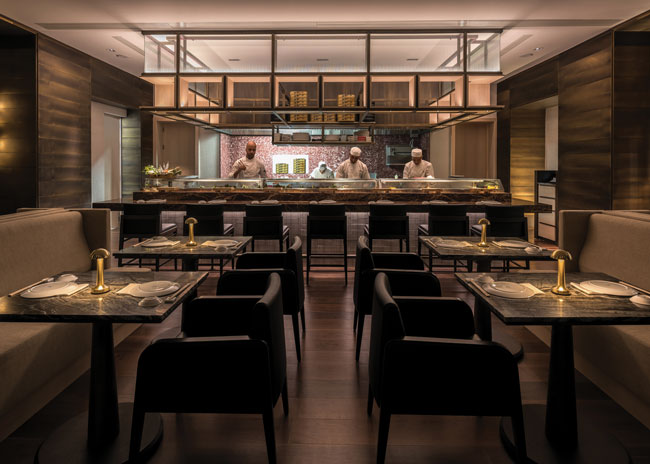 Image of Matsuhisa Restaurant in Cyprus courtesy of Pascal Reynaud