While casual dining has taken a beating in recent years, many operators have developed a polished-casual strategy to draw in guests. Porch Swing Restaurant, located in the Dallas suburb of Mesquite, puts a new spin on this approach.
Porch Swing was founded by Antonio Swad, co-founder of both the Pizza Patron and WingStop brands. According to MJ Moreau, principal at Studio B Dallas, which handled the restaurant's interior design, Porch Swing is a polished comfort operation, with a focus on Southern classics like fried chicken, barbecued ribs and fresh-baked pies.
"It is supposed to be a large comfortable place to go with foods that are not intimidating in an environment that is not intimidating but is elevated. It's not a southern joint with wagon wheels. It's contemporary southern casual," Moreau says.
Porch Swing Pie Co., located inside Porch Swing restaurant.
One of the first spaces guests encounter when they enter the operation is the co-branded, concept-within-a-concept, Porch Swing Pie Co. Here, guests can pick up whole pies to go or just grab a dessert, from a slice of pie to an ice cream shake, to enjoy on-site.
"The pie shop is located next to the waiting area. If you have any kind of wait, you can walk over there, look at the cakes and pies, and maybe plan for what you're going to order," Moreau says.
The shop has a retro soda counter feel, with small hexagon tiles on the floor and a clean black and white design. The ordering counter is made of marble, as is the bar with stool seating. The stools have steel bases with butcher block seats, matching the dining room's custom-made tables.
The space is also home to the restaurant's merchandising wall, where guests pick up t-shirts, cups and even candles with custom scents like New Pickup Truck and Lemon Meringue Pie, both of which reinforce the brand's Southern inspiration, Moreau noted.
Porch Swing restaurant's main dining.
The restaurant's main dining room offers a mix of contemporary industrial looks with classically comfortable elements. While the floor is stained concrete and the ceiling opened, the space also features upholstered leather banquet and chair seating.
These features also help to define the space without the use of divider walls. The high-backed green banquette seating is used to separate the dining room from the bar, while a high-top community table and accompanying chandelier serve as another boundary.
Porch Swing restaurant features an ample outdoor dining area.
The featured design element of the dining room, though, is the stage, where live music is performed on Friday and Saturday nights. The rest of the week, it serves as an Instagrammable element. "There's an iPad interface that allows guests to put their names on the flat screen marquee," says Moreau. "Any customer can walk up there, get on stage, take a picture of themselves and post it on social media."
The images on the bar are also shown on television screens on the restaurant's ample outdoor seating area. In keeping with its polished comfort approach, this space is made with relaxation in mind. The space is fully covered, heated and equipped with large ceiling fans.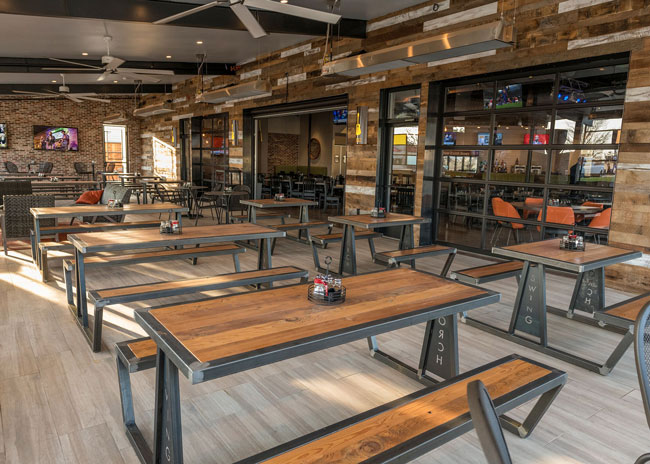 Outside, custom-made picnic tables with the restaurant's name, Porch Swing, are built into the metal bases.
A metal grid with colored panels along the perimeter distinguish the patio from the parking lot, while still allowing a nice cross breeze. Garage style doors can be opened to connect the indoor and outdoor spaces. Seating in the section includes custom-made picnic tables with the restaurant's name built in the metal bases. The featured seats are soft chairs in front of an outdoor fireplace.
"The seating area was not meant to pack as many people in with beer buckets. It's got this great feel around the fireplace," says Moreau.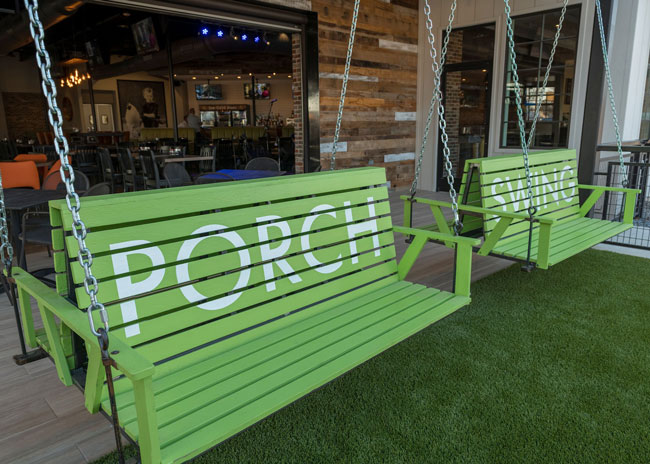 Attached to the patio is an additional outdoor space with artificial grass and a pair of double-sided porch swings.
Attached to the patio is an additional outdoor space with artificial grass and a pair of double-sided porch swings. This, says Moreau, is designed as an overflow waiting area. Here, guests can enjoy the weather and even order a bottled beer from the wait staff while waiting for their seats, once again emphasizing the comfort and even a little bit of the quirky hipness of Porch Swing.
"This is not in a super-hip neighborhood inside Dallas proper," Moreau says. "This is in a suburb. [Swad] wanted to bring something really nice and comfortable to the outskirts that's not too hip or intimidating."