Solutions Center - Equipment
ADA-certified and made in the USA, Heads Up Lock Co.'s restroom LED light lets diners know if the restroom is occupied without having to stand outside the restroom door. Perfect for single-stall restrooms and tight spaces where forming a line creates gridlock.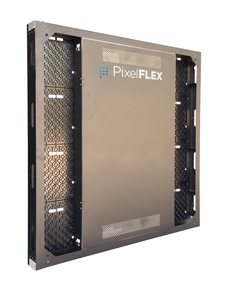 PixelFLEX's EF Series was designed as a budget-friendly solution for indoor video installations. EF Series tiles are fully front serviceable, making it an ideal wall-mount option. The EF Series offers custom upgrade capabilities to meet the specifications for right-angle and curved displays, and is available in a 3.9 millimeter, 5.2 millimeter, 6.25 millimeter pixel pitch. With multiple cabinet sizes and built-in alignment pins to guarantee proper alignment of panels, the EF Series is complete with standard power and data connectors, as well as pass-through channels, making wiring quick and easy.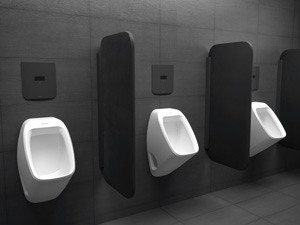 The ADA-compliant Designer Urinal's fully skirted trap way provides a smooth look and easy-to-clean surface, while its continuous, upward-pitched rim reduces splashing. The urinal is also available with SloanTec Hydrophobic Glaze, a glaze that imparts water-repellent and oil-repellent properties to vitreous china in order to inhibit the growth of germs and bacteria. Sloan's ADA-compliant Designer Urinal is available in top spud or rear spud. The urinal can be paired with any Sloan flushometer and accommodates a variety of sustainability standards with its flush volume options.
HOSPECO's hands-free menstrual care product dispenser provides guests with tampons or pads, free of charge, with just a wave of a hand. It holds a large capacity of both tampons and pads, meets ADA-compliance requirements, and facilitates easy loading and restocking. The dispenser is preprogrammed with a five-second delay between uses to discourage misuse and reduce waste.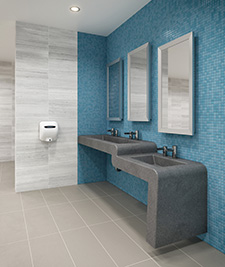 Sloan has released two new hand dryers and an update to its original XLERATOR product. The wall-mounted hand dryer now comes with a HEPA filter option. Additionally, Sloan offers accessories that include antimicrobial wall guards and a noise-reduction nozzle to reduce sound levels by nine decibels. It still features an eight-second hand-drying time.
Nautique is a 24-gallon leak-proof bin wrapped in 316 stainless steel. It is 17 inches in diameter and 31 inches tall. The open-grid liner support and rugged no-leak plastic bins leave no place for pests to hide. Available with non-marking feet, adjustable feet or anchor bolts.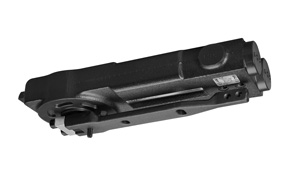 The Yale A-ALR Emergency Exit Device is suitable 
for use with new or retrofit openings within restaurants that are alarmed for security, such as back-of-the-house exit doors. The product is ANSI/BHMA Grade 1 and UL/cUL listed for panic hardware. Install or retrofit the device onto existing door preps. It includes a red LED indicator that flashes every 30 seconds when the device is alarmed and has a built-in alarm powered by 9V battery sounds at 90 dB at 10 feet.
The XLERATOR hand dryer features adjustable speed and sound controls and a heat setting. Other features include external visible service LED, multi-voltage options and a HEPA filtration system.