Solutions Center - Equipment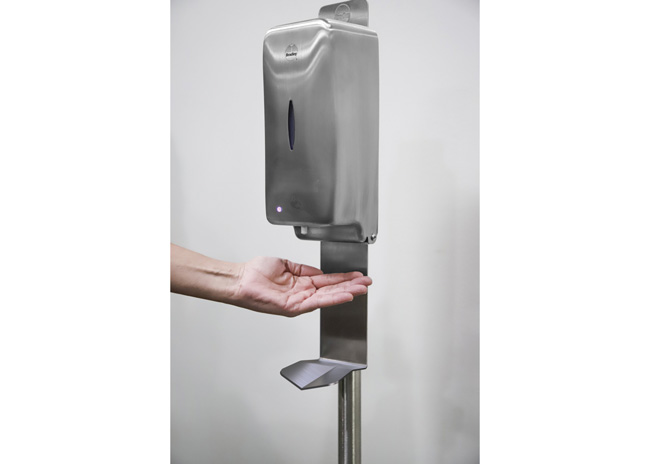 This line of touchless, freestanding and wall-mounted hand sanitizer dispensers feature stainless-steel construction. These units can dispense liquid/gel, foam or liquid mist. Operators have the flexibility to change the type of sanitizer over time, per the maker.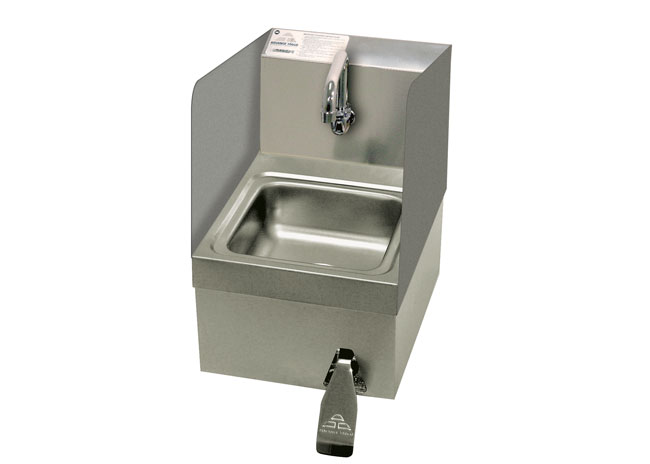 This space-saving, hands-free sink features a one piece deep-drawn bowl that measures 9 inches by 9 inches by 5 inches. The unit includes a knee operated pedal for hands-free operation. Knee valve includes a mixing valve to control hot/cold water temperature. Overall unit is 12¼ inches by 16 inches and is made of 18-gauge stainless steel.
Glastender's pull-out wine shelves for bar and low-profile refrigeration models allow easy access to bottled wine selections. Horizontal storage shelves hold up to 8 nested wine bottles each, while upright storage shelves hold up to 39 wine bottles depending on cooler door size and shelf location. Available for one and two zone coolers, pull-out wine shelves can be specified for both space-maximizing and end-wall refrigeration models with one to four doors.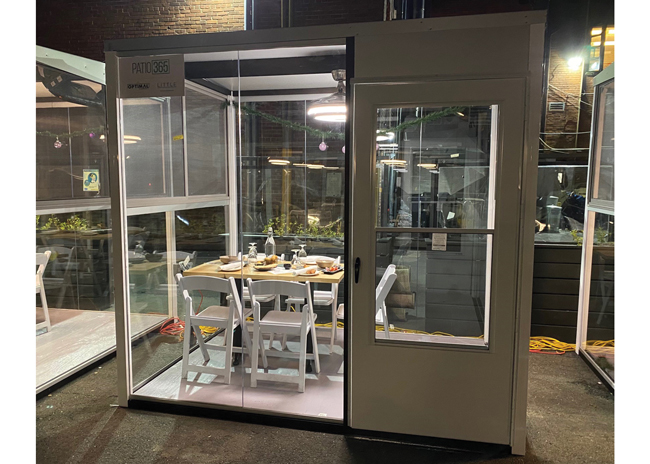 The brainchild of Optimal Holding, manufacturers of automated enclosures for restaurants, and Little consultants, Patio 365 is a year-round outdoor dining solution. It features sliding windows on two sides and is fully integrated with a fan, light and Bluetooth speaker. Prototype dimensions pictured are 9 feet long and 8 feet high. 
Ventech and Ventech PLUS Type 1 hoods with condensation technology eliminate the need for oven hoods and hood installations. With no traditional hood restrictions, operators can place the combi ovens anywhere in the kitchen. Available in single or stacked models, Ventech hoods condense steam while capturing and removing grease-laden air, vapors and lingering smoke. For more demanding locations, Ventech PLUS features a special HEPA filter along with the condensation technology to capture smoke-related vapor and steam generated in the cooking process.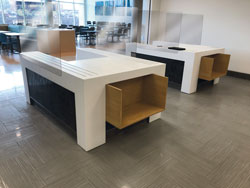 Available in countertop and bolt-on models, Breath Shields are made from 7/32-inch-thick plexiglass. Bolt-on style mounts to the front of checkout counters. Each one measures 29¼ inches long by 30 inches tall. No tools are required for the countertop model, which measures 6 inches by 12 inches.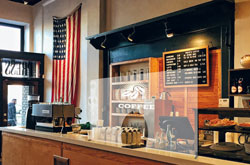 Maintain social distancing and personal separation with plexiglass partitions. Available in set and custom sizes and designs, plexiglass partitions can be installed on countertops or between tables with a floor mount. Countertop models start at 1/8-inch thickness, while floor partitions are ¼-inch thick.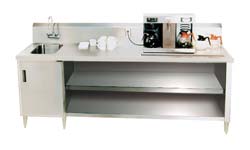 Advance Tabco's stainless steel Beverage Tables are an all-in-one unit solution for hot and cold beverage areas. The units feature a 14 gauge, no-drip edge countertop and a 10-inch backsplash. These tables include a 14-inch-by-16-inch-by-12-inch sink bowl welded into the top. A built-in urn trough collects liquids and a a GFI outlet allows operators to plug in coffee makers, blenders and other beverage equipment. A hinged cabinet and undershelf provide plenty of storage.