Solutions Center - Equipment
Ventech and Ventech PLUS Type 1 hoods with condensation technology eliminate the need for oven hoods and hood installations. With no traditional hood restrictions, operators can place the combi ovens anywhere in the kitchen. Available in single or stacked models, Ventech hoods condense steam while capturing and removing grease-laden air, vapors and lingering smoke. For more demanding locations, Ventech PLUS features a special HEPA filter along with the condensation technology to capture smoke-related vapor and steam generated in the cooking process.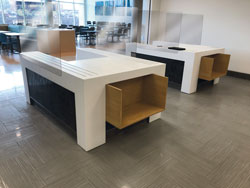 Available in countertop and bolt-on models, Breath Shields are made from 7/32-inch-thick plexiglass. Bolt-on style mounts to the front of checkout counters. Each one measures 29¼ inches long by 30 inches tall. No tools are required for the countertop model, which measures 6 inches by 12 inches.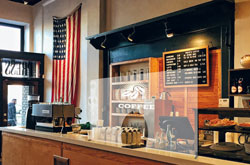 Maintain social distancing and personal separation with plexiglass partitions. Available in set and custom sizes and designs, plexiglass partitions can be installed on countertops or between tables with a floor mount. Countertop models start at 1/8-inch thickness, while floor partitions are ¼-inch thick.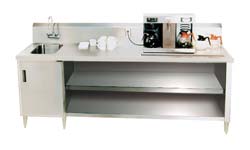 Advance Tabco's stainless steel Beverage Tables are an all-in-one unit solution for hot and cold beverage areas. The units feature a 14 gauge, no-drip edge countertop and a 10-inch backsplash. These tables include a 14-inch-by-16-inch-by-12-inch sink bowl welded into the top. A built-in urn trough collects liquids and a a GFI outlet allows operators to plug in coffee makers, blenders and other beverage equipment. A hinged cabinet and undershelf provide plenty of storage.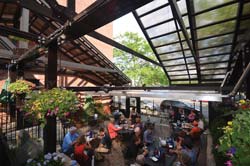 Cabrio Structures designs and manufactures patented retractable patio enclosure systems. Each structure is custom designed. The enclosures function in all types of weather and maximize the outdoor dining season via retractable roofs and opening walls.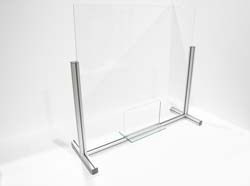 Created in response to the COVID-19 pandemic, glassSCREENS>Shield is a collection of tempered glass protective screens for countertop use. The nonporous shields prevent microbes from entering its surface and can withstand harsh chemical cleaners. The shields come in three styles and numerous sizes including a freestanding countertop unit, a single full-height unit, and a foldable double-height unit. Add-ons include transaction windows and protection screens with shutters. All are customizable to meet specific on-site criteria.
Advance Tabco's concealed stainless-steel hand sink drawer does not take away space on the counter and installs to Advance Tabco work tables. The sink moves using integral drawer slides with a built-in safety stop tab. The unit also includes a sink drain that leads to a drainage pan, located beneath the sink bowl. Faucet and drain pipe fittings are included.
The stationary portion of the stainless-steel top, with the ½-inch polymer edge, serves as a countertop and features a lockable stainless-steel easy-glide sliding cover. The cabinet exterior is wrapped in black vinyl. The interior is lined with galvanized steel. Suitable for any facility utilizing commercial bar and beverage equipment.