In today's fast-paced society, a growing number of fast-casual foodservice concepts continue to add or expand their grab-and-go offerings to capture a greater share of time-starved customers' business.
"When looking at grab-and-go as part of an overall strategy, owners and operators must be certain that this offering has a specific intention and is not just an afterthought," says Arlene Spiegel, FCSI, founder and president of Arlene Spiegel & Associates, Inc., in New York City. "Grab-and-go can offer a good return on investment as a profit center. You must consider how much square footage to give to this offering and consider queuing, traffic flow and packaging. One size does not fit all."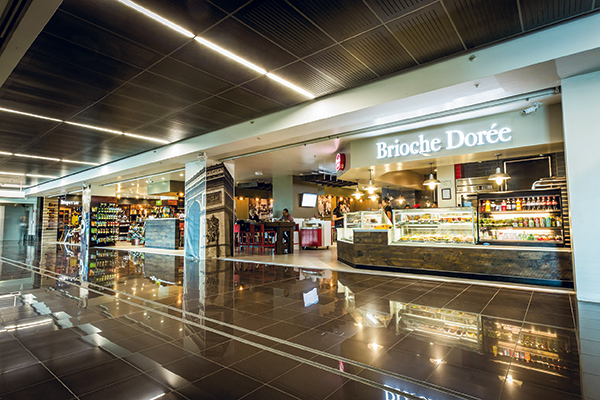 At Brioche Dorée in Costa Rica, the grab-and-go cases are positioned so they are easily accessible to customers who want grab-and-go as an add-on or to customers who don't want to stand in line to order off the regular menu.
Grab-and-go in fast-casual restaurants whose business is not predominately grab-and-go, such as Pret a Manger, takes many forms. It may feature add-on offerings, such as at a deli or bagel shop where customers order a sandwich and pick up prepared coleslaw and cream cheese from a refrigerated display case before paying a cashier. Or, grab-and-go may be its own branded area with food choices that may include some but not all items on the regular menu. Many fast-casual restaurants incorporate grab-and-go into nontraditional locations on college campuses, and in healthcare facilities and airports.
"Grab-and-go's sweet spot is when it's integrated into a space and not an afterthought," says Robert Seely, associate director of operations, planning and design at WD Partners in Columbus, Ohio. "It must have its own identity, be visible and tied into the back-of-house operations."
"Grab-and-go is all about convenience," Seely adds. "Products must be accessible and easy to get to. In some locations in heavily trafficked urban environments, for instance, restaurants might have pickup windows so customers don't have to even enter the restaurants. Or in the Midwest, they might offer a quick-service drive-up option."
Wherever grab-and-go sits, says Corey Dehus, group creative director at WD Partners, "Positioning is extremely important. People don't want to stand in line very long, so grab-and-go areas must not interfere with lines where customers are waiting for custom-made sandwiches. Even if they are picking up an add-on, the products must be easily accessible."
Grab-and-go is an ever-growing dimension of business for Brioche Dorée café bakeries. Operating more than 600 cafés worldwide, including 40 units in the U.S., the brand serves nearly 300,000 customers daily. While the largest cafés measure 2,400 square feet, Brioche Dorée's middle-range footprints consume 1,000 to 1,500 square feet. The chain's smallest units measure 400 to 500 square feet. "The brand is very adaptable and flexible so we can be in all types of locations, including nontraditional spaces such as airports," says Jeff Drake, president of Brioche Dorée.
The decision about how much grab-and-go to offer in a particular location depends on unit size and traffic. "We don't have a formula for determining square footage dedicated to grab-and-go," Drake says. "Rather, it's both a science and an art that is part of a discussion with our partners. Ultimately, we always want a location to express the authentic Parisian experience. We want to enhance sales with grab-and-go, but we don't want to be considered exclusively grab-and-go. So it's a balance."
Take, for example, the 500-square-foot Brioche Dorée unit in Charlotte, N.C.'s Douglas International Airport. This location features an 8-foot-wide by 6-foot-tall grab-and-go case that holds sandwiches, salads and pastries. "All of our grab-and-go cases are refrigerated," Drake says. "Ambient grab-and-go is also offered at the register. We're considering a hot grab-and-go case but won't offer this until we're sure we can maintain the quality we want."
Everyone interviewed for this article about grab-and-go emphasizes the importance of presenting only as many products as the operation can continually replenish so the menu items always look fresh. In fact, at Brioche Dorée, grab-and-go products have a maximum shelf life of 12 hours. "A staff member must be constantly keeping cases neat, clean and organized," Drake says. "Products must never seem old. The quality of grab-and-go products must equal those of the regular menu."
"You don't want any holes in the cases," Spiegel adds. "Cases must always be fully stocked and products frontally faced and priced."
Packaging contributes significantly to customers' impressions of grab-and-go offerings. "Transparency is key," Dehus says. "Packaging should be as clear as possible so customers can see the freshness of the ingredients and the quality of ingredients they are getting."
"The packaging or a sign nearby can include information about local ingredients if they're used," Spiegel adds.
Every product in a grab-and-go case must have a name and branded signage, Spiegel says. "If grab-and-go menu items are made in-house, make sure the signage is distinctive so customers know they can only get these products at this branded concept," she says. "This contributes to building a loyal fan base."
Le Pain Quotidien, also an international brand with 238 restaurants, is expanding its grab-and-go options as well. "Grab-and-go is increasingly important to our guests in busy, urban markets," says Patrick Boyle, design director. "Our restaurant model has always included a counter to order coffee, bread and pastries to take away, so adding a grab-and-go case was a natural extension."
Some restaurants are retrofitted with grab-and-go cases since this offering was not part of the original build-out. "In these cases, they are positioned wherever they fit near the retail section, which is designed for exploring and shopping," Boyle says. In newer locations, such as at 85 Broad and 55th and 8th Avenue, both in New York City, grab-and-go has its own distinctive area.
"Retrofit or not, grab-and-go cases are always positioned to make it easy for guests to come in, pick up something quick and leave," Boyle says. "They do not interfere with the dine-in experience in any way. Also, they are not necessarily intended to be shopped on the way out after a guest has already eaten in the dining room, although a guest can pass by the grab-and-go cases on the way out."
Grab-and-go equipment includes ambient and refrigerated cases. "The equipment that works best from a guest standpoint is that which holds product at or just below eye level and allows it be easily reachable," Boyle says.
Airscreen merchandisers, though attractive for displaying food, may not always hold products properly. "Whatever you use must keep food at proper temperatures," Spiegel says. "So someone must be monitoring the temperature and rotating products as needed."