To date, Which Wich CEO Jeff Sinelli has founded three franchised restaurant chains. At first, he strictly followed his lawyer's advice for enforcing construction and design standards. Then, as he learned more about selling franchises, he began to customize compliance standards to better satisfy franchisee expectations.
"For the first five years, you're in your formative stages," Sinelli recalls. "You can scare people off, and you really don't know why."
Some franchising experts say that fear could have a lot to do with franchise agreements that strongly favor the franchisor, and are so inflexible on issues of compliance, that potential franchisees balk.
Frank Steed, a franchise consultant and former president of Tony Roma's, is one such expert. He says he's examined nascent franchise agreements so stringent that only fools would sign them. "I've asked [franchisors], 'How serious are you about attracting franchisees? Because the kind of people you want to sign this agreement will toss it back in your face,'" he explains.
Franchise attorney Richard Solomon takes it a step further. The franchise agreement, he says, is usually so heavily weighted toward franchisors that "it's a contract no one in his right mind would ever sign unless there's some incredible incentive to do so."
Yet even Solomon, who represents both franchisees and franchisors, concedes that compliance standards are vital to a franchise system — which means franchisors must monitor those standards to ensure quality and consistency, and also to avoid running afoul of the law. "Compliance is never an evil. It's necessary for any system to work," he says. "The evil is in the misuse of compliance. You can't keep a registered service mark without policing and enforcing how it's used. The failure to do so is a violation of the Lanham Act."
To find out how growing franchisors accomplish that when it comes to overseeing construction and design standards, rd+d reached out to two veteran executives for insights on their best practices: Jeff Vickers, vice president of development at Dallas-based Which Wich, and Steve Dunn, senior vice president, global development, at Spartanburg, S.C.-based Denny's Corp.
Which Wich
HQ: Dallas
Concept: Fast-casual sandwiches
Units: 3 company-owned, 340 franchised
2015 development schedule: 83 new units
Vice President of Development: Jeff Vickers
rd+d: Your website says, "Which Wich takes a hands-on approach during the construction process." Explain how that works and how it relates to construction and design compliance.
JV: First, let me say I have a team of just 5 people for 340-plus stores. That includes real estate and franchise development. I deal with lots of franchisees who come from mature brands with thousands of units. I'm proud they continue to follow up with us. The feedback we get is: "Your processes are so detailed and so thorough."
To that end, and to keep the franchisees moving in the right direction, we do a weekly call with everyone in the new-store opening process. We have an interactive system that's a simple checklist. Every week we give the new franchisees tasks they have to complete. There are maybe 400 tasks in all, but we break them down, unlocking only four tasks a week to keep it manageable.
rd+d: Can you give some examples of things that would be on that checklist? What are they focusing on?
JV: It's everything from ordering business cards and tennis shoes to getting bids from general contractors. It's an extremely detailed list that takes them through their timeline and shows them that, by not completing these tasks this week, what the likelihood is of pushing back their opening. We try to impress upon them how critical it is to open on time and start making money.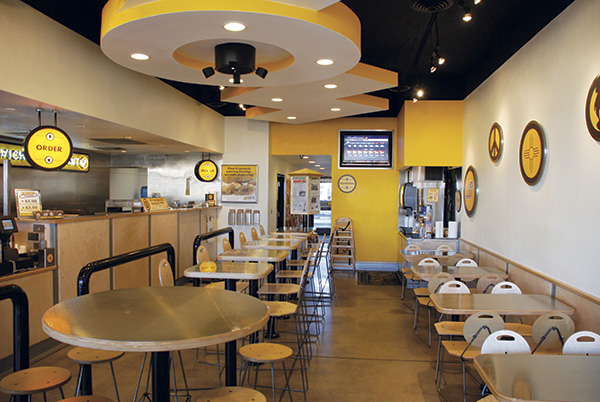 rd+d: How long is the opening process for a typical franchisee? What's the target?
JV: We usually negotiate 128-day build-out with free rent. But we can build out a store in six to eight weeks. There's a lot of pre-ordering done prior to the general contractor starting to swing hammers. The ultimate goal is to get the store open and generating revenue prior to paying rent.
rd+d: What steps do you take to limit the temptation that can be common among franchisees to try to save money by finding their own architect or GC?
JV: They have to use approved architects. However, if someone wants to bring a new group to the table, we'll qualify them. The same thing goes for general contractors. We'll interview them. We mandate restaurant experience. We get a list of references from both clients and suppliers. And we dig into those references, making sure the contractor is on the up-and-up, so to speak. That goes for architects as well. They must be able to do all the mechanical, electrical and plumbing in house. We also require them to do site visits, something some architects don't usually do because it costs money.
rd+d: Why is "looking at the dirt" important to Which Wich?
JV: It's especially important when looking at second-generation sites, because of unexpected things that can come up. It eliminates a lot of change orders. Also, second-generation stores require more work. So what we try to do is take what's existing to save the franchisee money in the long run. A lot of brands wipe the slate clean. Our rule of thumb is, we try to take advantage of the things a customer doesn't see.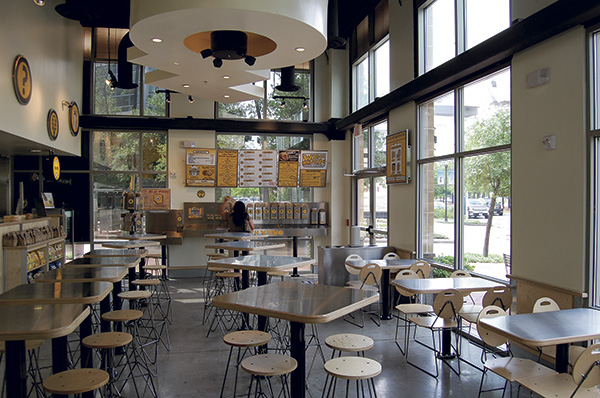 rd+d: Does your detailed process eliminate noncompliance issues with construction and design standards?
JV: There will always be tension between franchisees and franchisors. Sometimes, franchisees may get creative and say, "Hey, I'd like to have this paint on this wall." But it's not really an area that we see them [wandering off plan]. For the most part, because we've set it up on the front end, we don't really have to deal with these guys going off on their own very often.
Which Wich helps to ensure compliance with building and design standards by taking a very hands-on approach during the construction process and requiring franchisees to use approved architects and general contractors.
Denny's Corp.
HQ: Spartanburg, S.C.
Concept: Midscale family restaurants
Units: 160 company-owned, 1,534 franchised
2015 development schedule: 35 to 40 new units
Senior Vice President, Global Development: Steve Dunn
rd+d: How does Denny's keep franchisees from cutting corners on new builds and running afoul of design and construction requirements?
SD: Here's the dime-store tour of our approach to development: We strive hard to build the most cost-effective product at the highest quality possible. So we don't want to underbuild or overbuild. The system is designed to get a proper return on investment while keeping brand quality high. How do you do that? It starts with a deep network of approved vendors who want to partner with you.
rd+d: Certainly some franchisees must tell you they have a guy who's a great GC — or that they know or can find a more cost-effective way of doing things.
SD: Every time I hear a person say they have a great idea to save money, I say, "Sounds good. Let's explore it." We run all those ideas down to see if the whole system can benefit from them. Sometimes they pan out. We're laser focused on where we can save money where it's appropriate.
rd+d: What kinds of cost-saving ideas pop up most often?
SD: One, in fact, is the general contractor. A lot of people say, "I'll just get my Uncle Freddie to do it." Our approach to that is, "Hey, if your Uncle Freddie has all the right certifications and has a body of work that we can recognize and touch and feel, and if he's willing to follow our protocols, we have no problem with him." So Uncle Freddie has to meet minimum criteria. This part of the construction world is very detailed, and people who do this for a living have the right certifications. If you don't, you're identified very quickly.
rd+d: Do franchisees who want to use their own architects risk being out of compliance?
SD: They can't hire an architect and say, "Let's figure this out." We don't allow that. But people can work with their own architects as long as they work off of our template. So, if a franchisee is building a prototype store ground-up, we give them a set of plans for free. All they have to do is get it locally stamped with their architect for a site adaptation.
If they have a conversion, we will do the layouts for them. So no franchisee has to worry what their Denny's will look like from an architecture standpoint. All they have to worry about is the engineering to convert it and, if it's a freestanding prototype, the site adaptation in their local community.
rd+d: How do you monitor franchisees in the process of building a Denny's?
SD: I have a project management team that deals exclusively with franchisee new construction and remodels. I require the team to be in constant contact: through technology, telephonically and boots on the ground. I want the most accurate intelligence, especially when construction starts and punch lists are generated.
rd+d: To what extent does this process prevent compliance issues?
SD: Every once in a while a compliance issue pops up, and that's usually when someone has an unapproved piece of equipment or somebody didn't do something per the specifications on the plan. Those are rare in our system.