"Better burger" fast-casual BurgerFi is testing and expanding on technologies and strategies in an effort to address industry-wide labor shortages amid its expansion along the Eastern Seaboard. These strategies include in-car ordering, robotics, QR technology and ghost kitchens.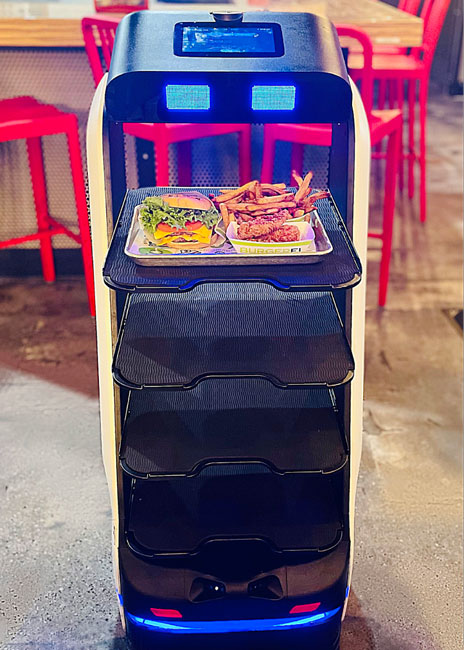 To satisfy the hunger of guests on the go, BurgerFi will be the first restaurant to launch in-car ordering in the new generation of 5G interactive cars rolling off production lines starting in the summer of 2022. Through a partnership with Mavi.io — an in-car retail marketplace that brings curated shopping to the dashboard of consumers' cars — guests will be able to order BurgerFi favorites from the comfort of their vehicle by using their voice or their car's interactive dashboard. It notifies the restaurant when you arrive so your fresh order can be delivered curbside.
Patty the Robot debuted recently at BurgerFi's Indiantown Road location in Jupiter, Fla., interacting with customers, serving meals directly to tables, and returning used trays to the kitchen. Patty is programmed to know the restaurant layout and can interact with guests to ensure she's able to get her job done. This innovation supports employees, enhancing efficiencies and allowing restaurants to provide quality guest service, according to the chain.
"While the entire restaurant industry faces macro headwinds, BurgerFi is determined to be resilient and forward-thinking," said Karl Goodhew, Chief Technology Officer at BurgerFi. "Leveraging technology is a key factor in delivering guest and employee happiness."
"Patty may be the answer to employee shortages across the hospitality industry," says Goodhew. "By integrating automation with human operations, we give our employees the support they need and our guests the experience they crave. Our employees will always be the most important part of the guest experience, and robots allow them to continue to focus on great hospitality."
Further redefining its service model, BurgerFi is testing QR code table ordering alongside the traditional counter ordering option to optimize the service experience. The QR codes can reduce wait times while allowing team members to focus on hospitality and fresh food preparation. Customers also have the option to order additional items during or after their meal right from their table. Simultaneously, BurgerFi is testing self-ordering kiosks, giving guests a highly convenient and fun way to order. The high-tech, highly visible units help diners easily select their meal and pay.
With 25 ghost kitchens operating to match consumer demand for delivery, BurgerFi recently opened the chain's first international ghost kitchen in Dubai and also opened a hybrid food hall with both dine-in options and a commissary for delivery at Epic Kitchen in Chicago.