With consumer trends changing and the fast-casual industry booming, it can be tough for quick service restaurants (QSR's) to stay competitive. They're expected to uphold their high-speed production while also accommodating the growth of mobile ordering and delivery. Then there's the uphill battle against the perception of their product quality when compared to fast-casual counterparts — no matter how much they invest in high-quality ingredients. The trick for QSRs to overcome these obstacles and differentiate themselves in the market lies in strategically capitalizing on and taking advantage of design solutions that are already at their fingertips.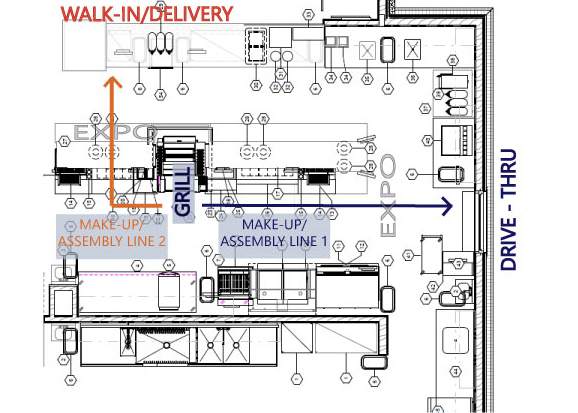 Kitchen drawing shows the movement of drive-thru orders vs. walk-in/delivery orders in a kitchen with dual make/assembly lines.
 Take the leap and additional lines. The increased popularity of delivery is no surprise or novelty. Now that third-party delivery services are in the picture, how can restaurants keep up? Considering QSRs are better able to address delivery demand than any other restaurant category, many of them have already taken the leap to do so. A standard kitchen layout has a cook line that leads to a make/assembly line before it gets sent out to the floor or drive-thru. The most prudent concepts looking to satisfy walk-in, drive-thru and delivery demands are incorporating dual make/assembly lines and sometimes even dual cooklines. They designate one line for walk-in and delivery orders and the other for drive-thru orders. Since QSRs typically have a 60% drive-thru to 40% walk-in order ratio, the walk-in side has the bandwidth to help accommodate delivery orders. The key to the second line, however, is making sure that you manage your labor to meet delivery needs. Many restaurants either don't add the extra line or don't manage their labor on the second line because of the additional capital and labor costs. Yes, adding a station increases both labor and capital costs. But the market and I are here to tell you now is the time to take the dual-line leap. You can quickly offset the costs if you manage up labor to meet the potential revenue you could be making with the added capacity. And if you don't, someone else will. Worse yet, if you don't and ticket times increase, service levels and customer satisfaction will fall, and you'll send your restaurant into a downward spiral to mediocre performance at best.
Focus on merchandising, efficiency and taking advantage of new cooking and holding technologies. Customers perceive fast casuals as being of a higher quality than QSRs. Even if a QSR invests in more expensive, higher-quality ingredients, this predisposition is often so strong that it can hamstring you against the fast-casual competition. The key here is changing the way the consumer experiences your product and how it's served. Celebrate "hero items" through how you display/merchandise or better yet, cook/prepare them – from putting homestyle sides in homestyle serving vessels to sprucing up the condiment station for sweetening and creaming your coffee. Going above and beyond in displays to create a kind of food theater that emphasizes and merchandizes items helps create a positive impression around the products and overall brand quality. At the same time, you must positively impact the consumer experience with utmost efficiency. This means exceptional operations that lead to getting the quality product to the consumer in a timely, hospitable manner. It cannot be just "theater" or efficiency, it has to be both.
QSRs also need to stay up to date on the many advancements being made in cooking and holding equipment and should be looking to take advantage of them every chance they get. A cook-chill-retherm process, for example, prevents food from stewing, overcooking and degrading as it sits in a steamtable. Instead, the food is cooked in water or steam just until done, chilled and quickly seared upon order so that it doesn't sit and overcook or dry out. Similar advancements include holding technologies that allow you to pay very close attention to and precisely control heat and humidity to keep food warm for longer periods of time without changing the texture. From choosing between radiant and convection heat to controlling humidity, moisture or air flow, there are incredible technologies out there – QSR's have to be open and willing to try them. There are also some amazing technologies associated with fast, automated cooking processes. High-efficiency charbroilers, for example, maintain consistency and quality without having to rely so heavily on the cooking staff.
Look for ways that technology can improve the customer experience though increasing person-to-person relations. So, you've incorporated technology to improve your back-of-house operations and production, now it's time to focus on your guest again. Don't fall into the trap that replaces people with technology. Human interaction is a biological necessity and is proven to enhance customer experience. Try to find ways for advancements in technology to facilitate this connection rather than replace it. For some QSRs, this has looked like using tablets to "line bust" drive-thrus during peak times. They bring hospitable service directly to car windows, thus taking more orders and getting more cars through the line at an increased rate. Despite using a device that typically detracts from human interaction, the tablet facilitates the person-to-person interaction by bringing an additional face and service directly to the customer.
---
Steve Starr, president of starrdesign in Charlotte, N.C., is a nationally recognized leader in restaurant and retail design. While his insight and expertise span the hospitality industry, his focus is on branding, consumer behavior and the development process.
Do you have a problem? Would you like three solutions? This email address is being protected from spambots. You need JavaScript enabled to view it..