Sterling Douglass, Founder and CEO, ChowlyTechnology is clearly changing the face of the restaurant industry, and operators must decide how to implement new technology to keep up. However, it is key for restaurants to learn how to do so efficiently so as to keep costs low and prevent operational complexity. One of the areas where this is the most essential is the implementation of third-party delivery technology.
Third-party delivery platforms are increasingly popular with consumers, and restaurants are responding by listing their menus on one or more sites. We're seeing everyone from small mom-and-pop to Michelin-starred restaurants to up-and-coming fast casuals and big national chains working with platforms like Uber Eats, DoorDash and Postmates.
However, despite the potential profit from adding these platforms, for many restaurants, it can also lead to operational inefficiencies and added costs. With that in mind, it is important for restaurants to implement not only these technologies but a technology that can make the process smoother and keep costs low. For third-party delivery technology, that means implementing POS integration.
POS integration enables orders from third-party delivery platforms to appear directly in a restaurant's POS system. With POS integration, operators can ensure that third-party delivery platforms are working for them, not against them.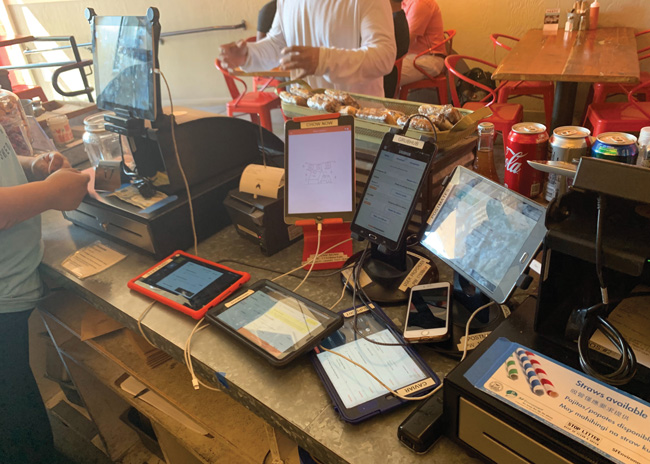 Embracing third-party delivery apps can be complicated and expensive. Image courtesy of Sterling Douglass
Disparate Tablets
One thing that operators might not think of when adding on platforms is how those orders will be received and entered into the POS system. Third-party delivery platforms do not communicate with restaurants' POS systems, so when a restaurant adds a platform, it also gets a tablet. Because each third-party platform operates on its own proprietary system, the restaurant will get a new tablet for each one, and with each tablet comes a mess of wires, chargers, screens and printers. This can turn a host stand or kitchen into a hellish environment.
POS integration gets rid of the unattractive and disordered mess of third-party delivery hardware. Online orders are funneled directly into a restaurant's POS system, eliminating the need for additional tablets or kitchen printers altogether. Restaurants that use integration do not have to spend the time or money altering their design to accommodate third-party delivery hardware and can ensure that when a customer walks in the door, the staff won't be too busy managing tablets to help them.
Order Errors
Third-party delivery platforms change the way a restaurant functions. Once a restaurant is up and running on third-party platforms, the staff soon can become overwhelmed with the flood of incoming orders from each source. Because third-party platforms do not communicate with restaurants' POS systems, the staff is forced to enter orders from each of the tablets manually into the POS system. Some restaurants experience such high volumes of online orders that they end up hiring someone whose sole job is to manage incoming tablet orders. Data shows that 10% of orders have errors due to issues with manual data entry, and even the smallest of mistakes can back up the kitchen, create food waste and leave customers unsatisfied. The larger and more complex the order, the more costly a mistake can be.
POS integration removes manual order entry from a restaurant staff's workflow. When third-party orders are integrated directly into the POS, an order ticket mirroring the online order is automatically created and sent to the kitchen, reducing the risk of human error. Integration also helps lower labor costs as operators no longer need to hire staff to manage third-party delivery orders. Integration streamlines the flow of the online ordering process and allows restaurant staff to focus on in-house customers.
POS integration enables orders from third-party delivery platforms to appear directly in a restaurant's POS system.
Lack of Menu Parity
Many of the inefficiencies that restaurant operators experience are caused by a lack of menu parity, a concept that many operators do not know exists. Menu parity is the syncing of the menu in your POS system with versions of the menu in other places. Without it, it becomes a chore for restaurant staff to match the content of the menu with what appears in the POS system, which in turn makes it more difficult to track inventory and fulfill orders accurately.
POS integration allows restaurant operators to keep their menus connected without manual data entry from staff. It also allows restaurants to easily create menus optimized for third-party platforms — menus that will specifically appeal to online customers, who desire convenience when they order. With these optimized menus, restaurants can give customers the ability to conveniently and easily make decisions when they order. This results in increased sales, improved inventory accuracy and better order accuracy.
Third-party delivery platforms are here to stay. They are shifting the way people order and receive their food, and we want restaurant brands of all sizes to participate in this food-ordering revolution. As with any new piece of restaurant technology, all it takes is a good implementation strategy to get started.