Despite a slight slowdown the past couple of years and some weeding out of concepts that missed the mark or overreached, the grass on the fast-casual side of the industry is still green. In fact, against the backdrop of a stubbornly stagnant industry overall, the segment is still a bright spot, continuing to outperform others in measures both quantitative and qualitative.
Technomic Inc. forecasts fast-casual sales will rise by 8.3 percent this year, up slightly from its 8 percent gain last year. That compares to 1.4 percent real growth for the industry as a whole last year, according to the National Restaurant Association. The NPD Group reported last summer that visits to fast-casual restaurants grew by 6 percent annually over the past five years, the only channel to grow visits. That's due in part to relatively robust unit growth within the segment. According to NPD and its ReCount census service, while the total number of restaurants has been declining, the number of fast-casual restaurants grew at a compound annual rate of 7 percent from 2013 to 2017.
Optimism among operators in the segment remains strong as well. A Datassential survey of more than 200 fast-casual operators showed that 64 percent reported sales increases in 2017, and more than three-quarters expected sales last year to be higher still, with delivery being a major contributor to revenue growth.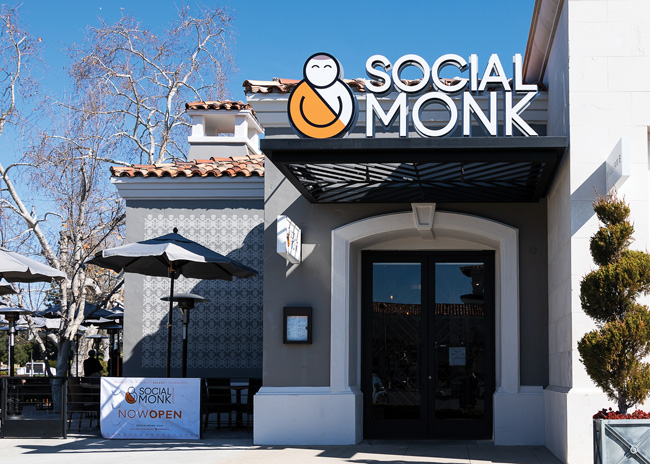 The Cheesecake Factory is one of several casual-dining companies to launch fast-casual siblings. Its Social Monk Asian Kitchen opened in February near Los Angeles. Image courtesy of Social Monk Asian Kitchen
"Fast casual has been the darling of the industry, and because of that, it has seen exponential year-over-year growth," says Claire Conaghan, syndicated group manager at Chicago-based Datassential. "Some brands have hit some bumps in the road, and it's getting harder to maintain that sort of growth, but it's still a very important and lively segment."
A rushing river of private-equity and venture-capital funds flowing into fast-casual brands over the past few years supports that assertion, as does the steady stream of both fine-dining and casual-dining operators crossing the border into fast-casual territory. Notable recent launches by casual-dining companies include Aussie Grill by Outback (Bloomin' Brands), Social Monk Asian Kitchen by Cheesecake Factory, and Holler & Dash Biscuit House by Cracker Barrel Old Country Store.
On the fine-dining side, high-profile examples of fast-casual launches include Fuku by Momofuku's Chef David Chang; Beefsteak by Chef Jose Andres; Made Nice by Chef Daniel Humm and Will Guidara of Eleven Madison Park and The Nomad; and by Chloe, a vegan concept by high-end steakhouse specialist ESquared Hospitality.
Solid performance and renewed menu innovation by veterans in the segment (lifestyle bowls or Zoodles, anyone?) and fresh new twists toward even more healthful, ethnic, chef-driven and tech-forward concepts are keeping consumer interest in fast-casual restaurants high. In the same Datassential study, the research firm queried more than 2,000 consumers who had eaten at a fast-casual restaurant within the previous month about their use of and feelings about the segment, defining it simply as "restaurants that usually have counter service with focus on higher-quality, fresh ingredients and customization." Some key takeaways:
56 percent visit a fast-casual restaurant weekly or more often; 1 in 5 visits several times per week.
61 percent said the food/menu is what they're "most likely to like" about fast-casual restaurants. Location (12%) and atmosphere/decor (5%) carry much less weight.
High-quality ingredients (56%), friendly service (50%) and the ability to customize their orders (45%) lead consumer perceptions of value drivers at fast-casual restaurants. The ability to see their food being prepared (26%) ranked last among value drivers cited.
70 percent reported their last visit to a fast-casual restaurant was to a national chain compared with 20 percent who had visited a small/regional chain.
57 percent are willing to wait longer than 5 minutes for food from a fast-casual restaurant.
Interest in preservative-free, all-natural ingredients is extremely high; these items are considered essential to fast-casual consumers. Ingredient types that respondents said they're very interested in but less able to find at fast-casual restaurants include non-GMO, locally sourced, lower sodium, free range, clean label and grass-fed meats.
Inconvenient Truths
As in almost every other segment, it's also all about keeping ahead of the curve — or at least up with the Joneses — on technology and convenience. In this regard, size can matter in more challenging ways. For smaller, less well-funded players in the segment, keeping up is increasingly tough, says Aaron Allen, founder and chief strategist at Aaron Allen & Associates, a global restaurant consultancy with offices in Chicago and Orlando, Fla.

There's been so much fast growth and really kind of a land grab with particular subsegments of fast casual, such as pizza," Allen says. "The salad and plant-forward concepts seem to be exploding now, too, gaining national and even international attention. But overall, some of the wind has started to come out of the sails in terms of aggressive growth. Part of that has to do with the speed with which other areas of opportunity that are of interest to consumers and investors alike have taken off. Delivery by all segments, food halls, meal kits, modern iterations of vending and other alternative formats with evolved economic models are beginning to have an impact. That's not to say fast casual is in decline; it's just not quite as exciting as it was before some of these other transformative things began gaining traction and shifting the landscape."
Allen points out that in the segments that bookend fast casual, size again matters in terms of having resources to invest in the technology, analytics and operational modifications required to compete and achieve scale as the industry changes. "Over the past 10 or 15 years, fast casual has had an advantage over quick service on food quality and over casual dining on price point and convenience. It has taken tens of millions of dollars of market share away from both of those categories," he notes. "But now, from the technology point of view, with the exception perhaps of Panera and Chipotle, the big QSR chains have an advantage because they have much deeper pockets. And there are still some very large casual-dining brands out there that are desperate to find ways to pull people back in. Both sides have many players with the wherewithal to develop out proprietary technologies that are still out of reach for many of the fast-casual concepts."

Exceptions exist, of course, and that's often thanks to external funding. Next-gen fast-casual chains such as honeygrow, Sweetgreen and CAVA are among them, pulling in hundreds of millions of dollars from outside investors.

Mediterranean fast-casual CAVA, whose parent CAVA Group Inc. late last year completed a nearly $300 million acquisition of 260-unit-plus Zoe's Kitchen, has secured more than $130 million in several rounds of funding since its founding in 2011. Landing a spot on Fast Company's 2018 list of most innovative companies in the world for its use of technology and data analytics to "enhance the human experience," CAVA has grown to more than 75 units across the East Coast as well as in Southern California and Texas.

Honeygrow, too, came on the scene with a technology-forward business model and healthful stir-fry and salad concept that struck an immediate chord with consumers and investors. Founded in 2012, the Philadelphia-based chain secured $70 million in private-equity funding between June 2015 and December 2017. During that time, it grew from four locations in and around Philadelphia to 20 locations in several states, and a smaller-format sister concept, minigrow, was developed.

But lack of resources has nonetheless come back to bite this particular fast-casual darling's efforts to grow, underscoring the uphill climb many in its segment face. Acknowledging that its store model and focus on hyper-local ingredients were difficult to scale, that its specialized ordering kiosks required more time and effort to launch in new locations, and that building brand recognition outside of its home territory posed significant challenges, the chain has pulled back to regroup. At least five stores have been closed, and growth for this year has been put on hold.

Meeting such challenges while working to create delivery systems and handle growing mobile orders, and while creating new prototypes that raise the bar on both convenience and experience, is a tall order. "It's a lot to integrate while still maintaining what sets fast-casual restaurants apart, which has always been fresh, high-quality, made-to-order foods that are highly customizable," says Conaghan. "A lot of brands are now carefully reassessing how they'll move forward in this environment. There might be a couple of years where things don't move as rapidly as they have been, but I suspect they'll rebound. Everything about fast casual is still very appealing to consumers."
FC Spotlight: Newk's Eatery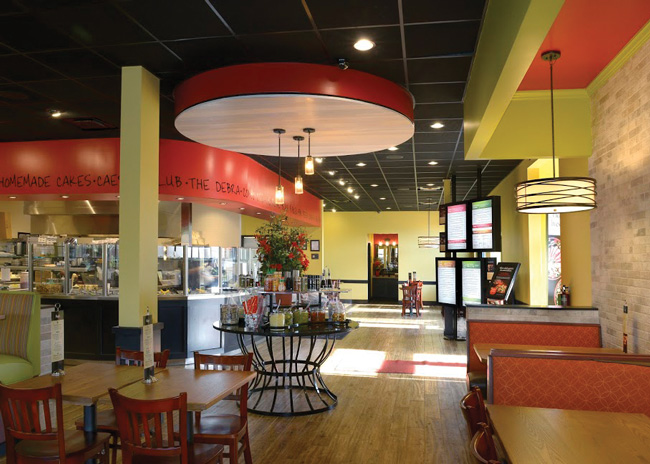 Concept: Scratch-made sandwiches, salads, soups, pizza
HQ: Jackson, Miss.
Founded: 2004
Units: 122

Loved by guests for its family-friendly menu of scratch-made foods prepared to order in large, open kitchens, Newk's is growing its brand while keeping three key drivers in sharp focus: consumer demands for convenience, the need to be functional but also to create a strong emotional connection with guests, and the need to enhance return on development investment.
"Guests' shift toward convenience is revolutionary, not evolutionary," says Chris Cheek, chief development officer at Newk's. "Our challenge is to figure out how fast we can adapt."
Newk's, in some respects, has a leg up on others in its segment. In-store grab-and-go sections with dedicated POS stations have long been part of its prototype. And its store locations, the majority of which are in-line strip-center units, almost always include dedicated parking stalls near the grab-and-go section's entrance to make it easy for consumers to get in and out, as well as for Newk's to offer curbside delivery.
Newer convenience-focused initiatives are being developed as well. A unit opened last December in Texarkana, Ark., for instance, includes the chain's first drive-thru, skip-the-line pickup window for mobile app and delivery orders. It's a feature that, once fully vetted and where location permits, will likely be incorporated into additional new and existing units. In summer 2017, Newk's began adding Express Market, a home-meal-replacement-style component, to its grab-and-go areas.
FC Spotlight: SAJJ Mediterranean
Concept: Mediterranean wraps, sandwiches, salads, bowls
HQ: Menlo Park, Calif.
Founded: 2013
Units: 9, plus 2 food trucks

Trained in business and software engineering, tech entrepreneur Zaid Ayoub bought into a friend's idea to build a fast-casual restaurant concept around Mediterranean and Middle Eastern street foods. Initially an investor who agreed to help with branding and technology, Ayoub now leads SAJJ, a growing chain that exemplifies next-gen fast-casual trends such as locally produced natural ingredients, contemporary designs, ethnic specialties and tech-supported operations.
Ayoub says the brand struggled initially, so in 2015, he took the reins, tightening up operations, focusing on emerging technologies, and building an experienced culinary and management team. Growing demand for convenience, speed, value and transparency are at the heart of the SAJJ business model. Catering is a focus, as are takeout and delivery. Half of all sales are now consumed off premise, Ayoub says, enabling an average unit size of 1,600 to 1,800 square feet.
By 2020, Ayoub hopes to have 20 units in California, all corporate owned. While he's considering franchising, that's not yet in the cards. "We have great systems in place, but franchising is a different business model," he says. "We feel there are lots of other opportunities for growth before taking that step."